---
2019-2020 Recipient: Alexander Baker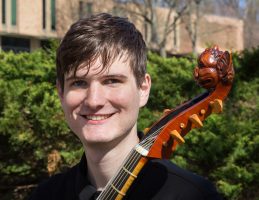 Alexander Baker graduates in May 2019 from the University of Michigan with an M.M. in viola da gamba, and modern and baroque cello. "The Margriet Tindemans Early Strings Scholarship is giving me the incredible opportunity to broaden my education outside the U.S.," Alex said, "and thanks to the Scholarship and Early Music America, I can look forward to studying early music in the Netherlands. I'm grateful and honored to be affiliated with such an outstanding organization, and I look forward to returning to the U.S. to share my experiences and bridge early music practices here and abroad."
Alex will attend the Royal Conservatory of the Hague to study viola da gamba with Professor Mieneke van der Velden and plans to conduct his research on the topic of ornamentation, with study of the existing primary sources to examine how ornamentation practices varied by region.
Alex has a B.M. in Cello Performance and a B.A. in German Language & Literature from Oberlin College & Conservatory, where he was introduced to the viola da gamba by Professor Catharina Meints, and with whom he has continued to study.
---
The 2019-2020 application is closed. Applications for 2021-2022 will be available beginning Fall of 2020 and the Scholarship will be awarded in the Spring of 2021.
Eligibility
Applicants should have graduated with a bachelor's or master's degree in music, or be due to graduate in the spring of 2020. The Scholarship is intended for students who are at the beginning of their career. Students who are studying abroad at the time of making application, and are seeking continuation of funding, may apply. This is contingent upon approval of their course of study. However, priority will be given to applicants who have yet to study abroad.
Applicants must be permanently based in North America.
Early Music America membership is required of all applicants.

(Historical performance students qualify for a one-year complimentary student membership. Please info@earlymusicamerica.org for more information.)
Materials to be submitted
Completed application form
Personal statement, not to exceed 1,000 words
Detailed budget for your proposed course of study
Resume
Online video with three contrasting samples of your musicianship, not to exceed 15 minutes total in length. (The judges' main consideration is to clearly hear the work of the candidate, to be able to judge your sound, musicality, understanding of language and creative ideas.)
Two letters of recommendation from teachers or other professionals familiar with your qualifications for this Scholarship.
Expenses
Covered Expenses
Tuition and fees for a one-year course of study
Language and cultural study programs, if applicable
Living expenses
Project-related travel expenses, including round-trip transportation
Reasonable miscellaneous expenses (to be detailed in applicant's proposed budget)
Expenses not covered
Purchase, repair, or insurance of instruments
Personal medical expenses incurred abroad
Visas and residence permits, if required[