EMA's ongoing series of webinars and interest sessions covering topics of historical performance practice and early music
---
Details
Topics must relate to the field of early music or historical performance practice
Special consideration will be given to interest sessions which focus on cultural cross-fertilizations in the history of early music
Interest sessions will be held via the Zoom web conferencing platform and livestreamed via Facebook Live on EMA's Facebook Page
Sessions will be archived on EMA's YouTube Channel
Sessions will last a maximum of one hour

presenter content should be held to a maximum of 40 minutes with remaining time for Q&A
Please use the form below the bottom of this page to propose a session. If your proposal is selected, a member of the EMA Staff will contact you to schedule your presentation.
---
Upcoming Sessions
---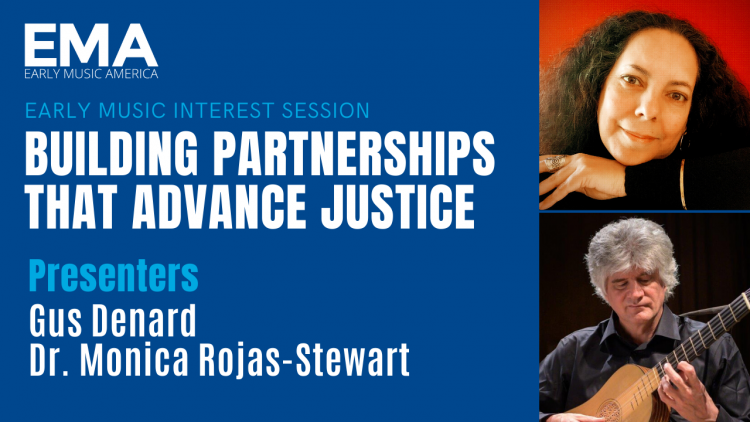 Wednesday, July 8, 2:00pm EDT
Topic: Building Partnerships that Advance Justice
Presenters:
Gus Denhard, Executive Director of Early Music Seattle
Dr. Monica Rojas-Stewart, cultural anthropologist, community leader, activist, and performing artist

If you're interested in partnering with local organizations in your work as an early musician or administrator, join us on July 8 to learn how to create authentic and meaningful relationships. Early Music Seattle has been engaging in community partnerships with the intention of advancing justice in the arts since 2015. This presentation will offer past collaborations and future plans as case studies in organizational partnering, pointing out successes, missteps, and the challenges of sharing privilege within contexts of institutional racism. Heavily featured will be Seattle's 2018 performance of Jordi Savall's Routes of Slavery, with an honest exploration of both the successes and lessons learned. Participants are encouraged to bring potential early music projects to the session for brainstorming and discussion.
Register Now
---
Creating and Sharing Video Online from Home
A five-part webinar series presented by Early Music America and Voices of Music, with special guests!
All sessions 2pm ET/11am PT; Each session will last 45 minutes.
While the content is cumulative and it is recommended that participants attend all five webinars, attendance at individual sessions is also possible.
Monday, July 13
Recording at Home: The Basics
What musicians can do now with tech they have at home, or can get at very low cost.
Register Now
Wednesday, July 15
YouTube and Social Media for Musicians, Part 1
Best practices for a global audience. Creating your highlight reel. Dos and don'ts, search engines, Google rankings.
Register Now
Friday, July 17
YouTube and Social Media for Musicians, Part 2
Streaming versus recording, navigating the maze of copyrights, musical editions, and licensing. Storytelling through your music video.
Register Now
Monday, July 20
How to put it all together; the interconnectedness of all things
How to get a million views and 10,000 subscribers on YouTube. Auditions, repertory, musicology, lighting, framing, and presentation.
Register Now
Wednesday, July 22
Video and Social Media for ensembles, orchestras, and organizations
Arts organizations face many challenges to be visible on social media. Let's turn that around and create a worldwide audience together!
Register Now
Propose an Interest Session