Presenting the rising stars of early music and historical performance
---
Established in 2018, the Showcase goes beyond the university level already represented by YPF to serve the broadest possible range of artists. The term "emerging artist" can include historically-informed performers of all types, without respect to age. Applicants are asked to describe how they see the future of historical performance taking shape, and to define how their role as artists and ensembles aligns with that future vision. Applicants submitting programs that move beyond the traditional Western classical canon, but fall within the same historical range (to ca.1820), are encouraged to apply.
Early Music America will present the 10th annual Young Performers Festival (June 8-9 at the San Francisco Conservatory of Music) and 3rd annual Emerging Artists Showcase (June 10 in Berkeley) as part of the 2020 Berkeley Festival & Exhibition, in Berkeley, CA. This will mark EMA's 4th partnership with the biennial Berkeley Festival & Exhibition.
---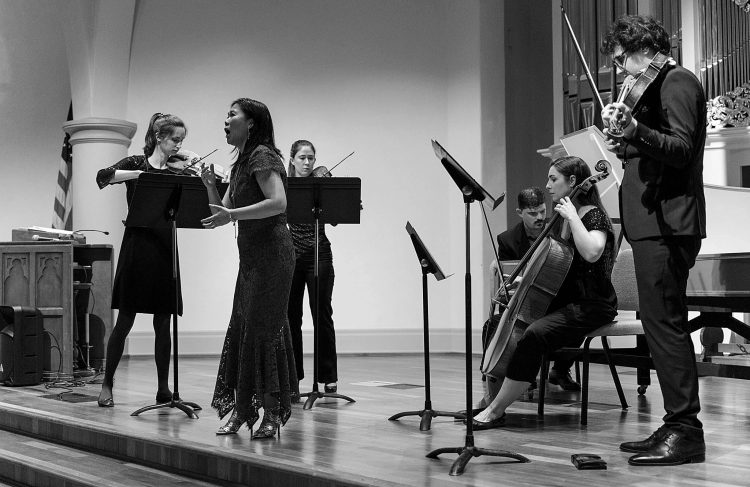 Do you have questions about the application process?
View EMA's October 2019 webinar "Representing Yourself in the Best Way" or Contact EMA.
Eligible Applicants
Judging
Required Materials
Deadline
Application
1) No individual performer may be included in more than one Emerging Artists Showcase application (e.g. Jane Smith is a member of Ensemble A and Ensemble B. Only one of the ensembles may apply with her as a member. Likewise, if Ensemble A applies, Jane may not apply separately).
2) All applicants must be residents of USA, Canada, or Mexico. Citizenship not required.
3) Although the term "early music" is understood in different ways, for the purposes of this Showcase, it involves the following criteria:
-Applications must feature repertory composed no later than ca. 1820.
-Due interpretive attention must be given to matters of historical performance practice.
-Performances on modern instruments will not be accepted.
4) "Emerging artists" means artists of any age who have not otherwise performed regularly in major festivals or concert series.
5) Applicants will be allotted 30 minutes during the Showcase performance, which will draw from repertory specified in the application as submitted. Please do not submit selections that you do not intend to perform within your Showcase program.
6) Applicants may not apply for both the Young Performers Festival & the Emerging Artists Showcase. University-funded applicants should apply only for YPF (e.g. The EMA University Ensemble is applying for YPF. Jane Smith is a student of the EMA University and a member of the EMA University Ensemble. Jane is also a member of her own ensemble, Bach 1800. Bach 1800 is not funded by a university. Jane's ensemble, Bach 1800, is still eligible to apply to the Showcase even though EMA University Ensemble is applying for YPF and Jane will be performing with them as well).
7) Each applicant should be a current member of EMA prior to the application deadline. If you are applying as an ensemble, your ensemble must have either an organization membership or only one member of your ensemble must have a personal membership. Both are not required in order to apply. Please ensure your membership is current at the time of submission.
A panel of judges designated by EMA will assess all applications. All applications will be judged anonymously. Selections will be based on the strength of the application and the quality of the recorded performances. In addition, applications will be chosen with the objective of creating an exciting and varied Showcase performance.
1) Contact Information
2) Applicant Information that includes the following:
– Soloist or Ensemble Name
– Number of individuals performing
– Names of all ensemble members
– Description of your level of performance
– Number of years you been performing with period instruments
– Number of concerts you have given in the past three years
– Title and description of your proposed Showcase program
– Brief description of how your group is emerging and how you see your role in the early music field
-Short bio as it should appear in the festival program book
3) Three recent concert programs
4) Performance recordings that meet the following requirements:
– A live video performance recording of the applicant with a MAXIMUM of 45 minutes in length.
– Submitted performance recordings must be no more than one year old.
– Submitted performance recordings should be of the highest video quality possible.
– We will only accept video recordings in the form of links to YouTube or another internet hosting/streaming site.
– Recordings can be multiple short selections or one long selection.
– List the pieces performed in the submitted recording(s)
-Please note, final performances will be based on selections you submitted through this application in consultation with EMA and BLEMF.
The application deadline is Thursday, October 31, 2019.
Those selected for the Emerging Artists Showcase applicants will be notified by Monday, December 2, 2019.
The Application period is now closed.
Applicants applying for the Showcase are eligible for a travel grant and must submit a separate application in order to be eligible to receive travel grant funding. EMA will award travel grants to a small number of applicants selected for the Showcase.