Presenting the rising stars of early music and historical performance
---
Established in 2018, the Emerging Artists Showcase goes beyond the university level already represented by the Young Performers Festival to serve the broadest possible range of artists.

The term "emerging artist" can include historically-informed performers of all types, without respect to age. Applicants are asked to describe how they see the future of historical performance taking shape, and to define how their role as artists and ensembles aligns with that future vision. Applicants submitting programs that move beyond the traditional Western classical canon, but fall within the same historical range (to ca.1820), are encouraged to apply. Programs of repertory from later than 1820 should have due attention paid to historical performance practice.
---
2022 Emerging Artists Showcase
The 2022 Emerging Artists Showcase is currently in the planning stage. The application period is currently scheduled to open in November 2022. Please check back in Fall 2022 for more details.
---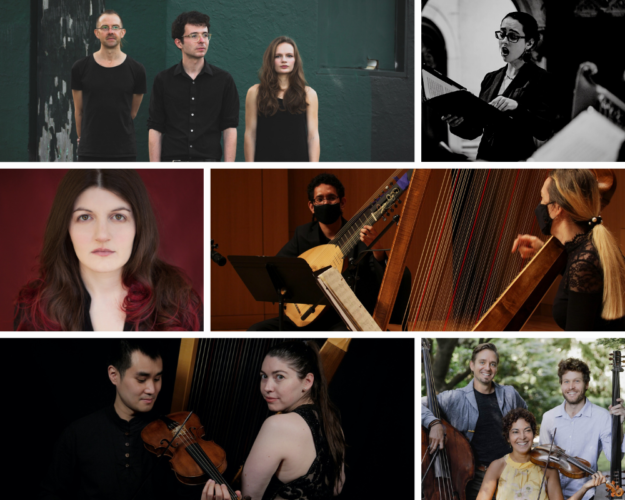 2021 Virtual Showcase Schedule
Concert videos will be premiered at the times listed below immediately followed by a livestreamed conversation with the performers, all via EMA's YouTube Channel.
Friday, May 21 @ 5pm ET/2pm PT

Filament: Philadelphia, PA

Evan Few (Violin), Elena Smith (Gamba), John Walthausen (Harpsichord)

Saturday, May 22 @ 2pm ET/11am PT

Beneath A Tree – Baroque To Folk: San Francisco, CA

Gail Hernández Rosa (Baroque Violin, Viola, Vocals), Daniel Turkos (Contrabass, Cittern/Irish Bouzouki, Vocals), Paul Holmes Morton (Baroque Guitar, Theorbo, Vocals)

Monika Ruusmaa (Harp), Héctor Alfonso Torres (Lute): Denton, TX

Sunday, May 23 @ 2pm ET/11am PT

Alice M. Chuaqui Baldwin, solo Harpsichord: Rochester, NY
Time Stands Still: Cleveland, OH

Anna O'Connell (Voice, Triple Harp), Addi Liu (Violin)
---
2021 Virtual Showcase Performances
---
2020 Virtual Showcase Performances
---
Eligible Applicants
No individual performer may be included in more than one Emerging Artists Showcase application (e.g. Jane Smith is a member of Ensemble A and Ensemble B. Only one of the ensembles may apply with her as a member. Likewise, if Ensemble A applies, Jane may not apply separately).
All applicants must be residents of USA, Canada, or Mexico. Citizenship not required.
Although the term "early music" is understood in different ways, for the purposes of this Showcase, it involves the following criteria:

Applications must primarily feature repertory composed no later than ca. 1820. Post-1820 repertoire that engages performance practice, new research, and/or historically appropriate instruments can also be submitted.
All applications are expected to grant due interpretive attention to matters of historical performance practice
Applicants are expected to perform on early instruments. Please inquire if the pandemic has limited your ability to access appropriate instruments for your repertoire.
"Emerging artists" means artists of any age who have not otherwise performed regularly in major festivals or concert series.
Applicants should build a program that lasts 8-20 minutes (inclusive).
Applicants may not apply for both the Young Performers Festival & the Emerging Artists Showcase. University-funded applicants should apply only for YPF (e.g. The EMA University Ensemble is applying for YPF. Jane Smith is a student of the EMA University and a member of the EMA University Ensemble. Jane is also a member of her own ensemble, Bach 1800. Bach 1800 is not funded by a university. Jane's ensemble, Bach 1800, is still eligible to apply to the Showcase even though EMA University Ensemble is applying for YPF and Jane will be performing with them as well).
Each applicant should be a current member of EMA prior to the application deadline. If you are applying as an ensemble, your ensemble must have either an organization membership or only one member of your ensemble must have a personal membership. Both are not required in order to apply. Please ensure your membership is current at the time of submission. First year student memberships are free, and students pay a reduced rate after the first year.
Required Materials
Ensemble/Performer Information

Soloist or Ensemble Name
Names of all performer or artists proposed for your EAS program
How long has the ensemble been performing together? Please include information about a past ensemble project – description or concert program is acceptable.
Short soloist/ensemble bio (for promotional material)
Artist/Ensemble mission/relationship with historical performance and early modern instruments
Title and description of your proposed Showcase program, including program length (max. 500 words)
Brief description of how your group is emerging and how you see your future in the early music field
Are there any elements of mixed media in your program? Ex. images, cartoon, original artwork, lecture performance, etc…
Is this program already produced or would it be produced specifically for the EAS?
Please describe any other funding sources for this project and how the grant funding from EMA of $1500 will help you accomplish this project.
Are there any resources you need (that you do not currently have) to make this program possible? Ex. Recording equipment, editing software, other items related to producing virtual programs…
Performance recordings that meet the following requirements:

Live video performance recordings of the applicant – MAXIMUM of 20 minutes in length.
Submitted performance recordings must be no more than two years old.
Submitted performance recordings should be of the highest video quality possible.
Video recordings should be shared as Youtube links – videos may either be public or unlisted.
Recordings can be multiple short selections or one long selection.
Please submit a list of personnel represented in your recordings, and a list of the pieces performed. Recordings should reflect, as much as possible, the personnel indicated in your program proposal, meaning that each person in the proposal should have be reflected in a submitted recording.
Submission recordings may be of your proposed program, but it is not required.
Judging
A panel of judges designated by EMA will assess all applications on the following three criteria categories – allotted 10 points each, for a maximum score of 30;
Technical proficiency (including level of historical performance practice)

Artistic quality
Ensemble cohesion/chamber music skills
Awareness of and attention to historical performance

Excitement and Musicality

How do you represent yourself as an artist?
How are you communicating the music beyond playing the notes in a historically informed way?

Innovation in presentation and/or repertoire

Creativity and originality using available resources
New and attainable ideas – is the size of the proposed project realistically attainable with a 5 month production period?
Are you conducting new research related to the project?
Feel free to consider a lecture component, or a specific audience demographic focus
Selections will be based on the strength of the proposal and the level of artistry displayed in recorded submissions. The 6 applicants with the highest scores will be invited to participate in the showcase, which will be scheduled for June 2021. In addition, applications will be chosen with the objective of creating an exciting and varied Showcase performance.
All applications will receive feedback from the judging panel, regardless of the success of their application. Accepted ensembles may receive recommendations from the panel to be incorporated into their final product.
Emerging Artist Showcase 2021 Judging Panel:
Jolle Greenleaf
Shira Kammen
Corey Jamason
Debra Nagy
Ruben Valenzuela
Jonathan Woody
Intellectual Property Agreement
Artists will retain ownership of their virtual projects and agree to allow Early Music America to archive an Emerging Artists Showcase branded version on the EMA YouTube channel. EMA agrees to use the virtual projects only in promoting the current and future Emerging Artists Showcases and will secure permission from the artists before utilizing the projects in any other way.
Schedule and Application
The Application period for the 2021 Showcase is now closed.
Please submit questions to info@earlymusicamerica.org.