Since 2010, Early Music America (EMA) has been proud to bring together college and university ensembles throughout North America to perform at the nation's leading early music festivals in Berkeley, CA, Bloomington, IN, and Boston, MA and virtually through EMA's digital platforms.
2022 Young Performers Festival
Hume Hall, San Francisco Conservatory of Music
Free Admission. Donations welcome.
The concerts will also be livestreamed on EMA's YouTube Channel.
Wednesday, June 8
Thursday, June 9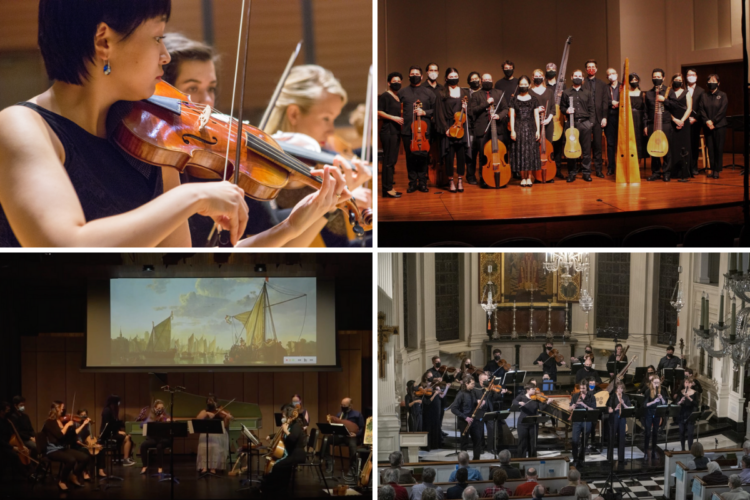 ---
In-Person for 2022!
We are looking forward to presenting the Young Performers Festival on June 8-9, 2022 in-person as part of the Berkeley Festival & Exhibition (June 5-12) in Berkeley, CA. This marks EMA's fourth appearance at BFX, our last in 2016.
The application closed on Monday, February 21, 2022 at 11:59pm U.S. Eastern Time.
All selected ensembles will be issued a $1,500 Travel Grant to assist with travel expenses.
Videos of previous Young Performers Festival performances can be viewed in EMA's Video Resources.
Guidelines for Application
Eligible Applicants
Applicants must be directors of pre-college or collegiate early-music ensembles from schools in the USA, Canada, or Mexico.
Either the director of the ensemble or the school must be a current member of EMA prior to the application deadline. Please ensure your membership is current at the time of submission.
The majority of participants must be students enrolled at the ensemble's home institution.

The ensemble may include non-student community participants and/or faculty members as well, as long as they are less than one-third of the members in the ensemble.

Although the term "early music" is understood in different ways, for the purposes of this Festival, it involves the following criteria:

Attention must be given to matters of historical performance practice.
Applicants are expected to perform with period instruments. Please inquire if the pandemic has limited your ability to access appropriate instruments for your repertoire
Past Showcase programs have typically featured repertoire composed before ca. 1820, however we welcome repertoire from later eras, so long as it meets the criteria above.
Applicants are strongly encouraged to propose programs that expand beyond the Western canon.
Required Materials
Ensemble Information
Director and/or Contact Name
Ensemble Name
Name of affiliated school or university
Contact address
Contact work and cell Phone
Contact email
Title and brief description of your proposed Festival performance program. Programs should be 45-60 minutes in length.
Number of students and community members in the ensemble
Brief description of the activities of the early music ensemble and its place within its institution
Upload three recent concert programs (PDF only)
Performance recording(s) should meet the following requirements (submitted as a list of the URL addresses of your performance audio or video recordings as well as the title/composers of all pieces performed for each):
A recording of the ensemble from live performances, with a minimum of 10 minutes and no longer than 30 minutes of total audio and/or video files.
Recordings must be from no earlier than the previous academic year.
The recorded examples need not feature the exact same performers (it is assumed that student ensembles change somewhat in their membership from year to year) or the same proposed program, but a substantial number of the performers should be the same.
Submitted performance recordings should be of the highest video or audio quality possible.
We will only accept audio or video recordings in the form of links to YouTube or another internet hosting/streaming site.
Recordings can be multiple short selections, or one long selection.
Please include a list of the URL addresses of your performance audio or video recordings as well as the title/composers of all pieces performed for each.
Festival Travel Grant Payment Details (one required)
Check (Payee name, contact phone, mailing address for check)
Paypal (Payee email)
Zelle (Payee phone number or email address associated with Zelle account. USA only.)
Judging
Judging
A panel of judges designated by EMA will assess all applications. Selections will be based on the strength of the application, the quality of the recorded performances and creativity of the program. Ensembles that have not previously been selected are strongly encouraged to apply.
We highly encourage all applicants to submit your application at least ONE WEEK prior to the deadline in case there are any issues with your application, so we can resolve them in a timely manner before the deadline.
All required materials MUST be submitted via the application form.
Those selected for the Young Performers Festival will be notified by Monday, March 14, 2022.
Please submit questions to info@earlymusicamerica.org.