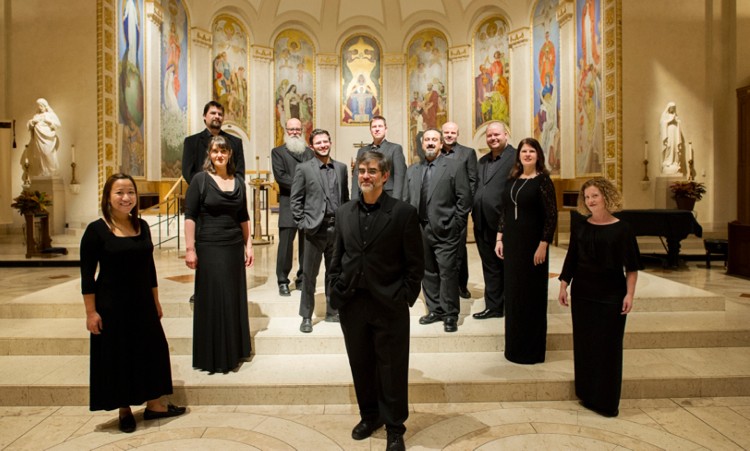 By Philippa Kiraly
Cappella Romana opened its 25th season in October in Seattle and Portland with "Icons of Sound: Byzantine Chant from Hagia Sophia." Enhanced by the reverberant acoustics of Seattle's St. James Cathedral, the sound of early Byzantine church music created a hypnotic effect as eight men — more than half of them Greek Orthodox cantors — and five women sang music from scholarly editions, much of it prepared by the singers themselves.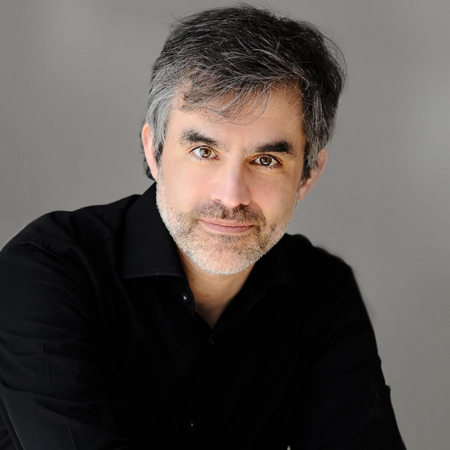 It may be surprising that women were among the singers in Hagia Sophia, the great basilica in Constantinople, from its building in the 6th century until the sacking of the city in 1204 by soldiers of the Fourth Crusade. The high voices of boys and eunuchs were also a staple, but the tradition was different in Orthodox Russia, where women were not included until much later.
"Cappella Romana is the only ensemble in the world that gives full programs of medieval Byzantine chant. We're it," says Mark Powell, the choir's executive director and a cantor in the Greek Orthodox Church of America. "We're hired all over the world, including at Byzantine art exhibitions, and we're the only ensemble in the world to make full-length CD recordings of this music."
So how did a choir devoted to Greek and Russian Orthodox music from its earliest days develop in the Pacific Northwest? It all began with the 1989 Loma Prieta earthquake in Northern California, which leveled San Francisco's Annunciation Greek Orthodox Cathedral. Fundraising to rebuild it began in 1991.
Alexander Lingas, Cappella Romana's founder and director, was living there, working towards his doctoral degree in historical musicology and wanting to help. "What could I do? I had no great pile of money," he says.
What Lingas did have was experience running an early-music group at Portland State University. As an undergraduate acquiring a degree in music and Russian, he had sung as cantor at Portland's Greek Orthodox Church and become familiar with Greek and Russian Orthodox music. Later, in Vancouver for more studies, he sang at the Greek Orthodox Cathedral and, immediately before the move to San Francisco, had taken a post-graduate seminar in theology and Russian at St. Vladimir's Orthodox Theological Seminary in Yonkers, NY.
"So I had all this background," says Lingas, who brought singing friends together in Portland and gave a fundraising concert for Annunciation Greek Orthodox Cathedral. "It was a chance to do all those things I had heard on CD, but never live — kind of a grab bag." Those things included everything from Byzantine chant to contemporary Orthodox music by John Tavener.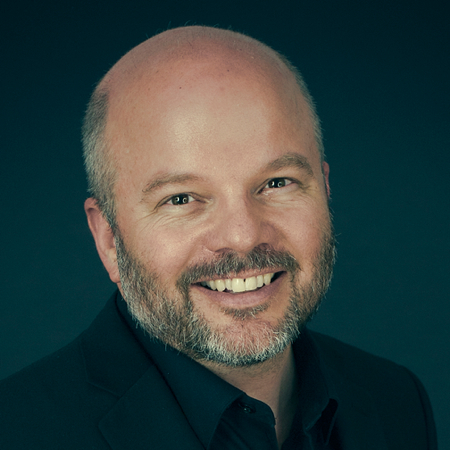 The concert was well received, and Cappella Romana was born. The ensemble has grown steadily in depth, repertoire, and prestige. Lingas has become of one of the world's most eminent scholars in the history, performance, and ethnography of Greek and Russian Orthodox music, and he's won many awards. Based in England, he sings as a cantor and directs Cappella Romana, while guest conductors also make regular appearances with the group.
The choir has performed works by major 21st-century Orthodox composers — Tavener, Tikey Zes, Ivan Moody, Richard Toensing, Peter Michaelides — and those of earlier modern eras, including Rachmaninoff. In 2014, Cappella Romana gave the world premiere of the lost Slavonic work Passion Week by Maximilian Steinberg, son-in-law and student of Rimsky-Korsakov and teacher of Shostakovich, and made an acclaimed recording of the piece.
The sound created by Cappella Romana's men singing early chant is like nothing heard elsewhere. There's an initial firm start to phrases that seems almost to come from under the note, though it doesn't. There's a rich resonance, a strongly cored, open sound with a lot of depth, and no vibrato. The music often has a limited range, spanning not much more than an octave, while its highly ornamented melodies are usually sung over one or more drones that indicate the tetrachord (a four-note range) of the mode in use. When you hear the ensemble, it only takes a few measures to know that this is Cappella Romana.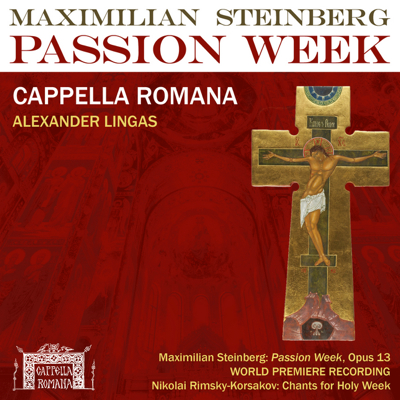 Soprano Catherine van der Salm, an 11-year member, is typical of the group's non-cantorial singers. An experienced choral performer versed in many styles, she was initially invited to replace someone who dropped out. "When I heard they were doing this beautiful Russian music, I said I'd love to," she says.
Of the difference between modern approaches to European early church music and Orthodox styles, Lingas says, "Byzantine chant is fundamentally an oral tradition close to language with the authority of its particular sound derived from vocal lineage passed down through the generations. This is why, when learning to sing Byzantine chant, the sound ideal rests on a community consensus. Such a consensus also operates, of course, for modern approaches to the vocal music of the medieval West, where the sound ideal is a clean approach that is faithful to the score, with things beyond the page perceived as additional, rather than primary.
"That's part of the difference. Another, especially within the Anglican choral tradition, is having the organ as the model for voices, with its fixed pitches and clean breaks between them. In Byzantine chant, on the other hand, we are sensitive to the types of tuning required by the music. For us, the voice is a fluid spectrum where only some intervals are clearly fixed."
Powell adds: "You can do things with the voice that only the voice can do, so this chant is very idiomatic for the voice. We observe microtonal tuning of these ancient modes. It's a totally different way of listening to and understanding the music, and it takes a while to learn the notation."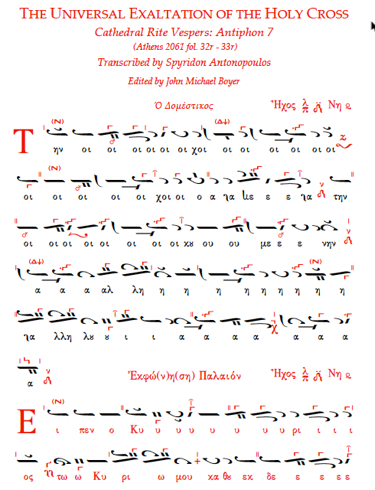 The notation itself is sequential: a series of signs each indicating a specific interval from the note before, rather than a series of specific pitches as in staff notation. There are different neumes (signs) for each intervallic ascent and descent. Additional signs indicate rhythmic division and ornamentation. Sometimes ornamentation, as well as chromatic inflections (musica ficta), are implied rather than written out. Dynamics are not usually indicated, but are implied by textual context and vocal range rather than imposed by the composer.
Cappella Romana is not content to stay frozen in the styles it has learned. The styles have changed over the years as ensemble members have become more immersed in the received oral tradition, enriching their approach in-house and as they've worked with teachers or guest artists. "We don't have recordings of the Middle Ages," says Lingas. "Probably some things have stayed the same and other changed."
Personnel numbers for concerts vary, and while the group can draw upon about 50 singers, it uses about 26 for works like Rachmaninoff's Vespers. For male-only chant, the ensemble usually comprises a minimum of six singing melody and four singing drone. The Byzantine chant notation looks alien to anyone not versed in it, but it has been used for centuries in the Greek Orthodox church. All the cantors read it, and a recent $90,000 grant from the Fred Fields Fund of the Oregon Community Foundation is allowing others, especially women, to study it during a two-year program taught by the group's lead cantor, John Michael Boyer. "For those who can't read it easily, we can also use transliterated scores," says Powell.
(The MJ Murdock Charitable Trust and the Meyer Memorial Trust have recently given about $300,000 in grants to support Powell as full-time executive director of the organization.)
This season, Cappella Romana is presenting five series concerts, plus another in its regular series by the Boston-based Psaltikon, and it also presents three other ensembles in related music outside the regular series. It will host a four-day Arvo Pärt Festival in February in Portland that includes a performance of the Estonian composer's Missa Syllabica with nine of the choir's soloists and make several European tours, including a likely visit to France in 2017 or 2018.
Lingas tries to balance programming between ancient and modern, Slavic, Latin, Russian, and Greek, but other languages often come in, as with a performance of All-Night Vigil by the late Finnish composer Einojuhani Rautavaara in January.
Travel sometimes includes rehearsals, wherever the choir is performing. Last year, Cappella Romana rehearsed in London prior to a European tour, making it easier for the ensemble's European singers to be present. They've also held Skype rehearsals, though singers far away usually observe — rather than join in, because of the time lag between notes — and then work on the music on their own.
Participation since 2010 in Cappella Romana's ongoing Stanford Research Project — from which the October concert was a natural offshoot — had the choir heading to San Francisco immediately after the Hagia Sophia concert. "Icons of Sound: Aesthetics and Acoustics of Hagia Sophia" was a collaboration between Stanford University's Center for Computer Research in Music and Acoustics and the Department of Art and Art History.
The aim was to use real-time digital signal processing to synthesize the acoustics of Hagia Sophia itself. In Istanbul, the Stanford crew was allowed only to work in the middle of the night. They popped balloons in Hagia Sophia, measuring the reverberation times and signal response at all frequencies around the cathedral, capturing this information into their computers, and bringing the results back to Stanford. Cappella Romana's part was to sing while wearing tiny microphones on their foreheads in Stanford's Bing Concert Hall, with the signals processed and distributed to an array of 24 loudspeakers distributed throughout the hall.  "I was prepared for it to sound fake," says Powell, "but it sounded and felt like the real thing."
The resulting Cappella Romana CD will likely come out in 2017, adding to its catalog of more than 20 recordings. To get a taste of the ensemble's distinctive and unmistakable sound, go to YouTube to find dozens of excerpts.
Cappella Romana programs always include scholarly notes by Lingas and the texts in the original language next to English translations — sometimes with the phonetic approximation for those who don't read Greek or Cyrillic alphabets. Supertitles might appear in the near future, as well as the publication of scholarly performing editions.
"There's no dearth of music for the ensemble to perform. We're just scratching the surface of what's archived there at Hagia Sophia," says Lingas. "It may have languished for centuries, but now we have the chance to bring it to life."
Philippa Kiraly has written as a freelance music critic since 1980 for the Akron Beacon Journal, Seattle Post Intelligencer, Seattle Weekly and Seattle Times and many other music publications. She currently writes for Seattle City Arts and a blog, The Sun Break.