by
Published July 12, 2016

If you're anything like us, you enjoy learning about fellow early music enthusiasts. Each month EMA asks a member a series of questions about his or her early music experience, background and, well…just about anything else in our feature called Center Stage.
Helen-Jean Talbott started playing recorders and flutes at age 8 and never stopped.  She is a summa cum laude graduate of the University of Maryland with B.S. and M.S. degrees in Agronomy.  After lengthy careers as a scientist for the U.S. Department of Agriculture and Director of Credit Policy MIS for a major financial company, she began to pursue music full time, earning her Master of Music degree in recorder performance at The Peabody Conservatory of The Johns Hopkins University in 2009.  The Washington Flute Society  selected her flute and guitar composition Canzona for the 2004 Flute Fair composers' concert, and in 2013 she won the Recorder Orchestra category for the ARS is 75! Composition Competition held by the American Recorder Society.  Her flute and piano music is published by Falls House Press, and her recorder music is published by Peacock Press.  In addition to composing music, Helen-Jean performs medieval and renaissance music with the Peabody Renaissance Ensemble, Consort Anon, and the Amber Wood Consort.  Her performance venues include Amherst Early Music Festival, and the Maryland Renaissance Festival.  She also performs music for worship services and concerts at  St. Matthew's United Methodist Church in Bowie, Maryland.
How did you come to the field of Early Music?
Early Music is one of the few genres outside of Jazz where you can ad lib and embellish, putting your creativity into the music.  My introduction to early music started when I was 8 years old learning to play soprano and alto recorders at summer music enrichment programs lead by Eugene Reichenthal on Long Island, NY.  It was the 1960s.  I didn't know it was Early Music at the time.  It was fun, especially the Sonata in G major by James Hook.
Music has always been a part of my life.  In my school years, I studied flute and piano;  was in the symphonic and marching bands — even the drum major at one point; twirled baton as member of the Carrolltones Drum and Bugle Corp.;  sang in the church choir, and played recorder music with my friends.   I found time to play music even with a full-time job at the U.S. Department of Agriculture while  working on my Master of Science degree at the University of Maryland.
Later, after working in Baltimore for several years doing MIS computer programming and system design,  I discovered that I could take classes and lessons at Peabody as part of their adult continuing education program in the Preparatory.   It took me ten minutes to walk to school from work, which made it possible to take classes several days each week.  I even studied flamenco dance.   My flute teacher got me in contact with Gwyn Roberts for recorder lessons.   After a few lessons, Gwyn suggested that if I wanted to take my recorder playing to the next level I should go to "whistle camp" (the Amherst Early Music Summer Festival).  She was absolutely right.  I learned so much that first summer, and I was enchanted by the possibilities of all those wonderful and strange instruments I'd never seen before.   I continued to take classes and lessons at Peabody with the dream of eventually becoming a full-time student.   Upon leaving my job, I auditioned and was accepted into the master's program at Peabody Conservatory to study recorder (with Gwyn) and composition (with Judah Adashi).   I love being a student and having the opportunity to perform with such talented students.
It's now  7 years since I earned my master's degree in Recorder Performance at Peabody.  I currently teach flute and recorder, and I especially enjoy working with beginning adult students.  I continue to study composition at Peabody, and now have several publications — flute & piano music published by Falls House Press, and recorder music published by Peacock Press and the American Recorder Society.  This also will be my 8th year performing recorders at the Maryland Renaissance Festival.  When people ask me what I do, I tell them I'm a musician who plays Early Music.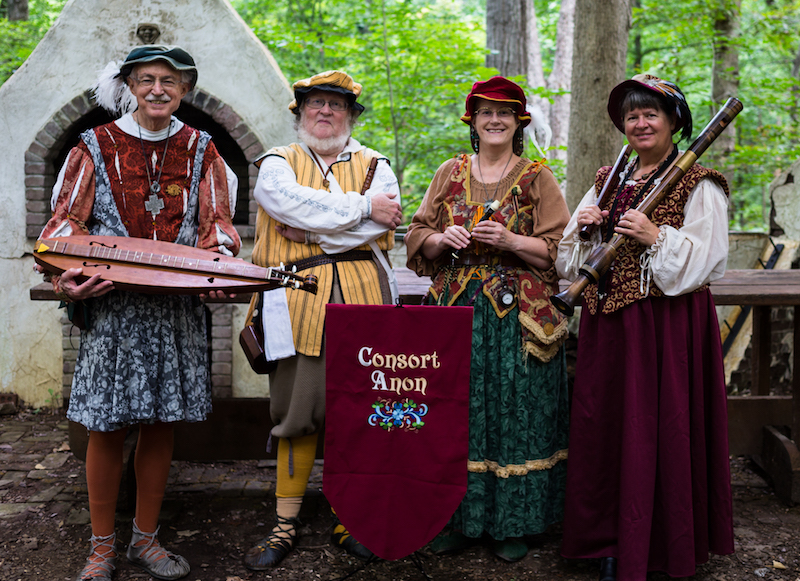 Tell us about your most memorable concert experience?
One of my most delightful experiences was while I was playing recorders with Consort Anon at the Maryland Renaissance Festival.  We have four performances each day, and for this particular set we were on one of the pathways that have walk-by audiences.   It was one of those hot sunny days, and a weary father was pushing a baby stroller.  The baby was crying when the stroller approached our location, but the crying stopped when the baby was close enough to hear our music.  The father paused for a while to listen to our music, then continued to push the stroller towards his next destination.  He got just a few feet away from us before the crying resumed.   Moments later he turned around and positioned the stroller right in front of us.  Crying stopped immediately, and both baby and father were happy.
Unexpectedly, you have two hours of free time later today… what will you do?
I like to create things that I consider to be beautiful and useful.   I'm interested in so many different things, that my choice would depend on where I was and what I have to work with.  Examples would be designing and sewing clothing (perhaps something for my renaissance costumes) and traditional quilts, sprucing up one of my flower gardens, selecting music for new arrangements for recorder orchestra, painting or drawing a picture, or perhaps trying a new soup recipe.
Recent EMA Features
A Q&A with Music Before 1800's new artistic director Bill Barclay: 'If people are going to take a risk of coming to a concert for the first time, they need something to hold on to'... it's 'sadly a bit of an exclusionary pleasure — you have to know a little bit to get a lot out of it, unless there's something that resonates and makes people understand that early musicians are arbiters of ancient insights into human performance.'
The latest essay in EMA's 'Early Music: the Americas' series looks into the private notebooks of two women who preserved music of Latin American and European composers -- music that in some cases is found nowhere else.
Video games generate more revenue than the movie industry, and many games are set in 'legendary times' that cry out for an early music soundtrack. As technology improves, many games employ early music not just as background but as element of play.