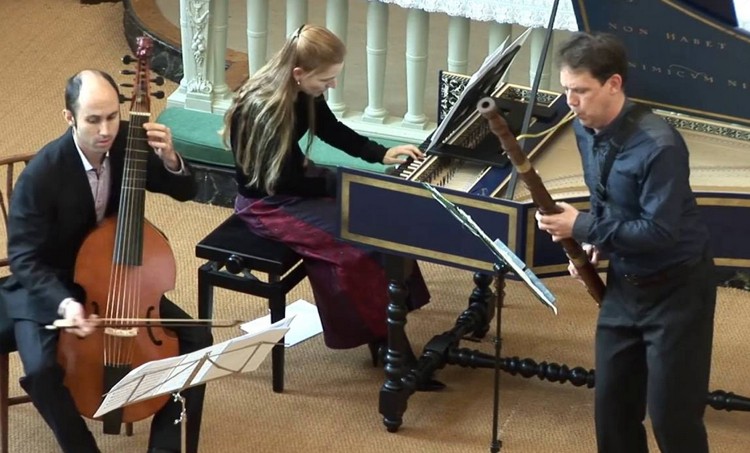 Elegant Bassoon

Wouter Verschuren (bassoon) and Concerto Delaborde
Globe Records GLO5266
By Mike Telin
On his new recording, The Elegant Bassoon, historical bassoonist Wouter Verschuren performs a variety of captivating repertoire dating from the earliest days of the instrument to the beginning of the Classical period. With the impressive assistance of Kathryn Cok (harpsichord), Antoinette Lohmann (baroque violin), Wilbert Hazelzet and Kate Clark (traversos), and Robert Smith (cello and viola da gamba), Verschuren has crafted an album that sets a new standard of excellence for bassoon recordings — whether historic or modern.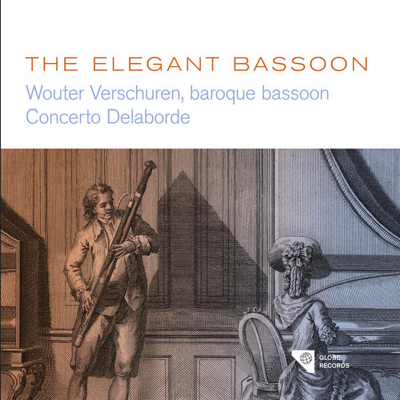 In addition to his position as principal bassoonist of the Amsterdam Baroque Orchestra, Verschuren is co-founder — with his wife, harpsichordist Cok — of Concerto Delaborde and the Caecilia-Concert. He serves on the faculties at the Royal College of Music in London, the Royal Conservatoire in The Hague, and the Utrecht Conservatory.
As a researcher, Verschuren's primary goal is to seek out and record forgotten repertoire for dulcian and historical bassoon. Works by Johann Georg Tiehl and Theodor Schwartzkopff add plenty of spice to this album.
Verschuren points out in his liner notes that Tiehl, whose exact dates are unknown, is entirely absent from reference books. This is the first recording of three sonatas, part of a set of thirteen, plus praeludia, that likely comprise the first collection composed for baroque bassoon.
Playing an instrument by François de Rudder after Johannes Maria Anciuti (ca. 1730), Verschuren performs brilliantly, tossing off even the most fiendishly difficult technical passages in sonatas nos. 12 and 6. His rich, dark tone is particularly alluring in the slower sonata no. 3.
Schwartzkopff (1659-1732) is another less-than-household name. Actually more of a suite than a trio sonata, his Sonata à tre for bassoon, viola da gamba, and continuo is one of the only pieces written for this combination of instruments. The opening Grave-Allegro-Adagio is an overture, the Aria a charming chaconne, and the Bourée-Aria-Gigue Presto a folksy dance movement. Verschuren, Cok, and Smith play impeccably throughout.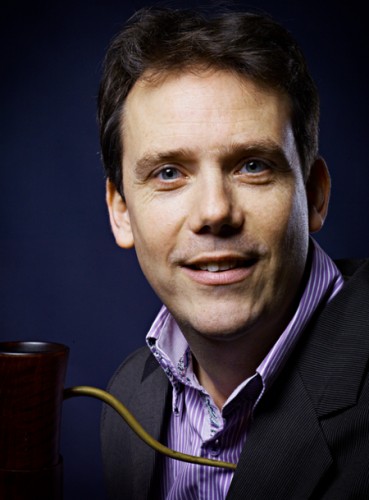 The Elegant Bassoon includes three sonatas by Georg Philipp Telemann. The Sonata a Flute traversiere, Violino, Bassono e Cembalo in c minor, which opens the disc, receives a phenomenal performance by Lohmann, Hazelzet, Verschuren, Cok, and Smith. Though the bassoonist delivers a stellar account of the Sonatina Quinta in a minor, it is the Sonata a 4 in d minor from Tafelmusik that is the CD's highlight. Clark joins Hazelzet, Cok, Smith, and Verschuren in a thrilling interpretation of this expansive work. As soon as it's over, you'll want to hear it again.
The album moves toward the Classical era with music by Johann Friedrich Fasch, Carl Philipp Emanuel Bach, and François Devienne. The Sonata a 4 in D major is Fasch's only known composition for violin, traverso, bassoon, and basso continuo. It's a delightful piece, and the ensemble brings magic to every measure.
C. P. E. Bach is represented by Sonatas 1, 3, and 5 from Sei Sonate per il Cembalo Obligato con accompagnate un B. Clarinett un Fagott (1767). This performance replaces clarinet with flute (Hazelzet), and the sonatas are presented in a fast-slow-fast sequence forming a virtual three-movement composition. The third sonata is particularly jovial.
The album concludes harmoniously with Devienne's dashingly gallant Sonate pour clavecin avec flûte et basson obligés (1787).
Released on Globe Records, The Elegant Bassoon was recorded in April 2016 at the Oud-Katholieke Kerk in Delft, Netherlands. Produced by Laurens Beijer and Erik Beijer, the album has a warm sound, fine balances, and just the right amount of reverberation.
Mike Telin serves as Executive Editor at ClevelandClassical.com and team-teaches classes in Music Criticism at Oberlin College and Conservatory.