A Season Begins
by Donald Rosenberg
One of the missions of EMAg is to explore the new in the old—to discover how music that's been around for a long time is faring in the 21st century. The music only happens when performers, musicologists, and enthusiasts keep the sounds in circulation or unearth information that leads to a better understanding of what composers of distant eras may have been trying to achieve. It's all about relevance, and about revitalizing works we know (or thought we knew) and those we had no idea existed.
In this issue of EMAg, we look at our vibrant musical scene from a variety of perspectives.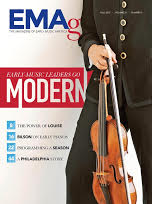 We're fortunate to present stories by eminent artists who have been involved in myriad aspects of early music for decades. Malcolm Bilson writes about the fortepiano, which he has been brought luminously to the fore. Tina Chancey, a virtuoso on all sorts of bowed instruments, takes a break from her busy concert and recording life to consider the need for early-music organizations to get creative when it comes to marketing their product. And soprano Anne Azéma, artistic director of the Boston Camerata, ruminates on what it takes to devise a cohesive concert season.
It's possible that a period-instrument conductor this season will lead a modern symphony orchestra—yes, the one that normally plays Mahler, Stravinsky, and John Adams—near you. As three of these conductors tell Colin Eatock in his cover story, orchestra musicians who once recoiled at the thought of minimal vibrato, spiffy tempos, and ornamental imagination increasingly enjoy the chance to play works with a historical sense of style.
Celebrating artists who preserve historical styles has been a labor of love for Louise Basbas since she founded the New York concert series Music Before 1800 in 1975. She remains an artistic ball of fire at Corpus Christi Church, where—when not leading the choir and playing organ—she continues to present seasoned and upcoming performers in an intimate acoustical space that is hailed as one of the best in the city for early music.
Not far from Manhattan, another city has developed a flourishing early-music scene. Wherever you turn these days in Philadelphia, you'll likely find a period-instrument ensemble, collegium, or solo artist offering programs filled with favorite works or worthwhile repertoire that is coming to light after centuries of neglect. So, what once was new and then old is new again.
Speaking of the new, you'll notice several aspects of EMAg that differ from recent issues. We welcome designer Lawrence Hruska, who is putting a distinctive contemporary stamp on the magazine. Another addition to our pages is Joshua Kosman, by day—and night—the brilliant music critic of the San Francisco Chronicle and a cruciverbalist (love that word) who is creating our crossword puzzle. He succeeds Malcolm Bothwell, a man of many artistic gifts, who died in May of cancer. In his Musings column, Tom Kelly salutes his friend's remarkable achievements, bringing this issue of EMAg to a touching and eloquent conclusion.