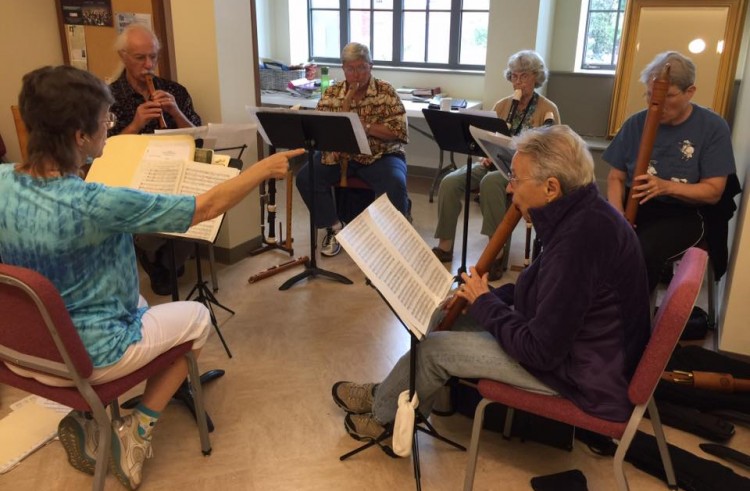 Festival Report by Salomé Sandoval
​The IBERICA Early Music Festival (formerly based in Boston, MA) continued with its third edition on Saturday, Sept. 3 in Chapel Hill, NC, thanks to the generous contribution of its host, Dr. Van Quinn, and the Chapel of the Cross.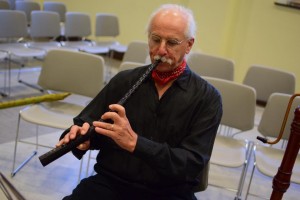 The day of activities included morning classes, afternoon lectures, and an evening concert. Patricia Petersen led the recorder class, in which beginner, intermediate, and advanced students had the opportunity to read and play works by Juan del Encina (1468-1529) and his contemporaries from Spanish Renaissance sources, such as Cancionero de Palacio and Cancionero de la Colombina. Salomé Sandoval, who runs the festival, presented her collection of plucked instruments and led the class for lutenists and lute enthusiasts, about works by 1500s Spanish vihuela composers such as Mudarra and Narvaez, and most specifically the manuscripts of songs, and techniques for self-accompanying the voice.
In addition to the classes, Doug Young presented a lecture on the bajon or Spanish dulcian, showing iconography of the instrument in Spanish art, and how the instrument was used in bands and liturgical music. Following the lecture, Petersen and Young showcased a large collection of instruments and performed selections from Spanish, German, and Italian sources. Sandoval continued with a lecture on Mateo Flecha (1481-1553), concentrating on the form, style, linguistics, and performance practices of today's ensembles.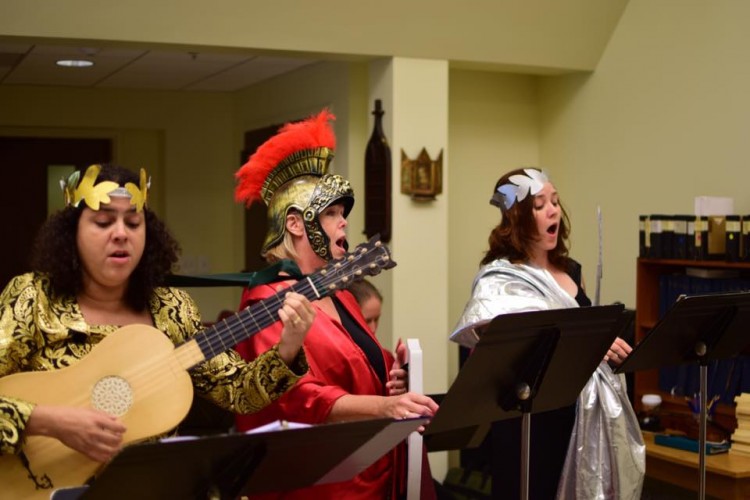 The festival concluded with a semi-staged production of Salir el amor del mundo — translated as "Love is out!" — by Sebastian Duron (1660-1716). The zarzuela (music play) has an unusual plot, a metaphor for broken hearts, and was performed in its entirety with texts translated to vernacular English and songs in Spanish; supertitles and art were projected onto a large screen. Diana (played by Tracy Cowart) conspired with three gods, Apollo (Sandoval), Mars (Patty Phillips), and Jupiter (Molly Quinn), to expel Cupid (Malina Rauschenfels) out of the world with the argument that love causes more pain than pleasure.
El Fuego Early Music Ensemble, led by Sandoval, who sang and self-accompanied on baroque guitar and archlute, was composed of Matvey Lapin (violin), Petersen (recorder), Young (recorder and cornetto), Gail Ann Schroeder (viol), Paula Maust (harpsichord), Malina Rauschefels (violin and castanets), and Spiff Wiegand, who played the role of Momo (comedic character), as well as percussion and a memorable kazoo solo. The guest choir was made up of 18 members from the prestigious Women's Voices Chorus, which has been active in Chapel Hill for thirty years. The play was intended to be performed entirely by women, and the chorus played two roles: Diana's nymphs and Cupid's shepherdesses.
There was a great audience turnout for the concert, which confirms that the early-music scene in the triangle area in North Carolina is growing.
---
We'd love to hear about your festival and workshop experiences. If you would like to submit a short synopsis with photos, please email submission@earlymusicamerica.org.