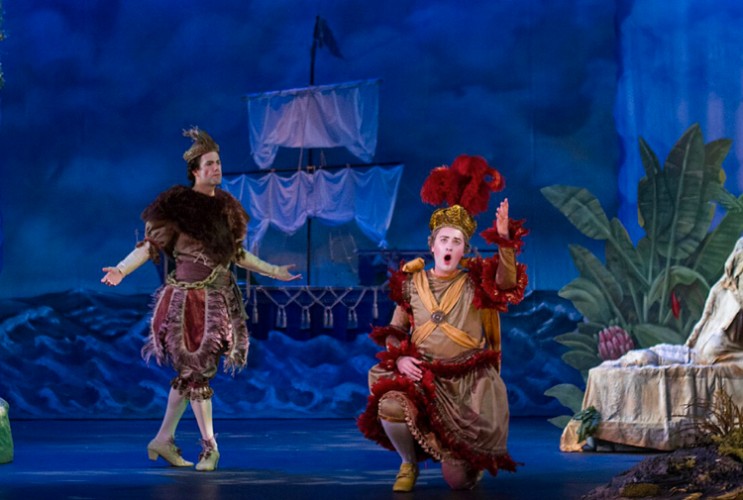 By Kyle MacMillan
CHICAGO — In a city that already boasts Lyric Opera of Chicago, one of the country's top three companies, and the smaller, offbeat Chicago Opera Theater, it might seem folly to contemplate starting yet another such organization.
But Craig Trompeter was unfazed. Around 2006, the viola da gamba player and opera devotee conceived the idea of starting something completely different — a Chicago company devoted to presenting 17th- and 18th-century operas with period music and staging. Or put another way, he wanted to present works as closely as possible to the way audiences would have experienced them at the time of their creation.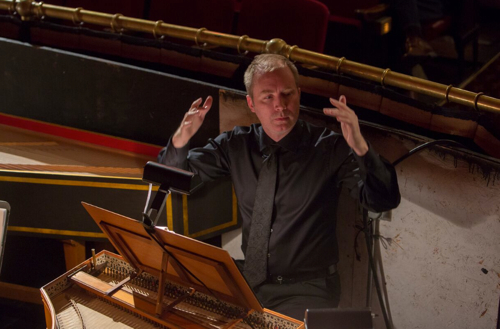 The resulting Haymarket Opera Company recently launched its sixth season with a captivating production of Haydn's virtually unknown 1779 opera, L'isola disabitata (The Deserted Island) — its first presentation of a Classical-era work. The four-character story, which centers on a woman stranded on an island with her younger sister, manages to weave farcical humor with genuinely affecting moments. Perhaps most impressive were the audience's obvious enthusiasm and the artistic integrity and intelligence that pervaded every facet of the offering.
"What's really amazing about them," said soprano Kimberly McCord, who sang the role of Costanza, "is that even though they are a small company, they have such a commitment to doing full-on, authentic period productions. They're not cutting any corners. That's just their philosophy, so you know working with them that we're going all in."
While many companies use period-instrument ensembles for their productions of early operas, virtually all of them adhere to a more modern, naturalistic theatrical style, sometimes even imposing contemporary settings onto the works. Not only is Haymarket the only company in Chicago devoted to a total period style, it is also among just a handful of such producers anywhere. "The fact that its (approach) has caught on and taken the shape of a company dedicated to that in Chicago I see as a very positive step," said conductor Stephen Stubbs, co-artistic director of the Boston Early Music Festival.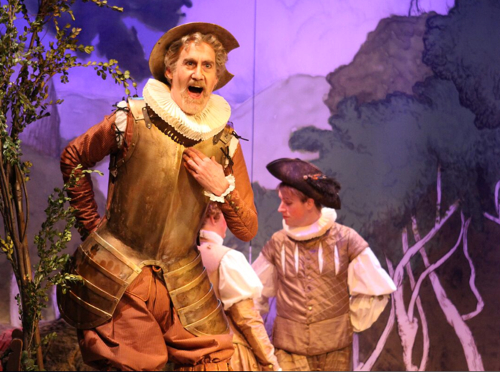 According to Stubbs, the 36-year-old Boston festival, which has been at the forefront of the field, and Opera Atelier in Toronto, Ontario, are the only such companies in North America, aside from Haymarket. In Europe, most period stagings of opera take place at festivals like the one held each summer at Sweden's Drottningholm Palace Theatre, an 18th-century venue that still has its original stage machinery. But even in such settings, Stubbs said, modern productions tend to be mixed in. "There's a very widespread anti-Baroque staging feeling in the mainstream opera world," he said, "and so any company that takes it on is working against that stream. There are a lot of politics against it."
When Trompeter contemplated founding a specialty opera company of this kind, he worried that the idea might seem "farfetched," so he shared it quietly with a few friends, who were immediately enthusiastic. More than 100 people attended the fundraising party he hosted in early 2011. "It was really exciting," said Trompeter, the organization's artistic and music director. "It was something that wasn't going to happen for another eight months, and people were already giving us money."
Helping to stoke anticipation were memories of Chicago Opera Theater's well-received presentations of Baroque operas led by the renowned conductor Jane Glover, including all three works in the genre by Claudio Monteverdi — Orfeo (2000), L'incoronazione di Poppea (2004) and Il ritorno d'Ulisse in patria (2007). These period-instrument productions gave audiences a taste of what might be possible.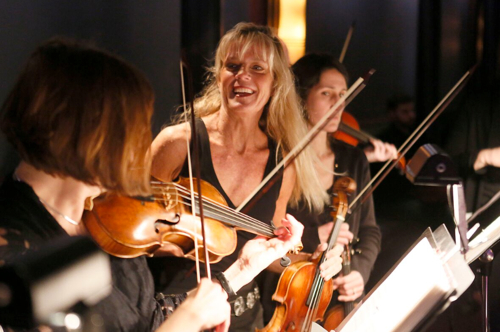 Haymarket — a name derived from Chicago's 1886 Haymarket riot and London's Haymarket, the street where Handel premiered more than 25 of his operas at the King's Theatre — launched operations in 2011 with Handel's Acis, Galatea e Polifemo, a 1708 dramatic cantata whose plot is almost identical to that of his opera of a decade later, Acis and Galatea.
Since then, the company has produced two operas per season, ranging from staples like Purcell's Dido and Aeneas to the first fully staged professional production of Alessandro Scarlatti's 1679 Gli equivoci nel sembiante (Equivocal Appearances) in the United States. Trompeter is always on the hunt for forgotten treasures, but he adheres to certain parameters. "We can't just do any opera that I read about," he said. "We have to look at things practically. Is it a good piece, number 1? And is it something we can manage physically? If it has 30 characters, we can't do it."
Beginning with its fifth-anniversary season in 2015-16, Haymarket added two components to its annual offerings — a March oratorio and a summer course in Baroque opera for young vocal artists. The first edition of the latter program took place June 5-11 at Roosevelt University's Chicago College of Performing Arts and included noted countertenor and stage director Drew Minter among the faculty.
Haymarket started with an annual budget of $20,000 and now functions on a much larger but still-modest budget of $220,000, with just one full-time and two part-time employees. The company's two performances in September of L'isola disabitata drew 750 people — not a huge crowd by Lyric Opera standards, but a sizable jump from the numbers Haymarket drew in Mayne Stage, its first, 180-seat home. In May, it switched venues to the 950-seat Athenaeum Theatre, a 1911 facility that offers many other advantages, including dressing rooms and backstage space.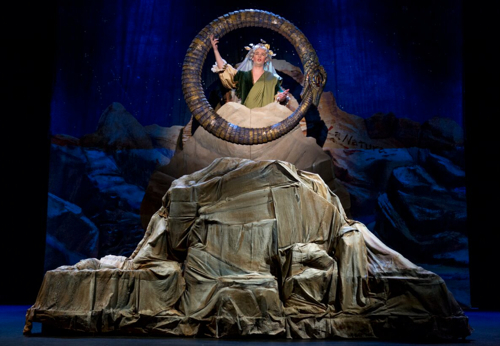 At the heart of the company are internationally recognized keyboardist Jory Vinikour and a fine pit orchestra comprising Chicago-area musicians and nomadic period-instrument specialists. From the start, said Jeri-Lou Zike, the company's concertmaster and orchestra manager, it was important that the ensemble abide by union rules and pay scales. Too often, she said, period-instrument musicians are paid less than their counterparts in modern orchestras. "We wanted to right the wrongs," Zike said.
Haymarket used only six musicians in the pit for last May's production of Francesco Cavalli's La Calisto, but the ensemble averages eight or nine players. For the recent Haydn opera, the company assembled its largest orchestra to date — 20 musicians. Following performance practices of the Classical era, string players used what Trompeter called "transitional bows," which have a bit more weight and slightly different shape than Baroque bows. Vinikour performed on a fortepiano, and the wind players used instruments authentic to that period. In addition, the orchestra was tuned to A=430, versus the usual 415 for Baroque orchestras or 440 for modern orchestras. The result was a rich, burnished sound that especially suited some of Haydn's darker writing evoking the sea storm and Costanza's hopelessness.
Balancing its historical attitude to music-making is the company's period staging, with opulent costumes and sets with an appealingly two-dimensional, low-tech look. Trompeter believes this approach removes unnecessary interpretative overlays, restores the innate, expressive power of these works, and, perhaps counter-intuitively, makes them more accessible to the public.
Sarah Edgar, who worked in Europe before moving to Chicago in 2012, has served as stage director for six of the company's productions, including L'isola disabitata. She is a Baroque-dance specialist who said the training is important because so much of the acting in the 17th- and 18th-century centuries employs prescribed body movements and gestures that emphasize certain words and musical phrases. She studies treatises on dance and acting from the period and looks at historic paintings to see how bodies were positioned. "When you do the period staging," Edgar said, "it highlights the text and the libretto in a non-ironic way. It also works closely with the music, with the affect in the music, because the staging conventions of the period were very sensitive to the structure of the Baroque opera."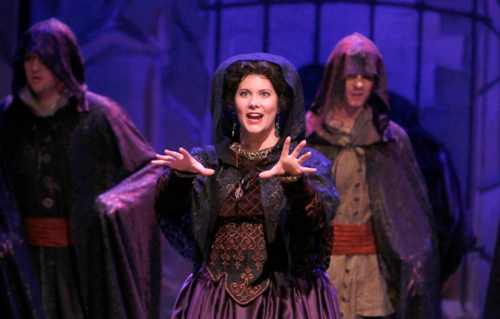 The company draws on a pool of regular performers, but Trompeter also makes a point of adding new voices to each production for the sake of variety. He looks for singers who can handle the exacting vocal demands of the repertoire and are open to the company's period staging. "They have to be people willing to take chances," he said. So far, Haymarket has had little trouble finding them. "They often come to us, actually. We have a really good reputation now, and I get a lot of inquiries."
One of those regulars is McCord, a Chicago singer who studied in London with soprano Emma Kirkby, the noted early-music specialist, on a Fulbright scholarship. McCord has appeared in three Haymarket productions and has nothing but praise for the company. She said that "we have a good time, there's some flexibility there, you're trying things out and seeing what works. I never feel like we're putting on a museum piece. Even though from a distance it might look like that, it's a very living, collaborative environment."
As the company looks to the future, Trompeter anticipates the same gradual growth it has enjoyed so far, allowing Haymarket to take carefully calculated risks without sacrificing artistic quality or financial stability. He hopes to add a third opera to the company's line-up starting with the 10th-anniversary season in 2021-22 — a big commitment because of the considerable research and preparation its mostly obscure selections require.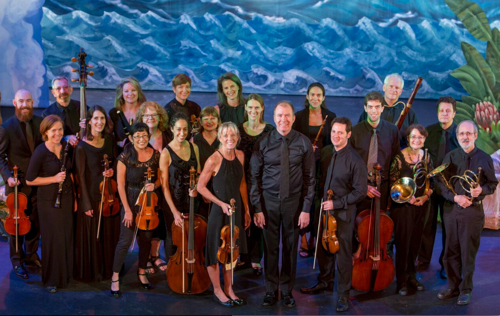 In January, the company will travel to the Valletta International Baroque Festival in Malta to present San Giovanni Battista, an oratorio by Alessandro Stradella, which it first presented in March in Chicago. And in the fall of 2017, Haymarket is staging its biggest production to date, a full-scale French opera complete with dancers — Marin Marais' Ariane et Bacchus.
On a less ambitious scale, Haymarket's orchestra will be in the pit for Chicago Opera Theater's November production of Purcell's The Fairy Queen, the kind of collaboration Trompeter hopes to repeat. In addition, he plans to schedule a concert performance or two each season for the orchestra as way to help fill the void left by the dissolution earlier this year of the Baroque Band, the Chicago-based period-instrument chamber orchestra.
While Haymarket is never likely to challenge Lyric Opera or Chicago Opera Theater, it has a developed a successful niche by making the old new and appealing to both opera devotees and newcomers. "I know a fair number of people who've never been to an opera," Trompeter said, "and they've come to us, and they've gotten hooked on what we do."
Kyle MacMillan served as music critic for the Denver Post from 2000 through 2011. He currently freelances in Chicago, writing for Chamber Music and Listen magazines and such other publications and websites as the Chicago Sun-Times and Classical Voice North America.