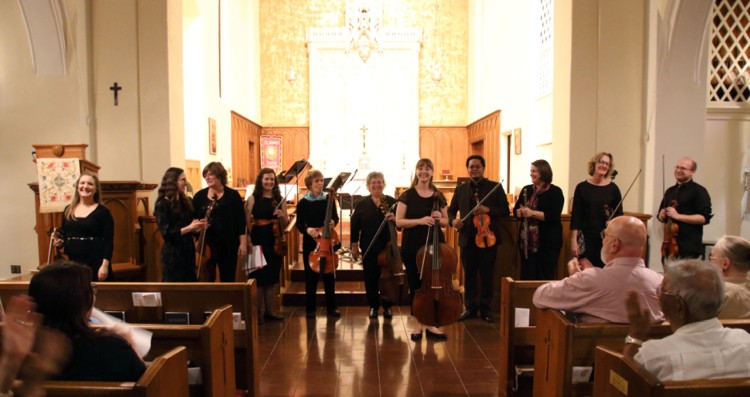 By Laurence Vittes
LOS ANGELES — There's a new early-music game in town, and it's called Los Angeles Baroque. The organization, a teaching and performing academy for professionals and amateurs led by two remarkable young early-music virtuosos slash educators, presented its debut concert Nov. 13 at St. James' Episcopal Church in neighborly South Pasadena, 10 miles northeast of Walt Disney Concert Hall. Artistic directors Lindsey Strand-Polyak and Alexa Haynes-Pilon are already building a community of music lovers that includes a healthy sprinkling of young parents with their children and playing of superlative quality.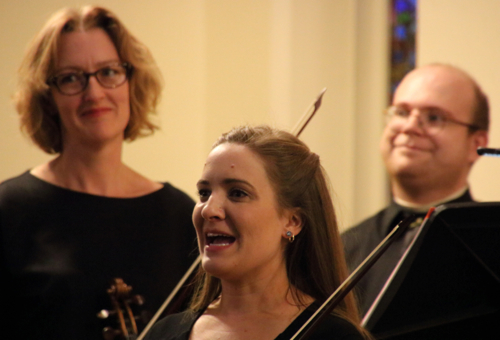 Known as LAB for short, the organization is the latest in a series of innovative Southern California early-music flirtations and experiments, which have ranged from Sol Babitz's eccentric Early Music Laboratory in the '50s and '60s and Preethi de Silva's Con Gioia concerts in Claremont beginning in 1982 to Gregory Maldonado's rough-hewn Los Angeles Baroque Orchestra in 1985 and Michael Eagan and Mark Chatfield's achingly beautiful Musica Angelica in 1993.
LAB comes as a fresh breath of air in an early-music and Baroque scene dominated by mainstream giants. They are part of Da Camera Society's Chamber Music in Historic Sites series, which this season includes Boston Camerata, Phantasm, Aulos, and Dueling Violins: Baroque Edition; and Disney Hall's Baroque Variations, featuring the intricacies of Fretwork, Internationale Bachakademie Stuttgart performing Bach's B Minor Mass, and the Venice Baroque Orchestra in Vivaldi's The Four Seasons.
The arrival of LAB was heralded via an announcement: "Calling All Early Music Performers!" The response exceeded what violinist Strand-Polyak and cellist Haynes-Pilon had hoped for upon revealing details of their new community initiative and inviting the public to consider membership or to attend the season's projected fall and spring concerts.
The performers, audience, four-member team of musician-educator administrators that launched the enterprise, and many friends and volunteers made it clear that they were responding directly to LAB's mission statement:
"To create an ensemble for dedicated community musicians to explore repertoire, learn Baroque playing style and perform; to help support and expand the early-music community in Los Angeles; and to be inclusive in our reach in order to give the maximum number of highly motivated players the opportunity to participate."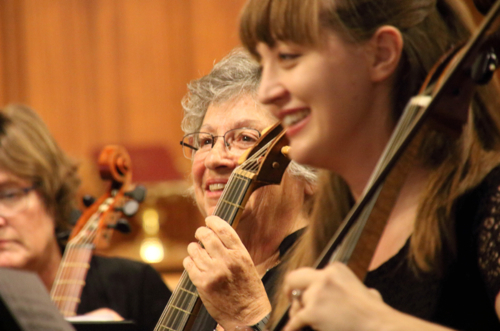 Although LAB welcomes wind players "if there is interest," it's initially aimed at violin, viola, cello, double bass, bass, viol, violone, harpsichord, theorbo, and baroque guitar players. Pitch has been set at A=415, and auditions are held only for the principals. Everyone who wants to join becomes a member.
"This fall, we ended up with 12 players for the first concert," said bass viol player and co-manager Joan Lounsbery. "As Lindsey says, 'Come one! Come all!' No one is turned away."
The players in the debut concert — all professional-level performers in their 30s to 60s — were as remarkable as the artistic directors. Tenor viol Lucy Jones is one of the most famous seismologists in the world. (By coincidence, the morning of the debut concert, a large earthquake struck New Zealand and lifted the sea floor two meters.)
Of Ellen Stern, another tenor viol player, a friend said, "What can't she do? She has played percussion and sackbut, makes furniture, bread, hikes, camps, and has written a children's book called I Saw a Bullfrog, but she prefers playing viol — self-taught."
Michelle Baker-Wright, associate priest at St. James', was the only wind player who participated in the inaugural concert. She majored in flute performance at Thornton School of Music at the University of Southern California, freelanced as a musician in the Los Angeles area while working in higher education, and met her husband at the Fuller Theological Seminary.
The administrative team also sports impressive credentials: Violinist Zenovia Edwards played a prominent role in the British label EMI Records' classical department in London, with credits including recordings by Nigel Kennedy, Paul McCartney, Angela Gheorghiu, and Plácido Domingo. Lounsbery managed the Santa Rosa Symphony, Milwaukee's Skylight Music Theatre, and Napa Valley's Music in the Vineyards. Harpsichordist Anahit Rostomyan has pursued two degrees at UCLA: doctor of philosophy as a musicologist and doctor of musical arts as an organist.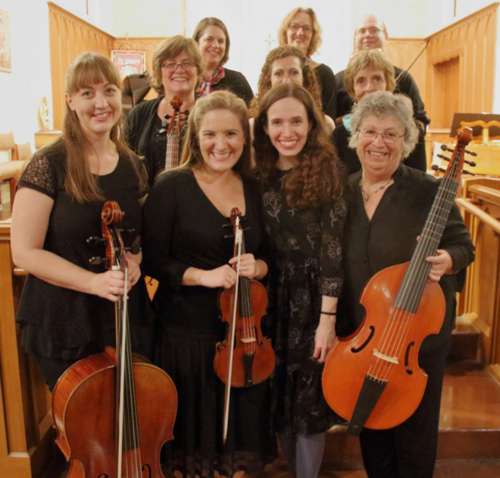 Strand-Polyak received degrees in musicology and violin performance from UCLA, studying historical performance with Elisabeth Le Guin and violin with Guillaume Sutre and Movses Pogossian. She has played at major festivals and with leading period orchestras. "The idea of a community baroque orchestra had been a passion project idea for a while," she said.
After moving to LA, Strand-Polyak actively sought opportunities to integrate her work in historical performance with her work in education and string pedagogy. She began sharing ideas with cellist Haynes-Pilon, who was also deeply invested in education and music community building through her activities in Toronto and annual outreach projects with Ars Lyrica Houston.
Haynes-Pilon and Strand-Polyak were on their way home from the Berkeley Early Music Festival last spring when Strand-Polyak "shared with Alexa my crazy idea, and she had had the same crazy idea, and we agreed it would be great to collaborate on such a venture.
"Both of us firmly believe that one of the best ways to experience Baroque music is to do it. Other cities with great Baroque music scenes have great musical groups, like the New Baroque Orchestra in Seattle, Berkeley Baroque Strings, and Bay Area Baroque Orchestra in Northern California. We both agreed that it was time to provide a fun, supportive musical space for Baroque music here in LA."
After sharing their idea with friends during an informal evening of chamber music, Lounsbery and Edwards volunteered to get involved in the managerial side of things, and tenor viol player and seismologist Jones made the connection with St. James'.
LAB's rehearsal the afternoon before the debut concert — the last of three illuminating teaching sessions — turned out to be as musically satisfying as many fully professional performances.
Strand-Polyak worked on a light, fleet-of-foot reading of Corelli's Concerto Grosso Op. 6, No. 11, brushing aside occasional intonation accidents and getting used to the acoustical space after having rehearsed in previous weeks in cramped quarters where fitting in music stands was a challenge.
"What's the most important part?" Strand-Polyak asked her colleagues. "We're just the frosting on the cello's cupcake line." The movements occasionally started off with slight uncertainty, but were better by the first repeat.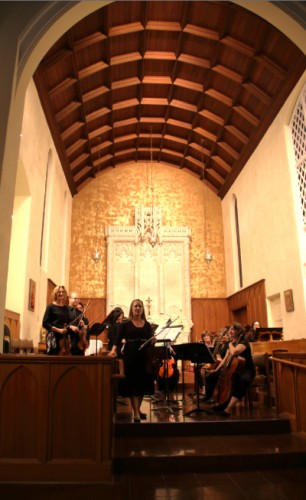 Once in a while, Strand-Polyak went out into the church for a sound check and returned with suggestions for articulation and pulse. "Always the pulse," she said. And, she cautioned, aligned to the new orthodoxy: "No accenting of ending phrases, please."
From every note she played, her attitude, and the charisma she generated, Haynes-Pilon gave notice that she is a special artist with a brilliant future.
The concert was as exhilarating as the rehearsal had been, although tuning the gut strings sometimes proved temperamental. Anthony Holborne's The Image of Melancholy may have been too slow for dancing, but it exerted a wonderfully hypnotic effect. In Charles Avison's take on Domenico Scarlatti in the form of his Concerto Grosso No. 6, LAB explored all sorts of evocative moods and colors. It was preceded by a novelty, the U.S. premiere of a three-movement suite by an obscure French composer named Stephen Nau (c. 1600-1661), whose greatest claim to fame was the playing of his dances at the court of Sweden's Queen Christina in 1654, the year of her abdication.
The pièce de résistance on the 90-minute, intermission-free program was Purcell's Chacony in G minor, Z. 730, orchestrated by the artistic directors, in a breathtaking, furious performance that brought the house down. In terms of spontaneous, intimate, musical conversations led by two superb musicians starting to put their stamp on the early-music landscape, it couldn't be beat.
Laurence Vittes writes regularly about music for The Huffington Post, Gramophone, Bachtrack, Strings, Audiophile Audition, and the Southern California Early Music Society.