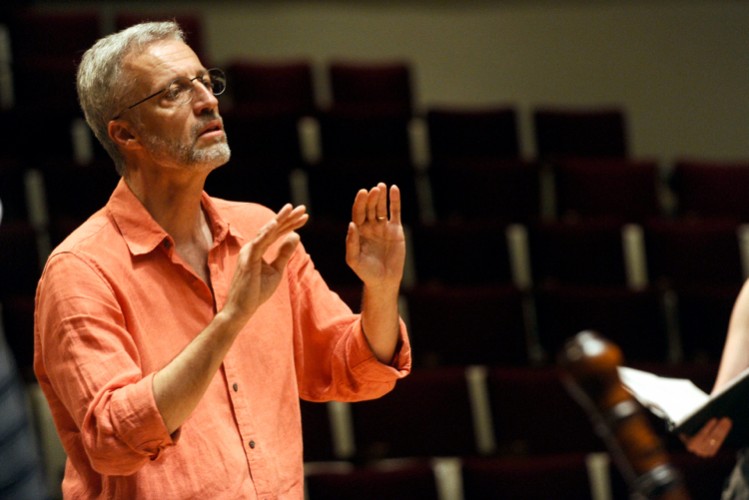 By Colin Eatock
TORONTO — "I've always been a romantic at heart," declares Ivars Taurins. "I loved the big romantic works when I was a kid — Brahms, Tchaikovsky, and Mahler. The first recording that I got from my parents was the Hollywood Bowl Symphony Orchestra directed by Carmen Dragon. The title of the LP was Nocturne, and it had Fibich, Massenet, and all the most wonderful schlock on it."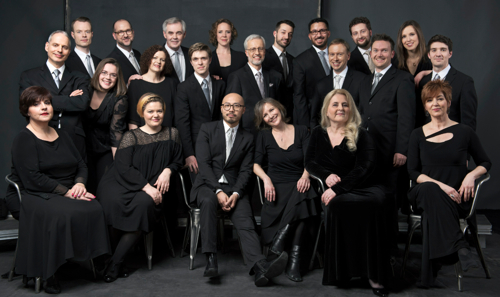 Taurins is well aware of the irony in his words. An affection for "schlock" isn't the kind of thing you'd expect from someone who has spent much of the last 35 years directing a baroque choir. Yet that's what he does — and there's a story in how he came to do it as founding director of the Tafelmusik Chamber Choir.
The story begins in May 1979 in a church in downtown Toronto. There, a group of local early-music players decided to put together a homegrown baroque orchestra. Calling themselves Tafelmusik, they gave an all-Bach program. They were young and optimistic, and hoped their one-off event would serve as a springboard for a permanent ensemble.
Only one of the dozen musicians in that concert is a member of Tafelmusik today. Taurins was a lanky violist, freshly graduated from the University of Western Ontario (now Western University), in London, Ontario. At Western, he cultivated an interest in early music when he found a baroque violin tucked away in storage at the Faculty of Music, and taught himself how to play it.
And he found a mentor in Simon Streatfeild, a conductor and founding member of the Academy of St. Martin in the Fields, who had moved to Canada to teach. Streatfeild introduced him to the basics of conducting, and Taurins applied his newfound skills to a student performance of Handel's Acis and Galatea.
"I was traveling on parallel paths," says Taurins, 60. "I was a string player, playing on period instruments. But I was still interested in all aspects of conducting. And through my experience of working with singers at Western, I learned how much I liked the voice."
His interests in conducting and the human voice dovetailed with Tafelmusik's needs when co-founder Kenneth Solway asked Taurins if he would create a vocal ensemble. The Tafelmusik Chamber Choir was born, and Taurins added it to his viola duties in the orchestra.
"Of course," Taurins says, "Tafelmusik wanted to do choral music, because in the 17th and 18th century the center-point of creativity was the Church. All the great monuments of music from that time are masses, requiems, and passions. And even though there is plenty of secular instrumental music, the influence of vocal music is strong."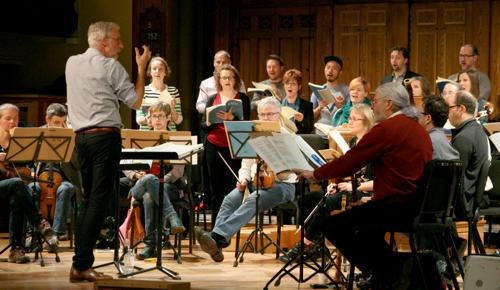 At the time, there was no such thing as a baroque choir in Canada. But Toronto is a city with a strong choral tradition — and it wasn't long before Taurins signed up 30 amateur singers. They were eager and talented, but they soon found themselves on a steep learning curve. "In the early years," he says, "I would invite the choir to our house to rehearse. They would grab all the chairs and sit on the stairs, and I'd play them recordings to introduce them to what period performance is all about. They were fine singers, but they weren't necessarily listening to period performance. I wanted them to hear what we were trying to achieve."
Indeed, many of Taurins' own ideas about baroque choral performance had come from recordings: he credits the choral recordings by Philippe Herreweghe and John Eliot Gardiner as influences.
But he also draws on musicological research. "Much has been gleaned," he says, "from historical documents and iconography. One can glean information about the types of voices — men, women, boys — also the size of choirs and pitch standards. There's a line in Vincenzo Tozzi's treatise: 'Look to the best violinists to learn your intonation.' If you think about much Baroque music — especially Bach — there's not always a distinction between vocal and instrumental music. The style, the declamation, and the rhetoric are all combined in the same way, whether you're an instrumentalist or as a vocalist."
And what about his own conducting technique? Is there anything "period" about it? The short answer is no. He doesn't conduct with a big staff, and he hasn't injured his foot yet. "There's nothing in terms of my technique that is based on period practice," Taurins says. "But there is a body language that comes from the shape of the music. There is so much rhetoric that goes on in 17th- and 18th-century music, that standard, modern conducting technique will only get you so far."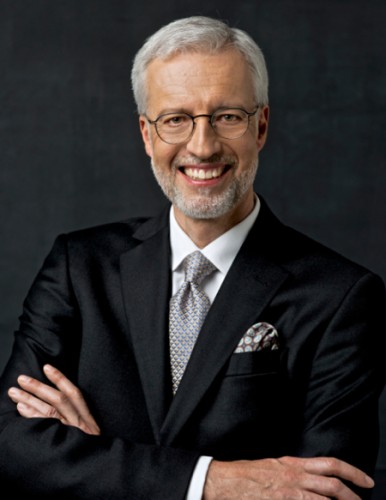 Knowledge of Taurins' skill as a Baroque conductor soon spread across Canada. He made guest appearances with "regular" civic orchestras — in Kitchener and London, Ontario, and in Halifax, Nova Scotia — and in 2001 he was offered a plum job. The newly created position of principal Baroque conductor with the Calgary Philharmonic was a big step, but taking in on meant that something else had to go. He wasn't about to abandon his Tafelmusik Chamber Choir, and instead hung up his viola. Now he was just a conductor.
"Calgary told me that they had a Baroque series of six concerts, and they put me in charge of them, much as an orchestra might have a pops conductor. Except for Cincinnati, I don't think there was any other orchestra in North America that had a Baroque conductor at the time. Calgary is where I 'grew up' as a conductor." Taurins' tenure with the Calgary Philharmonic lasted a decade, and he still guest-conducts there, and with other Canadian orchestras.
Meanwhile, back at the ranch, Tafelmusik had become world famous, thanks to international touring and a recording contract with Sony Classical. To bring the choir up to the orchestra's high standards, professional choristers gradually replaced the amateurs. Taurins settled on an ensemble of 22 trained singers, with the option of bringing in more when needed. With them, he built cohesion through a regime of regular weekly rehearsals.
"The choir has never been, at any point in its history, a 'pick-up' ensemble," he says, "which you find is the case with many other choirs. In that situation, the only distinctive quality that can come out is whatever the director can do in the short time when the singers get together to rehearse. But with regular weekly rehearsals, people learn how to blend and shape the music together. That creates a different tone quality, and also a different attitude — a different pride in the final product."
Recorded highlights? "We did the Bach motets many years ago," Taurins says. "It's still a good recording, but the choir isn't the animal that it is now. More recently, we did a recording with the Vivaldi Gloria, Bach's Gloria BWV 191 and a Mondonville motet, Dominus Regnavit. And four years ago, we recorded Messiah." He also expresses pride in a 2003 disc featuring his choir in works by such un-Baroque composers as Messiaen, Fauré, Debussy, and Saint-Saëns.
The most recent recording to include the choir was Beethoven's Symphony No. 9, under Bruno Weil, released this fall to complete Tafelmusik's Beethoven cycle. But here, as is often the case in performances involving the choir, Taurins served as chorus master rather than conductor. "When a guest director comes in," he says, "I become a chorus master, and once I've prepared them, I pass them over. It's a difficult transition to make! But our guest directors speak highly of the choir. We've had Kent Nagano come in and say, 'I can't find a choir anywhere else that can do what your choir can do.'"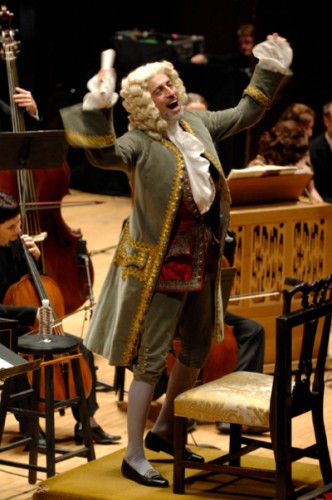 Another frequent guest conductor with Tafelmusik is Herr Handel, who, for the last 25 years, has led sing-along performances of Messiah. The costumed figure — complete with wig, waistcoat, and britches — is none other than Taurins himself, and he has fun with his role. "My Handel is a larger-than-life Saxon," he says, "dropped in the middle of Toronto. He's a kind of icebreaker with the audience. He can do anything he wants: he can cajole, plead, or yell if people are dragging the tempo."
Tafelmusik is currently in a time of transition: outgoing music director Jeanne Lamon will soon be replaced. But Taurins anticipates no great change in his own position. "The choir is my baby. I'm responsible for the choral concerts that we do in Toronto, and I collaborate with the artistic director. I don't see that changing, whoever the new music director will be."
As the only director the Tafelmusik Baroque Choir has had in 35 years, Taurins' tenure has made an indelible stamp on his choir and on the Tafelmusik brand. "If you add up all the people who have been in the choir over 35 years," he says, "the number is about 200. But the choir has always been a family. The singers all know me very well. They know my ideals and quirks, and what I'm striving for."
Ivars Taurins leads the Tafelmusik Chamber Choir in "Let Us All Sing!," a 35th-anniversary concert, Nov. 2-6 at Trinity-St. Paul's Centre in Toronto. For tickets, click here.

Colin Eatock is a Toronto-based composer and writer.