By Donald Rosenberg
The period-instrument ensemble known as the Vivaldi Project has spread the word of the versatile Venetian composer since 2006, when violinist Elizabeth Field founded the organization and joined forces with cellist Stephanie Vial.
Along with violinist-violist Allison Edberg Nyquist, the ensemble recently has branched out in an intriguing way. They've devoted themselves to a largely unknown repertoire of string trios from the Classical era and begun to record the results of their research. Their first CD on the MSR Classics label — in what they expect will be a series of recordings — is "Discovering the Classical String Trio." It features works by composers familiar (Haydn, J. C. Bach, Boccherini) and otherwise (Giuseppe Maria Cambini, Carlo Antonio Campioni, Christian Cannabich, and Felice Giardini).
"I think these trios are kind of an important part of the chamber-music story that hasn't been told," said Vial. "In a way, it never really became the genre that the piano trio did or the string quartet did. And you can see it's a great genre."
The repertoire that Vial, Field, and Nyquist have started to share with audiences — both on CD and in performance — is vast. Vial estimates that thousands of these pieces haven't been touched in centuries. Most are by composers who don't come close to being household names.
No matter. The Vivaldi Project musicians have been delighted to discover that string trios from the late 18th and early 19th centuries are richly diverse in content, structure, and even instrumentation. They either call for two violins and cello or for violin, viola, and cello. Beyond the scoring, the pieces reveal how flexible the genre can be.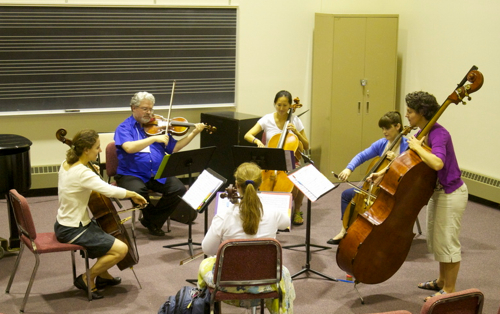 "They are not string quartets and don't try to be string quartets," Vial said. "They're a really experimental genre, some tending towards orchestral. Some, like the Haydn [Divertimento in B minor, H. V:3] on the CD, are almost little operettas. Some are very close to the baroque trio sonata. Some are very concerto-like. Some are like a triple concerto without the orchestra."
Vial first became interested in the Classical string trio in the mid-1990s at Cornell University, where Field had been a student years before. At one point, Haydn scholar James Webster asked Vial why nobody played Haydn string trios. She admitted that she was aware of the Mozart and Beethoven trios, but not those by Haydn. The chat planted an idea in Vial's brain that percolated until she finally got down to the job of investigating the repertoire for possible performances with Field and Nyquist.
"It was remarkable to me when Stephanie started to find these," said Field, who founded the Vivaldi Project as an outreach of performances of The Four Seasons she had played in Washington, D.C. "I realized I had a modern-world stigma. I thought, 'Oh, a trio is just a string quartet minus one.' We found these things to be more worthy, and we looked at them more deeply. They don't look like much on the page, but there's an incredible depth of material in that notation."
Since Vial began searching for trios, the floodgates literally have opened. Her initial research turned up hundreds of pieces — in handwritten manuscripts, only with individual parts — on the website IMSLP (Petrucci Music Library). Other works have surfaced from archives in Bethlehem, PA, and Winston-Salem, NC, as well as from Yale University and a library in Sweden.
The wealth of material has presented the Vivaldi Project musicians with more than a few challenges, including the need to pinpoint those pieces that deserve to be heard.
"One composer will have written, say, 60 string trios, and you have to figure out which ones are good, which ones speak to you, and take the time to read and play them," Vial said. "You have to do it yourself. You can't watch a YouTube video. I would read up on the composer and their output and make sure the piece is really the one on IMSLP."
Deciding upon which pieces to play (and record) takes some doing, especially since the Vivaldi Project members don't live in the same city. Field resides near Washington, D.C., Vial in Durham, NC, and Nyquist in Williamsport, IN. When they succeed in inhabiting the same spaces, they try to read through about 20 trios — "and then we're exhausted," said Vial.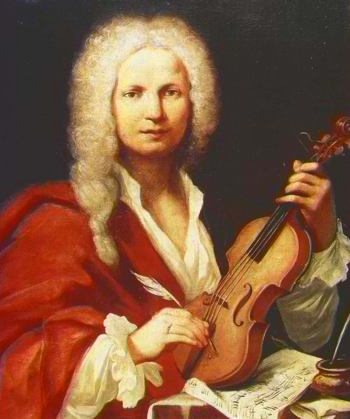 Exhausted, but also exhilarated. The musicians have found that the writing in many Classical trios tends to be highly virtuosic, calling upon each instrument to stand out both in acrobatic and poetic contexts as they engage in artistic conversation.
"Very often, the violins will imitate one another," Nyquist said. "Liz will play a gorgeous melody or trills and thirds, and I have to do it afterward. It was challenging to try to play it as in tune as Liz did and get my trills to match hers."
"And I try to match Allison's perfection," said Field.
"I think what's great about the relationship between Liz and Allison," Vial said, "is that they're such different players with such different voices and they play well together."
When they aren't excavating for Classical string trios or playing concerts on tour, the musicians of the Vivaldi Project often concentrate on an educational project, the Institute for Early Music on Modern Instruments. A veteran of modern ensembles, including the Orpheus Chamber Orchestra, Field realized that many of her colleagues in those organizations felt excluded from the historical performance world.
She began developing techniques during a run of Messiah performances at Carnegie Hall that used her performing edition.
"The expressive language was what was wonderful. I realized the language isn't separate from the instruments," said Field. "In the very beginning, when modern players said they could do this by imitating the baroque instruments, you got addition by subtraction. That's a bad thing. You never want to be expressive by taking away."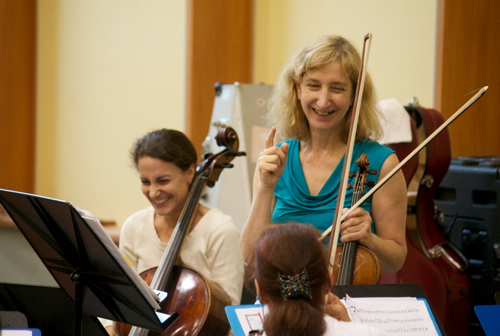 "There's a way of playing this music on modern instruments," Vial said, "where you're not compromising. You're playing the instrument to the fullest but getting the sound a little differently, but you're still capturing the language and reading the notation and phrase structure. You can't just pick up a period instrument and everything works."
The institutes are attended by about 20 players, most of whom play in symphony orchestras or teach at universities.
"It's fun, because we get to give them the aha moment we had when we first started doing it," Vial said.
Amid these activities and concerts, the Vivaldi Project musicians plan to forge ahead with their detective work on behalf of the Classical string trio.
"At some point, truthfully, we'd love to home in on the Haydn divertimentos," said Field. "They really are magnificent. Every time we look, we find new composers. We don't want to overlook any gems."
Donald Rosenberg is editor of EMAg, the Magazine of Early Music America, and author of The Cleveland Orchestra Story: "Second to None."