WHAT: A social media contest hosted by Boston Baroque, where one grand prize winner will win a chance to travel to Boston in October 2023 for a private coaching with Boston Baroque Founding Music Director Martin Pearlman, and a free entry pass to 2023 Early Music America Summit, along with a travel stipend. Contest participants must film themselves performing one of Maestro Pearlman's ornaments from the completely free Resource Library, and posting their videos to social media for entry.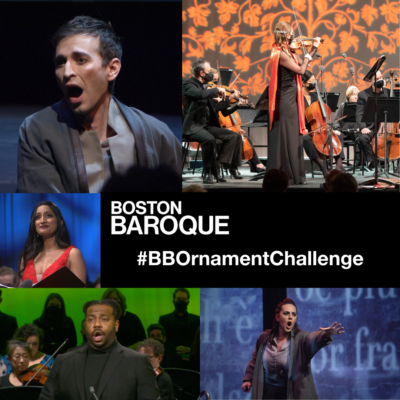 WHO: Boston Baroque, North America's first period instrument orchestra, along with co-sponsor Early Music America, a North America community of people who find joy, meaning, and purpose in historically informed performance.
WHY: To spread the word of Boston Baroque's incredible—and completely free—Resource Library, a digital archive of selected Boston Baroque performance sources, including program notes, ornaments, performance editions, and critical editions written by Music Director Martin Pearlman, orchestration charts, and more for over 230 musical works.
WHEN: The contest opens on July 1, 2023 at 12:00AM EDT, and ends on July 31, 2023 at 11:59PM EDT.
CONTEST DETAILS:
Make sure to follow @bostonbaroque if you're not already on at least one social media platform (Facebook, Instagram, Twitter, TikTok).
Post a video of yourself performing any of the ornaments from Boston Baroque's Resource Library.
Tag @bostonbaroque and include #BBOrnamentChallenge in your post to make sure you are entered!
Post entries by July 31, 2023 at 11:59PM EDT.
MEDIA CONTACT: Emily Kirk Weddle, Boston Baroque eweddle@bostonbaroque.org | 617-987-8600