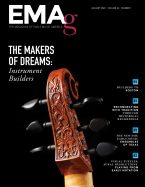 ON THE COVER: Celebrating artisans who design and craft wind, string, keyboard, and percussion instruments based on historical models.
ON THE COVER: Louisville, Kentucky, is a champion of whiskey and home to the Kentucky Derby, but old music has also taken up residence there, thanks to two ensembles, Bourbon Baroque and Incantare, which share violinist Alice Culin-Ellison.
ON THE COVER: What sets many festivals apart are specific approaches and characteristics. In the world of early music, one can find festivals built around thematic programming and those that embrace a mix of repertoire meant to spice up our artistic lives.
ON THE COVER: Will Crutchfield's new program at SUNY Purchase brings historical practices to early 19th-century opera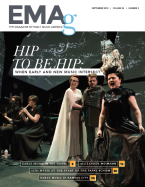 ON THE COVER: Composers in the 21st century are taking music in all sorts of new directions by incorporating early instruments and vocal styles into their works. The results are bringing fresh horizons to everyone involved—creators, performers, listeners. 
ON THE COVER: Bach Collegium Japan founder and Juilliard and Yale faculty member Masaaki Suzuki is exploring new (old) territory — the Classical and early Romantic periods, including works by Haydn, Mozart, Beethoven, and Mendelssoh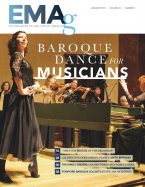 ON THE COVER: Trying to figure out how to phrase that gavotte or lilting air? Instrumentalists and singers can unlock mysteries of interpretation by stepping out to absorb elements of Baroque dance under the discerning eye of a seasoned violinist-dancer.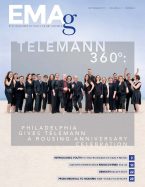 ON THE COVER: The world is throwing a grand anniversary party this year for one of the most deserving and long-overlooked artists in Baroque music, Georg Philipp Telemann. Everyone seems to be celebrating Telemann's 250th Deathiversary: festivals, broadcasts, exhibitions, tributes, and tours are taking place from British Columbia to Australia.
ON THE COVER: Word is out. Young professional musicians looking for an edge in their game or an extra nudge for their career have jumped at the chance to audition for the Berwick Academy, the intensive education-cum-performance institute that is part of the Oregon Bach Festival.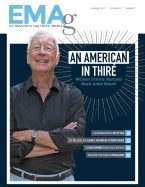 ON THE COVER: Was it coincidence that in 1979, when William Christie chose a name for his newly formed Paris-based Baroque ensemble, he found one that made reference to flowers, Les Arts Florissants? Deliberately or not, the moniker foretold the marvelous estate that has become the conductor's primary home and haven, where he has hosted thousands of visitors for days of Baroque music and the pleasures of the garden. I spent three enchanting days in August 2016 at the beginning of the eight-day festival, the fifth edition of Dans les Jardins de William Christie in Thiré, France.