EMAg, The Magazine of Early Music America
EMAg, The Magazine of Early Music America
Is for everyone who loves and wants to learn more about early music and the people performing it today. Each issue explores the passions, insights, and practical realities in the field. EMAg's broad appeal and excellent content have created an environment of strong enthusiasm and interest among our readers. Its intriguing articles and in-depth interviews explore news and newsmakers in early music, festivals and workshops, historical perspectives, instrument makers and collections, and education.
Magazine Cover
PRINTED CORRESPONDENCE
PRINTED CORRESPONDENCE
Donald Rosenberg
15915 Chadbourne Rd.
Shaker Heights, OH 44120
Featured Article
FEATURED ARTICLE
View all archived featured articles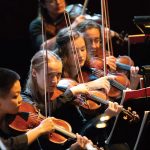 Judith Malafronte
Will Crutchfield's new program at SUNY Purchase brings historical practices to early 19th-century opera.
Previous Issues
PREVIOUS ISSUES
Looking for a previous issues of EMAg? You can find more archived issues here.
LIBRARY SUBSCRIPTION
For more information on subscription rates and discounts through a third party vendor, please email info@earlymusicamerica.org.
EMAg SUBMISSIONS
We welcome submissions for events, concerts, book reviews, recordings reviews, and articles. All submissions are reviewed for possible inclusion in the magazine.
Articles & Features/Recording Reviews:
Donald Rosenberg
editor@earlymusicamerica.org
Book Reviews:
Mark Kroll
books@earlymusicamerica.org