EMAg Is for everyone who loves and wants to learn more about early music and the people performing it today. Each issue explores the passions, insights, and practical realities in the field. EMAg's broad appeal and excellent content have created an environment of strong enthusiasm and interest among our readers. Its intriguing articles and in-depth interviews explore news and newsmakers in early music, festivals and workshops, historical perspectives, instrument makers and collections, and education.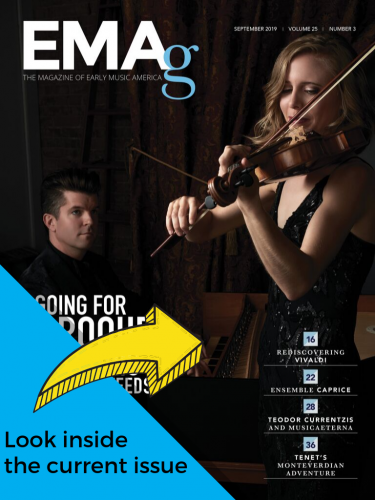 Advertise in EMAg
Complimentary Issue Request
Purchase a Single Issue
Gift Subscription
Library Subscription
Advertise in the January 2020 issue of EMAG!
Advertising reservation deadline: November 15, 2019
Artwork deadline: November 22, 2019
We are happy to provide you with one complimentary digital issue of EMAg. Request an issue.
For information on single and/or archive issue sales, please contact us. Based on availability.

For more information on subscription rates and discounts through a third party vendor, please contact us.

CURRENT FEATURED ARTICLE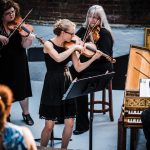 Jarrett Hoffman
Louisville, Kentucky, is a champion of whiskey and home to the Kentucky Derby, but old music has also taken up residence there, thanks to two ensembles, Bourbon Baroque and Incantare, which share violinist Alice Culin-Ellison
View all archived featured articles
PREVIOUS ISSUES
Looking for a previous issues of EMAg? You can find more archived issues here.
View all archived issues
EMAg SUBMISSIONS
We welcome submissions for events, concerts, book reviews, recordings reviews, and articles. All submissions are reviewed for possible inclusion in the magazine.
Articles & Features/Recording Reviews:
Donald Rosenberg
editor@earlymusicamerica.org

Book Reviews:
Mark Kroll
books@earlymusicamerica.org