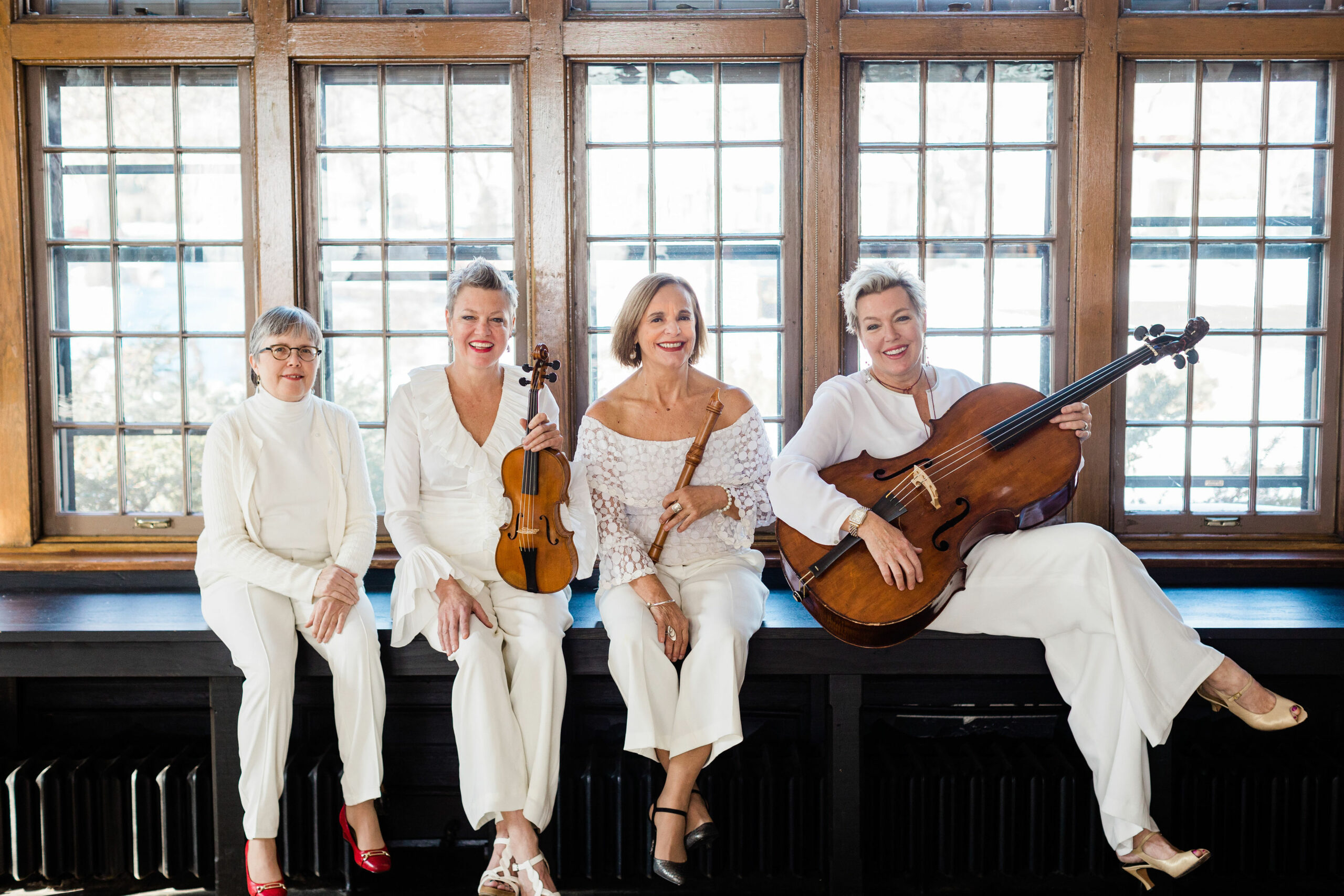 Ran Blake, a jazz improvisation teacher of mine, once told me that when we meet the right people to play with we should never leave them. 
I am so fortunate to have had many musicians, friends and musical partners throughout my life and career, but one is very special -Belladonna Quartet Belladonna formed by myself on recorders, Margaret Humphrey, baroque violin, Rebecca Humphrey, baroque cello and Barbara Weiss, harpsichord.
I moved to Minnesota in 1992, and soon after looked for a harpsichordist to play a recital with. To my surprise, I found an amazing Baroque Opera Company in Saint Paul called Ex-Machina, with Artistic Director James Middleton and Music Director Barbara Weiss. Soon after meeting Barbara we planned a recital and she suggested inviting two very talented sisters who also lived in Minneapolis to join us- Margaret Humphrey, baroque violin, and Rebecca Humphrey, baroque cello.
Our love and musical trust for each other happened immediately. Our first concert was on January 1993 and we are still going strong. Our lives have changed, and some of the members moved to other countries and states, but our profound trust and love for each other never waned.
As of January 2023, Belladonna Baroque Quartet is celebrating 30 years together; three decades of beautiful music making, discoveries, and friendship. The Quartet has toured all over the United States, Brazil, Canada, and Europe. We recorded two CDs on both Dorian and Ten Thousand Lakes labels. Composers have written for us, we have had musical collaborations with a pipa player, with singers, actors and theater directors. Belladonna was also Ensemble in Residence at the prestigious Schubert Club in Saint Paul for 11 years.
Now that I see my recorder students developing their own careers all over the world, and many colleges and university students starting their own musical journeys, I always advise them to expose themselves to new musical opportunities, trust their intuition and sooner than they think, life time musical partners will come their way.
For Belladonna's 30 year celebration, the ensemble will perform in Florida, New York and Saint Paul Minnesota, where the journey started. Congratulations Belladonna!
http://www.belladonna-baroque.com
"The "brilliant stars" stressed the tempos right at the edge of madness and the sudden and unexpected changes in tempo and rhythm. Rather than emphasizing the cascading effects and the presentation of the musical structure, they concentrated on fast effects and musical formulations within the individual themes. Belladonna made great music with smooth timbre, intricate ornaments and with an obvious joy in playing."
– Mittelbayerische Zeitung
"The group gave a compelling, seemingly effortless performance. Belladonna's success is due in great part to an unfailing attention to detail. Every aspect of their performance is united. The musical character of a piece is expressed in the phrasing, dynamics and event in the character of the articulations, which they execute in perfect unison… There was simply not an uninteresting moment in the program."
– Milwaukee Journal Sentinel
"The four-woman chamber ensemble Belladonna presented a program of 17th century folias in witty arrangements… in performances that were high profile, fantastically colored and just plain hot. Their flashy rhythmic play and daredevil divisions drove the audience into fits. Belladonna reminded us that early music, however historically informed, is as quirky, improvisatory and fresh as jazz."
– Boston Globe