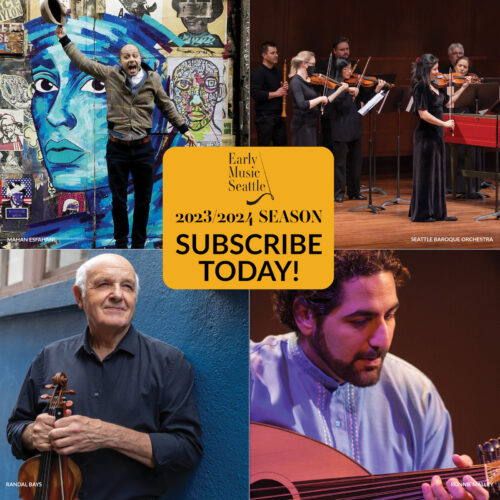 Seattle, WA – Early Music Seattle is excited to announce its 2023/24 season, continuing its journey of amplifying the early music repertoire, from the beloved European music from the Medieval, Renaissance, and Baroque periods to the music that shaped and accompanied the many cultures of the world.
"We have something for everyone in our 10-concert season," said Gus Denhard, Artistic Director of EMS. Boston Camerata, Mahan Esfahani, Ronnie Malley – the 2023 Michael Jaffee Visionary Award winner, and La Nef are only a few of the guests who will populate the 46th year of the organization. The Seattle Baroque Orchestra will present four new programs designed by principal members Rachell Ellen Wong, Kris Kwapis, and Nate Hegelson.
Ten concerts will take the audience on a journey to ancient Persia, Spanish Al-Andalus, the royal courts of baroque Venice, Austria, and Bohemia, the taverns of Ireland, the forecastle of a square-rigger rounding Cape Horn, and a medieval cathedral. These ancient music traditions connect directly to our times with 'Many Messiahs,' a new work that reimagines Handel's masterwork for our times in collaboration with Meany Center for the Performing Arts.
"Our commitment to education and outreach will expand," said Ludovica Punzi, the newly appointed Executive Director, "bringing artists and communities closer together and keeping our efforts to acquire trust and support to make our stage everyone's stage."
About Early Music Seattle:
Formed in 1977 as Early Music Guild, Early Music Seattle is the area's largest presenter of early music and related educational programs, with an annual operating budget of approximately $500k. Its mainstage events include the Seattle Baroque Orchestra and internationally renowned touring artists at venues around the Puget Sound region, including Illsley Ball Nordstrom Recital Hall, St. James Cathedral, Bastyr University Chapel, LANGSTON, and Town Hall Seattle. Its mission is to present outstanding early music, use early music to enrich cultural heritage through education and outreach, and engage new audiences through inclusivity and openness as we enrich cultural life in the Pacific Northwest.
Seattle Baroque Orchestra
FIERCE FOES and MUSICAL MASTERS
Baroque Rivalries Unleashed
Sat, Sept 30 | 7:30pm | Bastyr University Chapel
Sun, Oct 1 | 2:00pm | Town Hall Seattle
Our opening concert will transport you back to the Baroque era and experience the drama and excitement of some of the most notorious musical rivalries in history! Concertmaster Rachell Ellen Wong will lead the SBO through a thrilling face-off between Porpora, the rising opera star, and the fiery young Handel; a fierce power struggle amongst master violinists Leclair and Guignon in the opulent halls of the Paris royal court; and an epic clash between two groundbreaking Venetian stars, Vivaldi and Albinoni. Prepare to be swept away by the passion, talent, and ambition of these legendary musical giants as they battle for supremacy and leave their mark on the world of classical music.
Ronnie Malley
2023 Michael Jaffee Visionary Award winner
ZIRYAB, THE SONGBIRD OF ANDALUSIA
From 9th century Islamic Spain to present day America
Sun, Oct 22 | 2:00pm | Nordstrom Recital Hall at Benaroya
Oudist Ronnie Malley presents his original musical narrative about the life of Ziryab, a 9th century musician and polymath, who traveled from Baghdad to Muslim Spain and shifted the course of history. 2023 Recipient of the Michael Jaffee Visionary Award of Chamber Music America, "Ronnie Malley's musicianship is superb and his interweaving of his own life with the story of Ziryab's, as well as his highly informative discourse on the medieval master's legacy, make for an enlightening performance." — Jacob Davis, chicagocritic.com
Seattle Baroque Orchestra
JUBILATION and REDEMPTION
J.S. Bach's Soprano Cantatas 51 and 199
Sat, Nov 4 | 7:30pm | Bastyr University Chapel
Sun, Nov 5 | 2:00pm | Nordstrom Recital Hall at Benaroya
Continuing our season with a shout of joy and a moment of reflection, these two sacred cantatas by J. S. Bach highlight the dazzling voice and deeply moving musicianship of Portland-based soprano Arwen Myers. Directed by Kris Kwapis, this program will explore the rich emotional connections between voice and instruments with Cantata 51 for soprano, trumpet and strings and Cantata 199 for soprano, oboe and strings.
Boston Camerata & Medieval Women's Choir present
HODIE CHRISTUS NATUS EST
A Medieval Celebration of Nativity
Sat, Dec 2 | 8:00pm | St. James Cathedral
The Medieval Women's Choir and the Boston Camerata come together for a glimpse of Christmas spirituality from Medieval France, Italy, England, Provence, including music of the church and songs of private devotion around the joyous theme of the Nativity. Included are songs to the Virgin Mary, processionals from Saint Martial of Limoges, hymns, lyrics, and miracle ballads, sung in Latin, Old French, Old Provencal, Saxon, interlaced with Medieval English texts.
Meany Center for the Performing Arts & EMS present
MANY MESSIAHS
Sat, Dec 16 | 7:30pm | Meany Center for the Performing Arts | Tickets at ticket@uw.edu (Single tickets only)
Many Messiahs is a holiday concert co-created by diverse musicians who share a commitment to advancing racial justice in concert halls. Performing original songs based on source material from Handel's Messiah, the large ensemble brings together powerful voices, heavenly strings, and muscular grooves to transform the concert hall into a place where everyone can come together with voices raised and bodies moving in the shared pursuit of a healthier society. The way they frame it, we are all the Many Messiahs who can build a better world together, starting now. Artistic Director Aaron Grad is supported by a CityArtist Grant from the Seattle Office of Arts & Culture.
Tickets on sale on Aug 3, 2023. This event is NOT part of the EMS Subscription.
Seattle Baroque Orchestra
PARTY BOHEMIENNE
Music from dazzling 18th century Prague
Fri, Jan 26 | 7:30pm | Bastyr University Chapel
Sat, Jan 27 | 7:30pm | Town Hall Seattle
The Kingdom of Bohemia hasn't had much airtime in the history of Baroque music. But far from being a musical backwater, 18th century Prague boasted a dazzling array of musical talents. Czech musicians worked in many of the great courts of Europe, and Count Wenzel von Morzin (the dedicatee of the beloved Four Seasons) maintained an orchestra in Prague that Vivaldi himself described as "virtuosissima". Directed by Nate Hegelson, the SBO will bring you back in time exploring some of the finest Czech composers of the age.
La Nef
RED SKY AT NIGHT
Sea Chanties and Songs of the Sea
Sun, Feb 18 | 2:00pm | Town Hall Seattle
Capstand shanties, halyard shanties, laments, forecastle songs, short haul shanties, songs and music to accompany work and play. Inspired by this tradition of maritime music, Seán Dagher has arranged these songs and tunes to display all the warmth and depth they deserve. Music from England, Scotland, Ireland, the Americas, and the Caribbean sung by a chorus of seven male voices. All aboard!
2022 Wigmore Medal Winner
MAHAN ESFAHANI
"Bach's music is very often mesmerizing. It's very rarely this fun." – Neil Fisher, The Times
Sat, March 9 | 7:30pm | Town Hall Seattle
Mahan Esfahani has made it his life's mission to return the harpsichord to the mainstream of concert instruments, and to that end his creative programming and commissioning of new works have drawn the attention of critics and audiences across Europe, Asia, and North America. He was the first and only harpsichordist to be named a BBC New Generation Artist (2008-2010), a Borletti-Buitoni prize winner (2009), and a nominee for Gramophone's Artist of the Year (2014, 2015, and 2017). In 2022, he became the youngest recipient of the Wigmore Medal, in recognition of his significant contribution and longstanding relationship with the Hall.
Rachell Ellen Wong and David Belkovski
EUROPE'S GRAND TOUR
Sat, March 30 | 7:30pm | Nordstrom Recital Hall at Benaroya
Follow us as we take a winding trip around Baroque Europe to showcase the undisputed champion of the instruments — the violin – in one of its most fertile artistic periods. The music is full of invention: it sometimes boils over with virtuosity, as does Tartini's aptly named "Devil's Trill", while Leclair veers into the countryside with his memorable Tambourin. You'll hear this and more on our Grand Tour — please enjoy the ride!
Randal Bays and Ceóltoirí Cascadia
IRISH BAROQUE II
Sat, April 20 | 7:30pm | The Chapel at Good Shepherd Center
After the big success of Irish Baroque I, Olympia-based Irish fiddler Randal Bays brings us Irish Baroque II! In the intimate venue at the Good Shepherd Center, Randall and friends will present toe-tapping jigs, reels, and strathspeys suitable for the pub or the concert hall. This concert is presented in partnership with Irish Network Seattle.
Seattle Baroque Orchestra
VIVALDI'S VENICE
In collaboration with the Byrd Ensemble
Sat, May 4 | 7:30pm | Bastyr University Chapel
Sun, May 5 | 2:00pm | Trinity Parish Church
In this season finale collaboration with Seattle's own Byrd Ensemble, co-directed by Kris Kwapis and Markdavin Obenza, we travel to Venice to celebrate virtuosic music written by the Red Priest. In addition to his beloved Gloria written for the famed Ospedale della Pietà orphanage in Venice, the program includes his Concerto for Trumpet and Oboe, and his dazzling Bassoon Concerto in B-flat major, "La Notte" RV 501.
Subscriptions available at https://earlymusicseattle.org/
Single event tickets sale opens on August 3, 2023.