Ferguson is a renaissance woman — a performer at the highest level, a teacher, an activist, and, above all, a thinker
There's fiery conviction behind her every project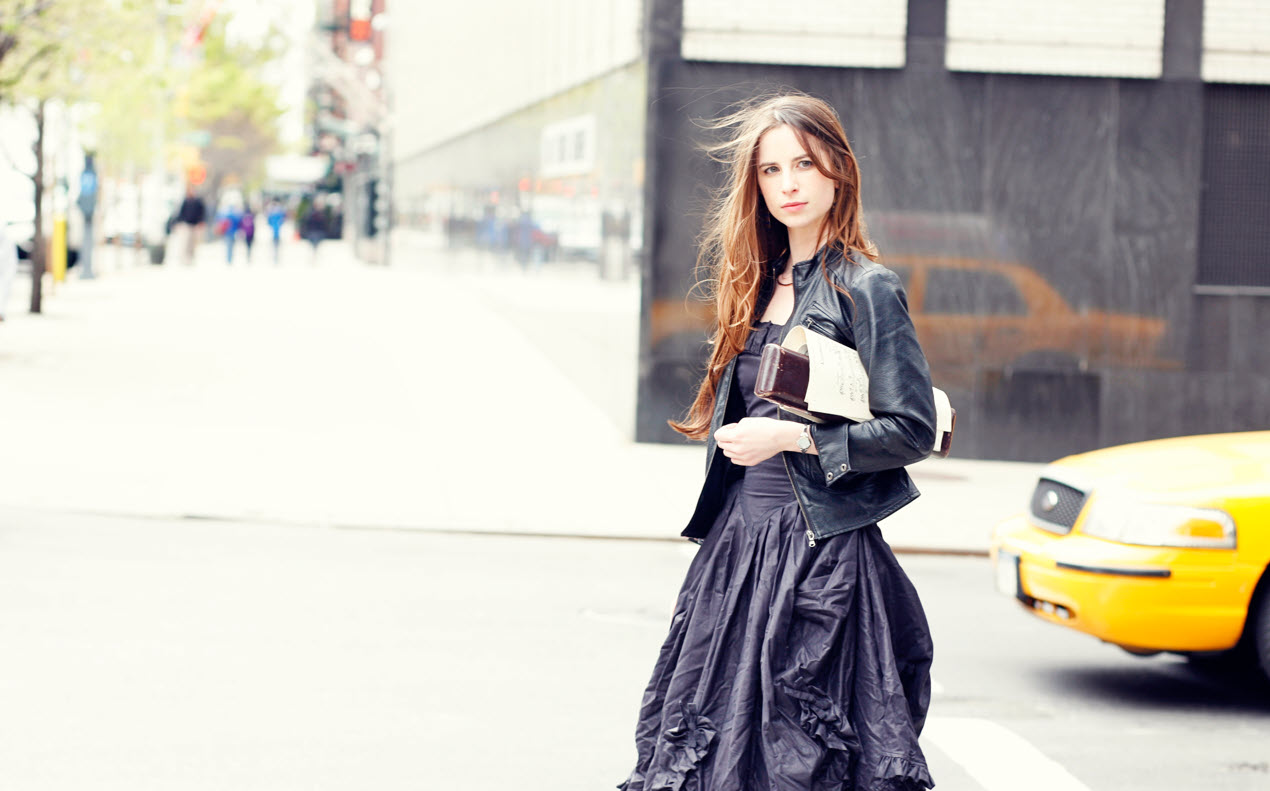 In the hands of most performers, Sébastien Le Camus's air de cour "Laissez durer la nuit" — a tale of a stricken lover who masks a broken heart behind night's cover — is a quaint affair from 1661, a haunting yet intimate good-night kiss.
For flutist-vocalist-composer Emi Ferguson, however, "Laissez durer la nuit" is a catapult for something else entirely. On her first album, Amour Cruel (released in 2017 on Arezzo Records), she recomposes the air with the sensibility of a seasoned pop producer. Ferguson croons the melody with an indie twang, chewing her vowels ever so slightly. Her backup trio of self-recorded clones invoke Destiny's Child in their swagger. A theorbo lays syncopated riffs on Le Camus's original continuo line; an unobtrusive drum beat drives forward; colorful Baroque flute chords, also self-clones, hoot beneath.
Each of the 11 French Baroque-and-before airs on Amour Cruel gets its own wild reimagining. No two are alike. One moment, it's toe-tapping, faux-Latin flair. The next, a pared-down singer-songwriter number. An anonymous folk song about a girl who turns into a beautiful white doe each night becomes an eight-and-a-half-minute fantasy of guttural echo, Ferguson's whinnies ever closer to the foreground as the girl's brother unwittingly hunts his game.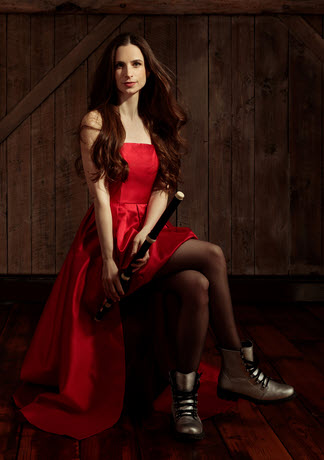 Thanks to the Billboard-charting release of Amour Cruel, presenters often explicitly ask Ferguson to include airs de cour in her programs. Her computer is cluttered with arrangements and rearrangements that set the airs' continuo accompaniments for whatever instrumentation she has on hand — and she always infuses her performances with the musical undercurrents swirling below.
"French Baroque music is so poppy," Ferguson told me as we chatted in my Upper Manhattan kitchen, bowls of soup in hand to combat the dreary rain. "I can't not hear it."
Ferguson's ability to fixate on points of uncanny intersection has propelled her to the creative forefront of the American music scene, slicing neatly across genres. Sure, the Juilliard historical performance alumna excels at early music, most notably as the principal flute of Boston's storied Handel and Haydn Society. But she's just as active in New York's motley avant-garde crowd, and with help from an intrepid band of collaborators, she's exploring the places where old music looks forward and new music looks back.
Outside the concert hall, she smears lines between music and disciplines that are both closely related and seemingly distant: arts, humanities, even sciences. Those astute, curiosity-driven explorations have garnered her the attention of some of the classical scene's biggest institutions including a spot in WQXR's Artist Propulsion Lab and, most recently, as a winner of Lincoln Center's prestigious Avery Fisher Career Grant.
Jeremy Geffen, the Cal Performances executive director who served on the grant's 2023 selection panel, speaks of Ferguson's "alignment between intellectual curiosity, emotional connection, technical brilliance, stylistic rigor, and compelling stagecraft." Through her "extraordinary artistry we were able to experience the familiar as if it were the first time, and the new as if it had always been part of our world."
Yes, Ferguson is a true renaissance woman — a practitioner, a teacher, an activist, and most importantly, her collaborators say, a thinker. There's fiery conviction behind her every project, especially if the repertoire is standard. "If you're just doing another copy of a Mozart concerto, even if you're playing it really well," she asks, "what are you saying?"
'Imposter syndrome'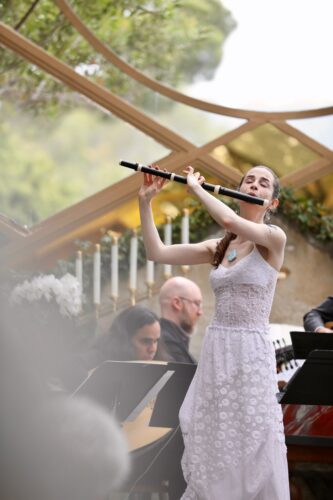 Ferguson doesn't remember why she settled on the flute, chalking it up to the whims of a six-year-old frustrated by a lack of piano skills. Born in Tokyo to an Australian father and a British mother, Ferguson spent her early flute-playing years in London — her father's finance job moved the family around — eventually settling in the Boston suburb of Brookline when she was 10. Ferguson's prep school lacked a music program, so she shoehorned as many extracurricular opportunities as possible around her piles of homework: youth orchestras, jazz classes, wind ensembles, and as much practice as her three younger sisters' limited tolerances would allow.
Ferguson's freshman year at Juilliard, starting in the fall of 2004, was her first time focusing solely on music, and conservatory training frustrated her tremendously. Despite her choice to pursue conservatory over a dual degree, she seriously considered a career in medicine. "You can easily go through music school and never need to ask why," she said. "That didn't work for me."
Her frustration's reprieve came the fall of her sophomore year, in the form of a cheery yet cryptic email from Juilliard admin. The message invited students to play for, as Ferguson termed them, "so-and-so and so-and-so." If they were up to snuff, they'd be selected for a week-long historical performance course the next semester. Those anonymous names turned out to be globetrotting harpsichordist Kenneth Weiss and legendary Les Arts Florissants director William Christie — and they loved her Bach.
Armed with a new Baroque flute (the first in Juilliard's vast instrument collection), Ferguson gave herself a crash course ahead of the auspicious class. "I wouldn't say I learned much, but I learned enough," she said. That week, Ferguson's dance card would fill to overflowing. Christie and Weiss' residency fell the same week as that of French modernist Pierre Boulez, who conducted the Juilliard Orchestra in a centenary celebration for abstract expressionist composer Elliott Carter — and, naturally, the young flutist was double-assigned.
Then-Juilliard dean Ara Guzelimian remembers that week well. He recounted that Christie couldn't believe Ferguson was new to the Baroque flute, only realizing it when one of her ornaments eschewed a note she hadn't learned to finger. "How many people can walk from a Boulez rehearsal to a Christie rehearsal and be equally convincing in both?" he said with exasperated awe.
Ferguson found outlets in early and new music, with plans for medical school fading fast. By 2008 the Weiss-Christie historical performance course had blossomed into a full-time, fully funded, historical performance curriculum looking for its inaugural class. Joining was a no-brainer, said Ferguson: She could keep her cushy ear-training teaching assistantship and continue to strengthen Juilliard connections in both modern and historical spheres. Besides, who turns down full funding?
But when Ferguson announced her next move, her studio mates scrunched their noses. As recently as the mid-aughts, historical performance still had a stigma, especially in competition-focused conservatories, as a field for people who couldn't hack a career in modern performance. "People would ask me point blank if I had gotten worse," Ferguson said. She most definitely had not — in fact, she had just won Juilliard's concerto competition on modern flute.
At its inception, Juilliard's historical performance program suddenly became the most visible early-music degree in the U.S., bucking the assumption that historical performance was a lesser art. Ferguson recalled the intentionality with which the newly formed ensemble Juilliard415 tried to make its imprint. They didn't perform in public for the first time until December of their first school year — first impressions, after all, can color a legacy for years afterward.
"It was a crucible," she remembers. "You get thrown out there and you're like, well, I'm playing a stick with holes. But I'd better figure it out because I'm on the stage of Lincoln Center."
In her final year of the J415 program, Ferguson received a Paul and Daisy Soros Fellowship for New Americans, a fellowship for immigrants pursuing study in the U.S. (Her Soros bio bills her as an "immigrant from Japan.") The fellowship historically attracts great musicians, among them noted composers Lera Auerbach and Paola Prestini, but the program is most famous for its luminaries in other fields — artificial intelligence programmers, infectious disease researchers, the current U.S. Surgeon General.
Suddenly, Ferguson's vast network had expanded beyond the music world. "Talk about imposter syndrome!" Ferguson huffed. "These are the most brilliant people you've ever met, and I play the flute!"
'That omnivorous attitude'
Today, Juilliard HP students graduate having received a crash course in Baroque, Classical, and early Romantic performance practice. In its first few seasons, however, J415 stuck strictly to its namesake tuning: all Baroque, all the time. When Ferguson graduated from Juilliard in 2011 — after seven years, a bachelor's degree and two master's degrees in hand — and hit the freelance scene, contractors called her for any and all historical performance gigs, many involving instruments she didn't play. But if eBay would sell her a 19th-century piccolo, she could be ready in six months.
Ferguson's perch was more comfortable than most, as her Juilliard ear-training TA-ship had turned into a faculty position on the school's pre-college and evening division faculties. But between all the playing and teaching, there was an itch Ferguson wasn't scratching: non-classical music.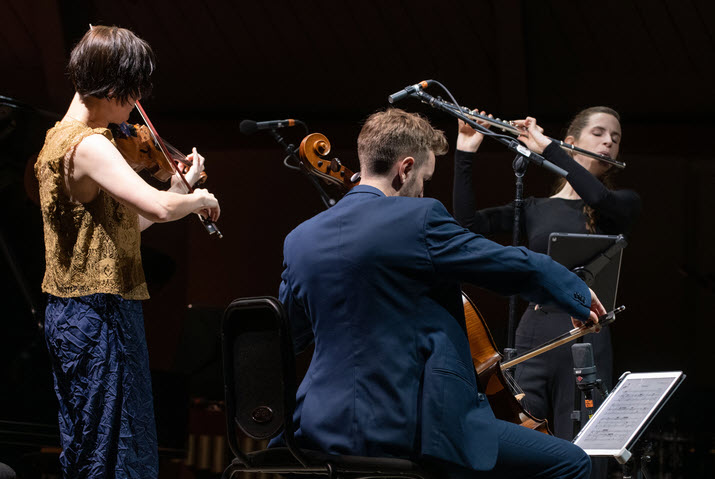 She spent much of high school studying jazz, funk, and popular music, and though she knew these genres weren't for her, she viewed her turn toward classical as a postponement from the wider musical world rather than an outright cancellation. In her free time, she began to toy with classical-pop fusion, starting from the humble air de cour, a favorite genre to which her Juilliard Baroque flute professor, Sandra Miller, had introduced her.
When asked about her process, Ferguson replied that she didn't really have one. "You just hear something, and then it snowballs," she said, emphasizing the musical (rather than textual) basis for her reinterpretations. Hunched over her laptop, she'd record a line, listen back a few times, layer something over, rinse, and repeat. Ferguson's trained ear made the task seem easy.
The foundation for Amour Cruel remained strictly between Ferguson and her recording software. But as the project began to blossom, she tapped a small crew of fellow experimenters, largely colleagues from New Vintage Baroque, an NYC group focused on new music for old instruments, including bassist Doug Balliett, with whom Ferguson had played in youth orchestra as a Boston teenager.
On its release, Amour Cruel broke into the top 20 of three Billboard charts and received praise from The Washington Post and All About Jazz for its cavalier embrace of an unlikely crossover. Ferguson has never performed those elaborate arrangements live — the multitracking makes logistics difficult — but an Amour Cruel concert performance (with orchestra and choir) is an aspiration that sticks in her mind.
As Ferguson conceptualized a second album, she again turned to collaborators from New Vintage Baroque. She pondered the pieces that launched her Baroque interest — Bach's flute-and-continuo sonatas — but she couldn't bear the thought of "just another" recording with harpsichord. Where was the conviction?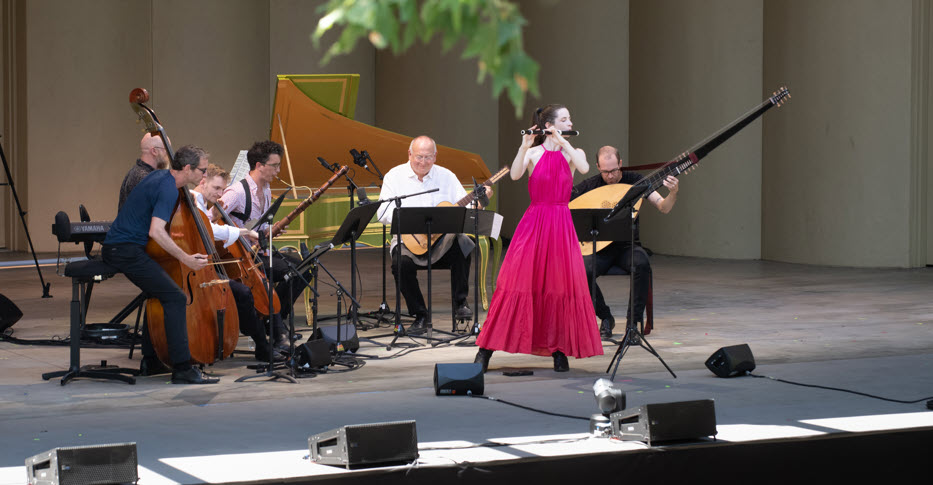 New Vintage Baroque had been quiet since their album, Passionate Pilgrim, was released in 2017, but from their ranks had broken off Ruckus, an intrepid continuo band whose rock-adjacent sensibility has made them recent darlings of U.S. concert presenters. Director and bassoonist Clay Zeller-Townson said that Ferguson and Ruckus practically belonged together, and Bach was the perfect first foray.
For Amour Cruel, Ferguson had omniscient control of her tracks, but on the Ruckus Bach project, entitled Fly the Coop, the seven friends each contributed their own ideas into their Bach interpretations. Miraculously, the flutist says there were never too many cooks in the kitchen.
"There's a lot of trust, collaborating with Emi. It's a different level of engagement," Zeller-Townson told me. "She's a leader by nature, and she has a real understanding of how the individuals of our group work best."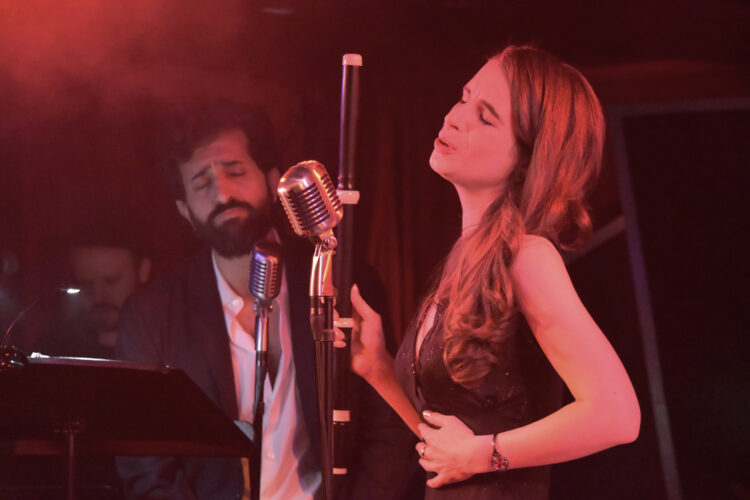 The group came to easy decisions about how to morph Bach's singular voice. Sometimes, they toyed with the 63 possible combinations of Ruckus' six-member continuo team. Other times, they threw caution to the wind — the sicilienne from Bach's mannered E-Major Sonata turned from a lilting lullaby to a head-bobbing ground-bass number, Ferguson's flute teetering on rock-and-roll with its untamed flutters. For the album's finale, Ferguson and her bandmates "went hoe-down silly" on a French suite prelude, as Zeller-Townson phrased it, turning it into a circusy Dixieland romp.
Fly the Coop was another smash success upon its 2019 release, hitting number one on the iTunes classical charts. The New York Times called the album "blindingly impressive." But Ferguson's repeated hits in the Baroque sphere were matched only by the projects that drew on her modern training. The same year that Amour Cruel was released, back in 2017, she joined a new interdisciplinary collective, the American Modern Opera Company (AMOC, pronounced "amuck" and often punned as such), founded by dancer-director and Juilliard classmate Zack Winokur and composer Matthew Aucoin.
"Emi has always been a light bulb of a human being," said Winokur. He says that he tapped Ferguson as much for her new-music prowess as for the incredible acumen she'd developed as a historical performer: improvisation, real-time interpretation, and most of all, ground-up creation. "She's a real thinker and someone who's so interested in making new work across any discipline or genre. And that was incredibly exciting to me."
An 'acumen she'd developed as a historical performer: improvisation, real-time interpretation, and most of all, ground-up creation.'
Indeed, when AMOC served as curators for 2022's Ojai Music Festival — the three-day new-music bonanza in California with a different music director each year — that's exactly what Ferguson brought. To an open score of Julius Eastman. To a new concerto by Matthew Aucoin. To the in-progress work that Roscoe Mitchell, free-jazz icon, is writing for Ferguson, Ruckus, and the jazz quartet of saxophonist Immanuel Wilkins.
And yet, says Ara Guzelimian — who left his deanship at Juilliard in 2020 to oversee the Ojai Festival — it was Ferguson and Ruckus' Bach-centric program that numbered among the festival's greatest hits. That omnivorous attitude, he says, makes her the right musician for this moment in history. "Our embrace of classical music has grown so much wider, and the borders have become much more porous between genres and styles," he told me. "She's emerged at just the right moment for all of her gifts to be recognized and received."
Music and medicine
The fall 2006 section of "The Epidemiology of HIV & AIDS," at Columbia's Mailman School of Public Health, had the usual array of doctoral and master's students, future epidemiologists committed to a life of research. But among them sat one Juilliard junior — bright-eyed and, she recognizes in hindsight, entirely out of her depth.
"I didn't even know what epidemiology was at that point," Ferguson chuckled. She lacked many of the class' prerequisites — notably, a bachelor's degree in public health — but her relevant experience was irrefutable. Through high school, she'd volunteered with HIV/AIDS patients in Boston. While her Juilliard classmates trotted off to summer festivals, Ferguson spent her summers as an intern at Manhattan's Mount Sinai Hospital, researching hepatitis C and diabetes.
With approval from registrars at Juilliard and Columbia, the professor agreed to let Ferguson into his class — but, he said, he'd treat her just like his doctoral students, without slack. One class turned into two, then three.
Even as Ferguson went full-throttle into a music career, she wouldn't wholly abandon epidemiology. Juilliard students have the option to propose an honors thesis to achieve scholastic distinction within their degrees. For her project, Ferguson looked into New York City's public-health records, tracing incidences of syphilis and access to medical treatment in each of Manhattan's zip codes and examining ways to use the arts as a conduit for effective public-health messaging — a project, Guzelimian says, of unprecedented scope and impact.
Ferguson has continued to weave her academic prowess into her musical activities. When she was named to WQXR's Artist Propulsion Laboratory in 2022, she pitched a podcast series to replace the usual on-air Q&A that artists usually produce. WQXR Chief Content Officer Ed Yim and Associate Producer Max Fine were impressed but limited her to one topic for her four-episode series. She chose what was nearest to her heart: music and medicine. More specifically, she planned to investigate the effects of syphilis on the classical music world.
In each episode of This Composer Is Sick, Ferguson would dive into the life of one stricken composer, drawing a through-line from their disease to their music to bits of their life's story. On air, the flutist had that cool, mellifluous NPR tone, and her interplay with her invited musicologists and infectious disease experts was informative but lighthearted. But most of all, the program was a way to raise awareness. The pandemic saw a silent spike in syphilis cases; Ferguson wanted to use her platform to destigmatize the disease and encourage people to seek help.
"Emi is the ultimate connector," said Yim. "She connects with human curiosity and spirit so well, and she does it all through her experiences as a performer."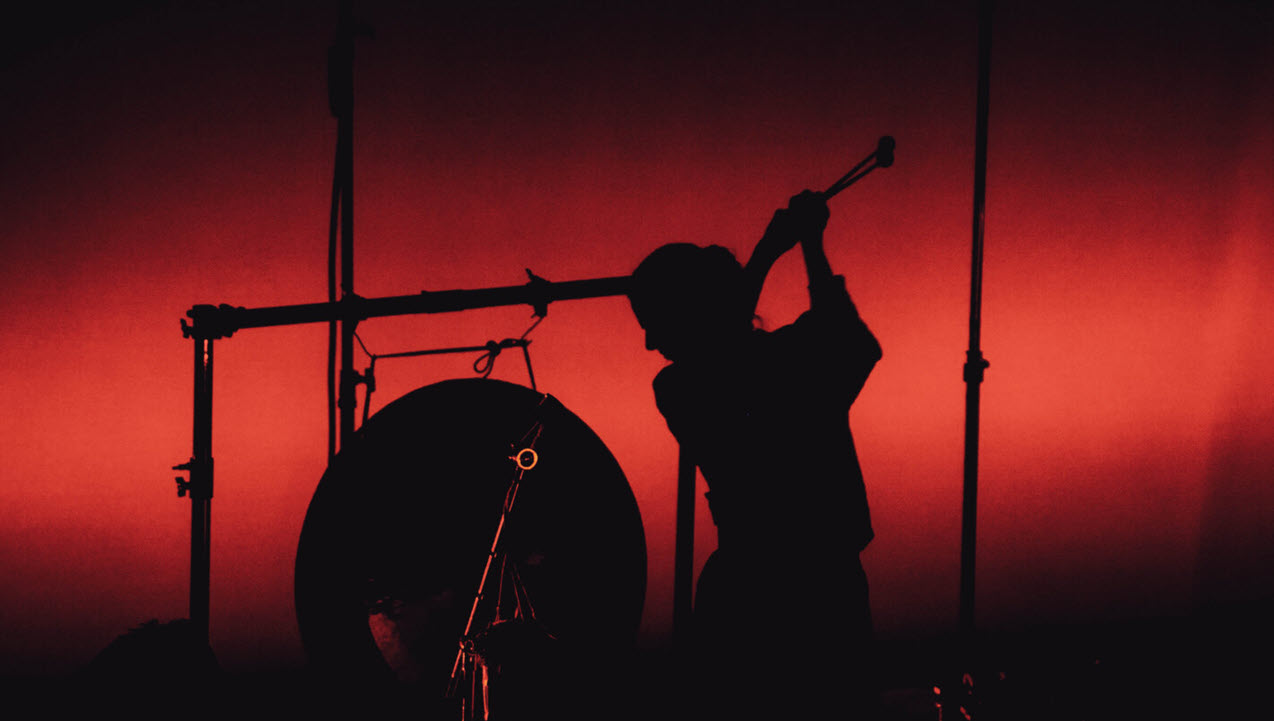 As the classical world continues to take notice of Ferguson's polymath activities, her future shines ever brighter. Her $25,000 Avery Fisher Career Grant will help to fund her next recording project with Ruckus, in which the ensemble will "give the Fly the Coop treatment" to Telemann's unaccompanied flute fantasias and new orchestrations of György Ligeti's early-1950s piano tome Musica ricercata.
Farther afield, Ferguson will also pilot a Baroque series for the Santa Barbara-based chamber music collective Camerata Pacifica — her two performances will span from Bach to Bolivian Baroque to airs de cour. "Ferguson's programming is so creative. She's a phenomenon, a force of nature," said Artistic Director Adrian Spence. "And when she's onstage, she's joy personified."
Ferguson stepped down from her ear-training post at Juilliard this past year, but she remains an educator, both on her own and as part of AMOC. She doesn't do much private teaching — it's a huge responsibility, she says — but serves as a composition consultant of sorts. After all, her deep experience with the Baroque "stick with holes" gives her a unique perspective on how to write for the modern instrument.
Ferguson has consigned herself to the busy life. Nights when she sleeps in her own Harlem bed are rare. Bona fide days off, even rarer. But she's grateful her made-up niche has grown with her.
"What I'm doing now — a bit of this, a bit of that — was not valued while I was a student. I'm very privileged to get to do something that I love, even when I'm tearing my hair out."
Emery Kerekes is a writer and arts administrator based in New York. Winner of the 2022 Rubin Prize in Music Criticism. He works in The Metropolitan Museum of Art's Department of Live Arts.