Battle of the Bands
Battle of the Early Bands
During this spirited and entertaining event, groups of outstanding emerging early music ensembles from around the country compete in various non-traditional categories (fastest song, slowest song, best cover, etc.). This event is organized and produced by EMA's Youth Advisory Board.
2016 Participants
2016 Participants
Pfunkhaus
Pfunkhaus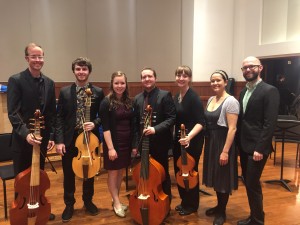 A flexible and modular ensemble formed at the USC Thornton School of Music, Pfunkhaus has delighted Los Angeles audiences with their inventive programming since their inception in 2015. The group's name reflects their function as a living broadcasting center (a Funkhaus) for lesser-known works of centuries past, its unconventional spelling a nod to the composer whose music brought them together: Augustin Pfleger. Pfunkhaus's instrumentation changes frequently to accommodate their eclectic and growing array of repertoire (from 17th century English consort music to French Air de cour), but in this particular iteration serves to highlight underperformed German baroque devotional works.
Trio Amaranti
Trio Amaranti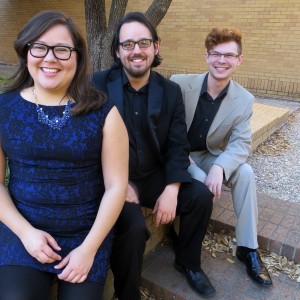 Trio Amaranti is a new group dedicated to the interpretation and performance of historic works for period instruments. Gaby Alvarado is a DMA candidate at the University of North Texas. She holds a MM in Flute Performance from the Longy School of Music of Bard College. Kyle Collins holds a MM in Harpsichord Performance from the University of North Texas. Currently, he is studying for a Graduate Artist Certificate in Harpsichord Performance. Adam Buttyan holds a BM in Music Theory from the University of North Texas. Afterwards, he will pursue a MM in Early Music from the Longy School of Music of Bard College. Gaby, Kyle, and Adam met while pursuing their respective degrees at the University of North Texas. Feeling that they needed more experience in early music, they formed Trio Amaranti and seek ways to explore chamber opportunities outside of the North Texas area.
Liason Baroque
Liaison Baroque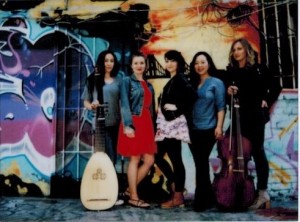 Liaison is a San Francisco-based dynamic and vibrant early-music band, made up of five no-nonsense, get-it-done women who slay (all day). They've performed at Herbst Theatre and Starlite Vineyards and has been described as having "a welcome naturalness and freshness that [makes] the audience want to hear more." You could say the same about their personalities. Liaison's mission is to bring historically-informed performances to a wider range of audiences in non-traditional venues, and represents a new era of interpreters of early music -- one where multi-cultural, female and relatable people have a voice. This isn't your grandma's Baroque band.
Photos
Enjoy photos from our last Battle of the Early Bands held in Berkeley, CA
Application
Battle of the Early Bands
During this year's Battle of the Early Bands, competing soloists or ensembles will be given the opportunity to present a 15-minute concert program on a theme of their choice (ex. "Love and Despair" or "War and Heroes"). The only requirements for your program are that you perform:
one slow movement
one fast movement
one improvisational section
Feel free to be as creative as possible in the improvisational section. Improvise on previous thematic material in your program, use a ground bass, or simply have a free-for-all.
Due to the popularity of our Battle of the Bands competition, we will choose participants based on the quality of their audio or video submission (one link, no longer than 5-10 minutes in length). A small travel stipend of $150 will be given to those ensembles outside the Bay Area (a $50 stipend for local musicians).
Eligible Applicants
Although "early music" is used in different ways at different institutions, for the purposes of the Battle of the Early Bands, it denotes an ensemble that fits the following criteria:
The ensemble devotes its attention primarily to music before ca. 1750.
The ensemble gives attention to matters of historical performance.
Where instrumental performance is involved, the ensemble performs strictly on period instruments or copies.
Applicants may apply as a soloist or as an ensemble with an average age of no more than 35.
Judging
Each audience member will have the opportunity to purchase "voting chips" at the door, as well in between rounds. After all four ensembles have performed, audience members will be allowed to cast their voting chip for their favorite soloist/ensemble. The soloist/ensemble with the most chips wins the grand prize with the remaining prize money divided between the remaining three groups.
Required Materials
Please provide the following information in the form below:
Ensemble Name (this can be your ensemble's actual name or one made up for the Battle of the Bands)
Primary Contact Person (please provide the name of one person in the group who will act as the primary contact)
Primary Contact Email
List of Performers and Instruments (please provide a short list of performers' names and instruments to be used during Battle of the Bands)
Theme (please provide your Battle of the Bands theme)
Audio or Video Submission (please submit a 5-10 minute audio or video link to serve as your Battle of the Bands audition)
Application and Deadline
Thank you for your interest in Battle of the Early Bands. The application process is closed.
Past Participants
2014
Angel Head
Arethusa Musica
Emily Davidson
Lauzeta
Sweet Temperament