Early Music at Saint James
November 4 @ 7:30 pm
EDT
$25.00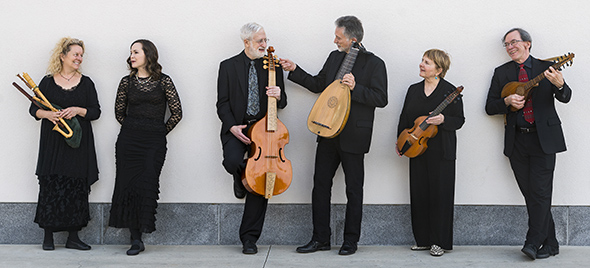 The Baltimore Consort
The Food of Love: Songs, Dances and Fancies for Shakespeare
The Baltimore Consort, the "rambunctious sextet" (Washington Post), known for their lively renditions of Renaissance tunes, presents music of the Elizabethan era with songs and consort music from Shakespeare plays. Ethereal soprano Danielle Svonavec performs some of the greatest hits from the Bard's songbook including It Was a Lover and His Lass, Where the Bee Sucks and Full Fathom Five and The Willow Song,  and the BC instrumentalists play sparkling arrangements of dances and consort music with their exquisite consort of instruments—lute, cittern, viols and flute.
Available online and in person
The EMA Member Concerts & Events Calendar is for time-sensitive events, such as in-person concerts, livestreaming performances or video premieres, and live online events such as webinars. Videos available on-demand (temporarily or permanently) should not be submitted as multi-day events. Please submit Early Music News & Press Releases about these or other activities.
Highlights from this calendar are included in the weekly E-Notes email newsletter (Tuesdays). Selections are made based on variety of event types and geographic regions.
EMA does not share non-EMA events on our social media platforms.