Member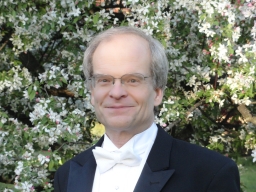 Biography
Jeff Rehbach enjoys making choral music! He recently conducted the Vermont Choral Union, a 35-voice a cappella ensemble based in Essex Junction, Vermont, from 2011-2018, with repertoire ranging from late Medieval and Renaissance times to the present. He also leads the Middlebury College Community Chorus, a 100-voice ensemble open to students, faculty, staff, alumni and community members. He served as conductor of the Middlebury College Chamber Singers from 2000 to 2007, and as conductor of the Middlebury Congregational Church choir for fifteen years. He currently assists with worship activities at Middlebury's Memorial Baptist Church. He plays viola with the Champlain Philharmonic Orchestra.
An active choral singer, conductor, and worship musician, Jeff has coached and performed with Early Music Vermont and the Vermont Symphony Orchestra Chorus. Jeff is well-known as the conductor of the annual open reading of Handel's Messiah at the Middlebury Congregational Church.
Jeff came to Middlebury in 1981, and his positions at the College included Music Librarian, Systems Librarian, Director of Information Technology, Special Projects Manager, and Policy Advisor for Library and Information Services (LIS). He retired from LIS in summer 2010. He now works part-time as office manager at Elderly Services in Middlebury.
Jeff has served on the board of the Vermont chapter of the American Choral Directors Association.
He attended Cornell University (Master of Arts, Musicology, 1982; Bachelor of Arts, Music, 1975) and Syracuse University (Master of Library and Information Studies, 1981). At Cornell, he served as director of the Collegium Musicum and a select women's a cappella ensemble, and as assistant conductor of the Cornell Chorus and Sage Chapel Choir. He has studied vocal and instrumental early music with Ellen Hargis, Drew Minter, and David Douglass.
Events
No Events Found.