Tempesta di Mare
Organization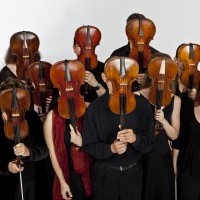 CONTACT INFORMATION
1034 Carpenter St
Philadelphia, PA 19147
United States

215-755-8776
info@tempestadimare.org
http://www.tempestadimare.org

Primary Contact Person:
Ulrike Shapiro

TYPE OF ORGANIZATION
Performing Ensemble


BIOGRAPHY
Fanfare magazine recently hailed Tempesta di Mare for its "abundant energy, immaculate ensemble, impeccable intonation, and an undeniable sense of purpose." Led by directors Gwyn Roberts and Richard Stone with concertmaster Emlyn Ngai, Tempesta performs baroque music on baroque instruments with a repertoire that ranges from staged opera to chamber music. The group performs all orchestral repertoire without a conductor, as was the practice when this music was new.
Tempesta's Philadelphia Concert Series, noted by the Philadelphia Inquirer for its "off-the-grid chic factor," emphasizes creating a sense of discovery for artists and audience alike. Launched in 2002, the series has included 31 modern "world premieres" of lost or forgotten baroque masterpieces, leading the Inquirer to describe it as "an old-music group that acts like a new-music group, by pushing the cutting edge back rather than forward." Its supporters include the Pew Charitable Trusts, the William Penn Foundation, the Presser Foundation and the National Endowment for the Arts.
In a marketplace dominated by European ensembles, Tempesta is the only American baroque music group to record for the prestigious British label Chandos. Current releases are Weiss: Lute Concerti (2004), Handel: Flaming Rose (2007), Scarlatti: Cantatas and Chamber Music (2010), and Fasch: Orchestral Music, vol.1 (2008), vol.2 (2011) and vol.3 (2012). Bach: Trio Sonatas, BWV 525–530 and Mancini: "Sonatas for a Flute," were both released in 2014, and two CDs of Comédie et Tragédie: French baroque orchestral music for the theater are scheduled for 2015 and 2016 respectively. National broadcasts of live performances include SymphonyCast, Performance Today, Sunday Baroque and Harmonia. Our concert recordings are distributed worldwide via the European Broadcasting Union, the world's foremost alliance of public service media organizations, with members in 56 countries in Europe and beyond.
Tempesta has toured from Oregon to Prague. Notable recent tours have included the Göttingen Handel Festival, our New York debut at the Frick Collection, our orchestra's first European tour to the International Fasch Festival in Zerbst and a sold-out appearance this season on the Garmany Series in Hartford.
MUSIC
No Music Found
EVENTS
No Events Found