Organization Member
Contact Information
(502) 468-4537, 5024684537, 5024684537
alice@incantaremusic.com
Louisville, Kentucky
Type of Organization
Performing Ensemble
About
Incantare's concerts highlight the musical and cultural connections of under-explored musicians from the Renaissance and early Baroque periods, especially music by composers, singers, and instrumentalists from marginalized communities in early modern Europe. Founded by co-artistic directors Alice Culin-Ellison, Liza Malamut, Ben David Aronson, and Garrett Lahr, the ensemble strives to discover, research, transcribe, teach, and perform works that may not have been heard since their conception.
Incantare debuted to enthusiastic crowds at the 2018 Twin Cities Early Music Festival, where they were chosen as one of "the week's five best Twin Cities classical concerts" by the Star Tribune. The ensemble was most recently featured in EMAg, Early Music America's quarterly publication, in the article "Going for Baroque Among Spirits and Steeds." Recent engagements include an artist residency at Avaloch Farm Music Institute, a return to the Twin Cities Early Music Festival, and their featured appearance at the 2019 International Trombone Festival, where they were were praised for their "beautiful and cohesive sound." (ITA Journal, October 2019). They have performed programs throughout the United States, with 2020 appearances at Hobart & William Smith Colleges, LeMoyne College, and The Perkins Mansion in Rochester, New York. Incantare's EXILE program, set to premier through streaming broadcast in Spring 2021, was recently recognized as an "innovative project" by the Paul R. Judy Center for Innovation and Research. Audiences have reported leaving the ensemble's concerts "with a sense of awe." (EMAg, October 2019)
The consort of sackbuts and violins has a long history and a unique sound that incorporates the vocal qualities of both instruments while retaining each of their distinct timbres, making it the perfect medium for performing the beautiful works from this rich musical time period. The name "Incantare" is a play on words that links directly to the group's mission as early instrumentalists. "Incantare" means "to enchant" in Italian, and "to sing" in Latin. Incantare seeks to enchant, charm, hypnotize, and spellbind by singing through their instruments.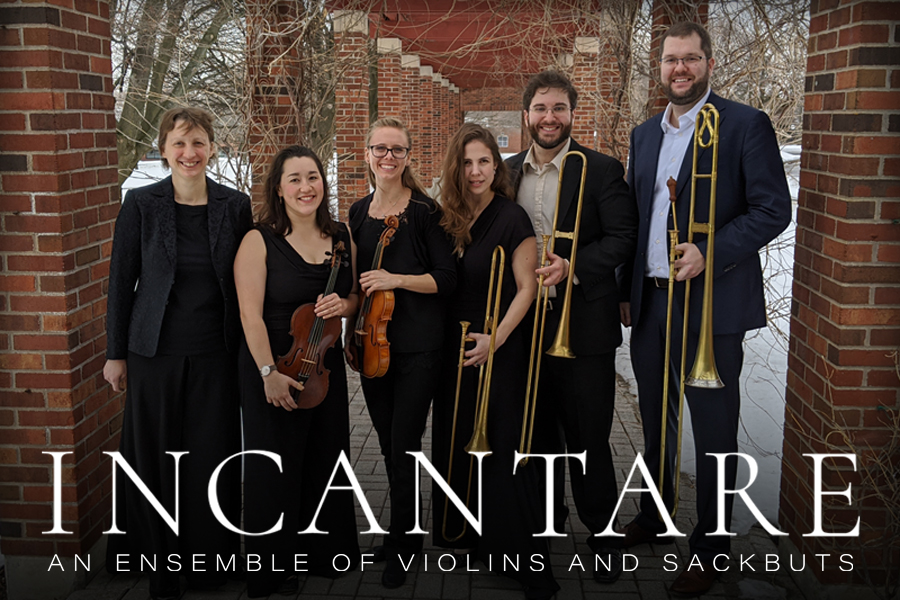 Events
No Events Found.