EMA encourages members and supporters to include the EMA logo on your websites, social media, and print materials to show your support for the field of early music in North America.
---
Media Use Policy
All downloadable EMA logos and those images branded with the EMA logo are copyrighted works of Early Music America and may not be edited or altered in any way. All rights of every nature not expressly granted herein are reserved by EMA.

EMA reserves the right to withdraw permission for the use of any or all Images without cause at any time upon the giving of withdrawal notice.

EMA warrants only that it has the legal right to grant the permission set forth herein, makes no other warranties, express or implied, and shall have no liability whatsoever for the use of Images.

By using any of the EMA logos, the user agrees to comply with all provisions of this policy and to indemnify EMA from and against any and all claims, expenses, damages, and liabilities for use of any Images except as expressly permitted by this policy.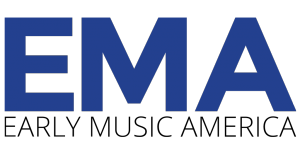 Right click on the links below to download
PNG format (transparent background)
Color, hi-res (300 dpi)
White, hi-res (300 dpi)
Grayscale, lo-res (72 dpi)
JPG format
Color, hi-res (300 dpi)
Grayscale, hi-res (300 dpi)
PSD Format
EPS Format