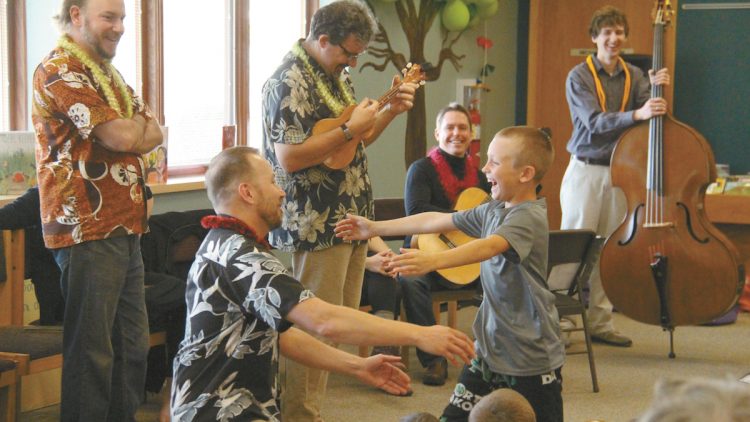 Early Music America is pleased to announce The Rose Ensemble as the recipient of the 2018 Laurette Goldberg Award for lifetime achievement in early music outreach and/or educational projects for children or adults by ensembles and individual artists. The Laurette Goldberg Award is named for Laurette Goldberg, a teacher, performer, author, and founder of musical enterprises in the San Francisco Bay area.
As a person who grew up in northern Minnesota, where my school had no choir, the band existed to play at football games, and the only in-school "teaching artists" were evangelical rock bands, ​my passion for educational outreach is truly personal. Whether it is creating programs for schools, community centers, houses of worship, libraries, and so much more, I feel driven by these goals:

-to make the world a more beautiful place
-to encourage the appreciation of things unfamiliar and the knowledge of others
-to use art to cultivate abundant curiosity about human history

After 22 seasons, we in The Rose Ensemble have accomplished a lot. But each time our staff gathers, each time our musicians rehearse, we are reminded of our potential. This award validates our efforts, and we are grateful. But it also encourages us to strive to do even more.

– Jordan Sramek, Founder Artistic/Executive Director
EMA's Annual Awards ceremony will be held during our Annual Meeting, Thursday, May 24, 2018, at Indiana University's Jacobs School of Music, Bloomington, Indiana.
---
Biographical Information
Founded in 1996 by Artistic Director Jordan Sramek and now in its 22nd performance season, The Rose Ensemble is based in Saint Paul and enjoys a full schedule of performing, recording, and outreach. Through virtuosic artistry and scholarly research, the group produces imaginative and inspiring musical performances and educational programs that connect each individual to compelling stories of human culture and spirituality from around the world. Each season, the group illuminates several centuries of rarely heard repertoire, bringing to modern audiences research from the world's manuscript libraries and fresh perspectives on music, history, languages, politics, religion, and more. With eleven critically acclaimed recordings and a diverse selection of concert programs, The Rose Ensemble has thrilled audiences across the United States, Europe, and Latin America with repertoire spanning 1,000 years and over 25 languages, including recent unique programs highlighting Maltese, Hawaiian, Middle Eastern, and Cuban repertoire.
Mr. Sramek is the 2010 recipient of the Chorus America Louis Botto Award for Innovative Action and Entrepreneurial Zeal. The group is the recipient of the 2005 Margaret Hillis Award for Choral Excellence and took first place in both secular and sacred categories at the 2012 Tolosa (Spain) Choral Competition.
Recognized as a leader and innovator in the worldwide vocal music scene, The Rose Ensemble tours regularly. Recent appearances include Trinity Wall Street Series (NYC), the Musical Instrument Museum (Phoenix), the National Gallery, Cornell University, Luther College, the J. Paul Getty Museum, Princeton University, Houston Early Music, Chautauqua Institution, and the Madison Early Music Festival. In 2012 the group served as artists in residence at the Society for Biblical Literature Conference and in 2013 appeared at St. Quirinus Cathedral, Neuss (Germany). In 2014, The Rose Ensemble was chosen to represent the United States at the international Baroque music festival Misiones de Chiquitos in Bolivia, and later that year made its debut performance with the Minnesota Orchestra. Concert highlights last year included the World Symposium on Choral Music (Barcelona), Festival des Choeurs Lauréats (Provence), and several performances in Germany. The group can be heard regularly on American Public Media, the European Broadcasting Union, and NPR's Performance Today.