by Philippa Kiraly
Published October 28, 2019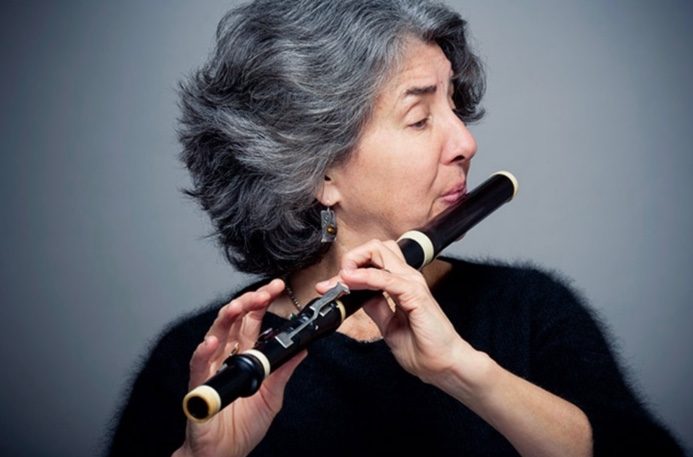 Carrying her baroque flute, Janet See rings a doorbell, and the door is opened by a caregiver. A smiling, elderly lady we'll call Bea stands inside with baroque flute in hand, and she and See sit down and immediately start playing. But this is not a lesson. Bea started studying with See, a flutist of world eminence, in 2006 and began a descent into dementia some five years ago. Now she cannot read music, nor does she talk much, but her fingers remember old melodies — such tunes as "You Are My Sunshine" and "Sourwood Mountain" — and she plays while See improvises harmony. Sometimes Bea goes straight into another melody barely finishing the first, and See follows her. Occasionally, See gently corrects a finger placement or Bea's stance. After an hour, Bea is clearly tiring, and the session ends.
Twice a week, when See is at home on Bainbridge Island, WA, she visits Bea to make music with her. "I find it very satisfying to bring quality to her life through playing these wonderful old chestnuts," See says. "These are unique and valuable islands of time that we both enjoy." Bea's husband comments: "Your sessions with her are so much about who you are as musician, friend, therapist."
As a performer, See used to play extensively in Europe and across North America. (To learn about her years of education and performing background, read Lee Inman's comprehensive EMA interview with her.) She doesn't feel the need to travel so much now. While in Europe, she maintained contacts in the Bay Area, Seattle, Portland, and Vancouver, B.C., returning to the Northwest in 1998 to care for family members and to raise her son in the U.S. She was grateful then for those contacts, developing a fulfilling performance life on the West Coast. Today, she concertizes as co-principal flute of Philharmonia Baroque Orchestra and as principal in Seattle's Pacific MusicWorks, Seattle Baroque Orchestra, and Portland Baroque Orchestra, among other engagements.
Most of See's performances with orchestra are for classical, six-keyed flute. Playing it increases the available repertoire considerably for her instrument, she says. "It's much richer. Orchestral opportunities on baroque flute are relatively few and far between. Classical repertoire frequently includes a flute section, and so opportunities for work expand."
"I used to be a baroque flute player myself," says Philharmonia Baroque music director Nicholas McGegan, "and so I have always had a special admiration for her. She plays much better than I ever did, and she also is a terrific classical flautist, something I never felt comfortable with. I regard her as a very good friend, as well as a colleague whom I admire and have for over 30 years. She plays with both panache and soul."
Colleagues far and wide testify to her musicianship, such as Carla Moore, colleague and friend of years, co-concertmaster of Philharmonia Baroque, and concertmaster of Portland Baroque. "Janet is an exacting musician. This has not changed over the years. Her attention to musical and technical details is at the top. She doesn't compromise in her expectations, whether you are playing chamber music or orchestral music with her. Not only can she nail an extremely difficult Beethoven or Schubert symphony lick, but she does it with such style and grace. One can hear her breadth of experience in her playing as well. When a musician has studied, rehearsed, and performed with the best the world has to offer, well, you hear it in all aspects of their playing."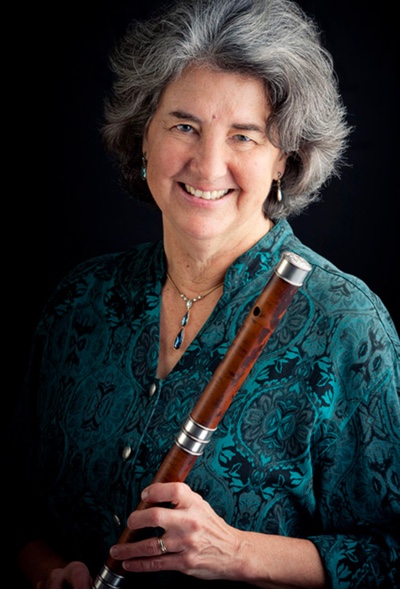 Like McGegan, Tekla Cunningham, concertmaster of Pacific MusicWorks and a See colleague for many years in various groups, mentions specifically that she plays with soul. "I'm a big fan of her expressive and nuanced playing," she says.
Hearing See play is a revelation. Listening to her perform on classical flute in a September concert of chamber music by Mozart, Haydn, and Franz Danzi at a community center on Bainbridge Island left me in awe of the beauty, depth, and expressivity of her artistry. Her ornamentation was a marvel: totally idiomatic, wonderfully musical, perfect for the music, and anything but easy to play, though you wouldn't know that from the seemingly effortless way she encompassed it. She took time to talk with the audience of some 100 mostly elderly people about her classical flute, and how it differs from the baroque flute, pointing out that it is easier to play notes more evenly on the former, while the latter has both strong and weaker notes.
It's clear that See has an innate gift to connect with people and players on their level, helping to raise their abilities and understanding.
Steve Lehning, viola da gamba player and artistic administrator with American Bach Soloists and a See colleague for more than 30 years, says she was instrumental in helping him realize he was on the right track musically. "Early in my career, I had attended one of the Early Music Vancouver workshops on the campus of UBC, where she — along with Monica Huggett and Sarah Cunningham — was a faculty member. I remember one coaching in particular. Without a doubt, it was something she suggested that convinced me that I was on a valid career path as a performer. It wasn't so much exactly what she said that was so profound, but the way in which she delivered it. She is one of the most positive and encouraging coaches I've ever witnessed. This is not to say that she isn't very clear with criticisms, but that they are specific, well-deserved, and constructive."
See both teaches and coaches baroque flute, giving the occasional private lesson to students in Portland or the Bay Area and more regularly to those who live in Seattle. For eight years, she has led a flute workshop, begun in Seattle in 1999 by baroque flutist Kim Pineda. Eighteen baroque flute players from all over the country, ranging in age from 23 to 70-plus, came for this year's July workshop, including 13 returnees. The workshop has grown in numbers, and See is enthusiastic about how the quality of playing continues to rise. 
"When I started on my career of teaching adult amateurs, people who love and know a lot about 18th-century music and who want to play with a beautiful tone and style, I realized these students would continue to be frustrated if they didn't strengthen most aspects of their basic flute technique," See says. "In their enthusiasm for the one-keyed flute, it was easy to bypass the groundwork. So I felt a very strong mission. I became convinced I had to pedal back with these students in most all aspects of their work on flute."
See works with students first and foremost on how they stand, breathe, and hold the flute — "a lot of things like bringing the flute up, not your face down. I break down good flute playing posture so they can see where they've taken shortcuts."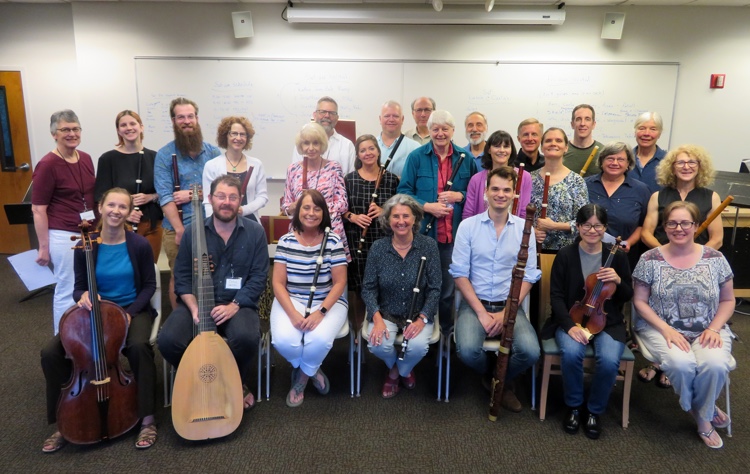 Introduced to the Alexander technique in 1981, she took the teacher training in London from 1994-1997. She finds it invaluable. "Really, you are playing two instruments, your body and your flute. The body has to work in such a way that you can elicit the best technique and the best tone, and be able to hold the instrument lightly so that the hands and arms can work with suppleness, and you can manage your air and keep control over your air pressure. You need to be able to use your body so it supports your work and your instrument over decades."
One of those adult students is Carla Tachau Lawrence, a Seattle lawyer who originally played modern flute and whose husband gave her a baroque flute for a wedding present more than 25 years ago. Given the exigencies of work and children, she put it aside until fairly recently, when she decided to ask See for lessons. For three years now, she has been an enthusiastic participant in the annual workshop and is also a member of the local Seattle baroque flute ensemble, led by See, which she hadn't dared to feel she could aspire to until she did. The 10-member ensemble meets twice monthly, playing carefully crafted transcriptions of works by Bach, Telemann, Purcell, Tallis, and many more composers of several eras. The flute ensemble grew out of the 2010 workshop, when local players decided they wanted to continue making music throughout the year.
"It's heaven," says Tachau Lawrence of the workshop. "It's because of the tone Janet sets. She is warm, inclusive, and supportive. Here we have a world-class flute player in our home town, and she brings in this wide variety of skill levels, knowledge and backgrounds and makes everybody feel welcome. She does this in her teaching, too, and the level of the workshop has gone up incredibly."
Student Joshua Malison began studying with See in October 2018, having previously earned a degree in bassoon and tried out many different winds. He is working with See towards an application to attend Juilliard in 2020 on baroque flute.
"Aside from Janet's skill as a performer and teacher, it's her love for the instrument and her passion for sharing it with the world that really stand out to me," says Malison. "It comes from a very genuine place, and she makes the deeply difficult seem effortless. She has also been an amazingly kind and thoughtful role model for me as I work to make music sustainable in my life. Her depth of experience in this art is very apparent in her teaching, and it is such a joy to learn from her."
At this time in her life, See can look back over the years and see her career as it has developed. The full scope of the work she is doing now is both meaningful and important to her. "I certainly continue to enjoy my solo, chamber music, and orchestral work. There is also a deep satisfaction I get from the flute group, from working with Bea, from teaching largely adult amateurs who are so keen to play, play well, and play in a good ensemble with other like-minded friends and musicians. I love helping to create a musical life for adults who previously haven't had this rich experience. I feel now I am an ambassador for baroque flute."
Philippa Kiraly has been a freelance classical music critic since 1980. She has written for the Akron Beacon Journal, the Seattle Post-Intelligencer, City Arts, and The Sun Break, and now contributes to BachTrack and Sybaritic Singer. 
Recent EMA Features
Do students need a degree in historical performance to enter the field of early music? Most instrumentalists are positive about the need for a specialized degree. Singers? Not so much. But for anyone considering a degree in early music, ask yourself, "What does the program offer?"
Are clothes of the period part of a historically accurate performance? Opinions vary about what constitutes an acceptable period outfit, but advocates of historical attire in early music have one thing in common: They believe the costume helps enrich the music's context.
The Baroque Chamber Orchestra of Colorado started an apprentice program in 2007, in part to mentor the next generation, to scout for new members, and to bring fresh perspectives into the ensemble. They've succeeded in all these aspects.