by Stephanie Manning
Published May 22, 2023
L'Amant Anonyme, Haymarket Opera Company. Cedille Records. CDR90000-217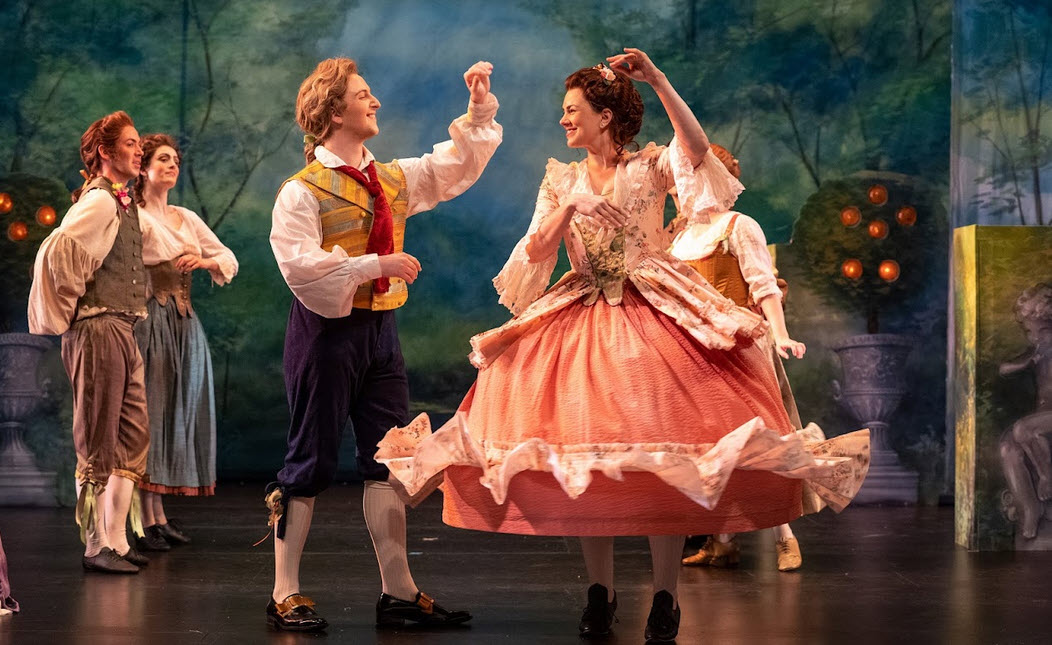 Of all the instrumental interludes in L'Amant Anonyme, the contredanse is perhaps the most symbolic. This French "country dance" rejects hierarchical structures of movement in favor of an ensemble of equals—and the cast of this Haymarket Opera Company production is similarly balanced and well-rounded in their strengths.
The recent rediscoveries of music by Joseph Bologne, Chevalier de Saint-Georges, have often focused on his instrumental works. But the composer's six operas also form a significant portion of his output although L'Amant Anonyme (The Anonymous Lover), first performed in 1780, is the only one known to survive. In this world-premiere recording released by Cedille Records, produced in 2022, the Chicago-based Haymarket makes the case for the high quality of this opera through their thoroughly enjoyable and memorable performance.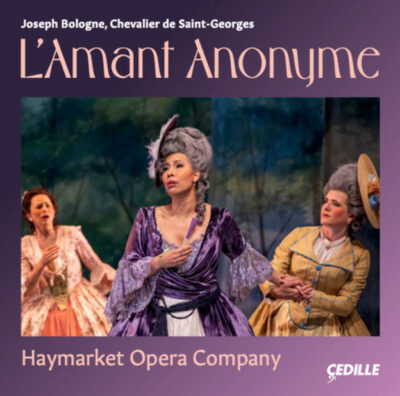 Tenor Geoffrey Agpalo and soprano Nicole Cabell, as the principal romantic interests Valcour and Léontine, lend their expressive voices to characters whose true feelings hide behind layers of deception. When an anonymous gentleman begins sending courting gifts, the widowed Léontine feigns indifference while struggling to acknowledge her growing feelings—meanwhile, her close friend Valcour supplies advice while also channeling the expressions of his love through his alter ego, the Anonymous One.
Cabell's lovely soprano portrays her inner conflict well, skillfully moving between indignance and indecision during the ariettas "Son amour, sa constance extrême" and "Du tendre amour." Agpalo emphasizes his lyricism in the opening aria "Depuis longtemps mon coeur soupire," while still saving plenty of power for the most high-tension moments—like when the truth of the Anonymous One is finally revealed in "Ah! Quel trouble m'agite." That trio is one of many examples of Bologne's intricately layered writing, where the voices of Cabell, Agpalo, and David Govertsen (as Valcour's co-conspirator Ophémon) all give their thoughts simultaneously.
Govertsen, a rich bass-baritone, possesses an outstanding low register that he puts to good use in both group numbers and his solo aria "Aimer sans pouvoir le dire." Occasionally, Bologne's music insists on testing the vocalist's high range as well—Ophémon's Act II duet with Léontine, where he stubbornly demurs on giving more information on her anonymous suitor, includes some impressive upward leaps.
As various deceptions are deepened, and then revealed, Bologne brings an increasing number of voices into the mix. The Act I finale, for example, includes not only the primary trio but also newlyweds Jeannette and Colin (vivacious soprano Erica Schuller and mellow tenor Michael St. Peter), whose happy marriage represents Léontine and Valcour's ideal. The chorus numbers also include Léontine's maid Dorothée (soprano Nathalie Colas)—a welcome change given that the original role consisted only of spoken dialogue. The cast's French delivery is consistently entertaining, particularly if you are following along with the translations supplied in the extensive booklet.
Many of the most joyful moments in the work, however, require no words. For those, Bologne uses the orchestra for everything from multiple ballets, a march, and of course the ending contredanse. Conductor Craig Trompeter and the Haymarket Opera Orchestra give these moments—as well as the entire opera—a sprightly and evenly-balanced energy. Together, they make for a crowning jewel on this fantastic recording.
Stephanie Manning is a regular correspondent for ClevelandClassical.com and served as a fellow at the 2022 Rubin Institute for Music Criticism. As a bassoonist, she is in her final year of study at Oberlin Conservatory.
Recent EMA Recording & Book Reviews
In a revealing look into the lives of 'ordinary' folks in 17th and 18th c. Germany, author Tanya Kevorkian taps a wealth of sources that detail city life, from religious beliefs to weddings to the rhythms and rules of town watchmen. With compassion and wisdom, the author notes that historians who look at street life "have to some degree replicated the perspective of the authorities."
Emily Zazulia's valuable 'Where Sight Meets Sound: the Poetics of Late-Medieval Music Writing' explores notational aesthetics in polyphonic music, where it's not obvious how you're meant to sing what's on the page.
Long undervalued, Alessando Scarlatti's vocal writing naturally weds singable lines with the Italian language. Ars Lyrica Houston's colorful new recording of a Scarlatti oratorio, with an outstanding cast, makes a brilliant case for this rarely heard music.