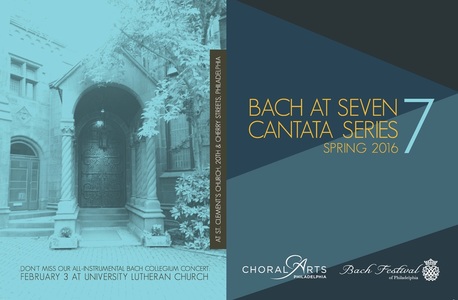 Contributed by Benjamin K. Roe
In yesterday's post we talked about a noontime Bach series that's taken place in the Nation's Capital for more than a quarter century. In Philadelphia, they prefer their Bach@Seven, thanks to the intrepid efforts of Choral Arts Philadelphia. Artistic director Matt Glandorf tells the Philadelphia Examiner, "The goal was inspired by the large number of citizens of Leipzig, regardless of wealth, who attended the cantata performances back in Bach's time."
Translated into our time, that means these Bach concerts start at 7, last an hour, and are come-as-you are; pay-what-you-will; and sit-where-you-want.
For its current season, including this Early Music Month, Choral Arts Philadelphia and the Philadelphia Bach Collegium have billed these Bach concerts as "Something Old, Something New." The seven o'clock series now combines Bach Cantatas with contemporary works that are somehow connected, either thematically, structurally, or otherwise inspired by Bach.
Tonight's program, for example, features three of the beloved Motets by Bach, among the composers most compelling and enduring vocal works, along with contemporary composer Philip Moore's Three Prayers of Dietrich Bonhoeffer.
Check out this little video sample of Bach@Seven: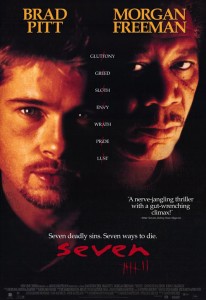 Bach's Motets are set to texts of prayer, devotion, and redemption from sin. The 1995 film Se7en, explores quite the opposite: "Two detectives, a rookie and a veteran (played respectively by Brad Pitt and Morgan Freeman) hunt a serial killer who uses the seven deadly sins as his modus operandi." Yet Bach figures heavily in this "Seven" too: The famous Air from his Orchestral Suite No. 3 figures prominently throughout the soundtrack, adding a strong emotional underpinning to many of the movie's gripping scenes, as you can see in this video clip.

By the way, the movie database IMDB reports that Se7en is one of an eye-popping 992 movie soundtracks in which Bach's music appears, stretching back as far as 1931's Dr. Jekyll & Mr. Hyde, and as current as this year's Zoolander 2. Maybe it's old J.S.'s turn to receive a Lifetime Achievement Award at the Oscars!
This blog post contributed by Benjamin K. Roe, EMA Board Chair of Early Music Month and Executive Director of The Heiftetz International Music Institute.