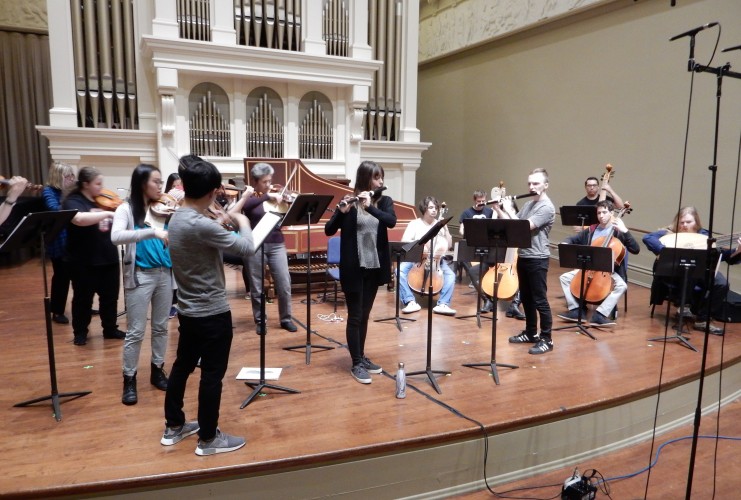 Third in our series of guest articles for Early Music Month
By John Moran
What's special about the Baltimore Baroque Band is the generous, collaborative spirit it fosters. It's nice when the local paper describes the group as "technically polished, rich in color and refined nuances" (Baltimore Sun), but what's really rewarding is the way everyone brings their best to the ensemble, a bunch of talented students playing side-by-side with their professors and a few very dedicated community members. I love the way everyone in the group is always ready to pitch in to move a harpsichord, to make parts, or to put in time for an extra rehearsal. About half of our students are early-music majors, and the other half join for the love and novelty of it. Nearly all of our alums, including the non-early-music majors, go on to have period-instrument playing form a part of their professional lives.
It's great to be able to step back and look with some perspective at how far we've come, locally and nationally. When violinist Risa Browder and I founded the group at Peabody Conservatory in the fall of 2005, there was some resistance from our administration and from some of the school's "modern" faculty. For its first year, we offered the class on a trial basis for which we were not paid. I think that when we came up with the name "Baltimore Baroque Band", which I still like, we wanted to avoid the word "orchestra." Consciously, we were announcing what would differentiate this conductor-less group from the school's big orchestras, but subconsciously maybe we wanted to be sure not to step on any toes. Now, over a decade later, the climate today couldn't be better. We enjoy broad support from our colleagues and administrators at Peabody and a wonderful following from the public.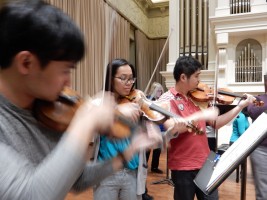 As part of Early Music Month, we presented a concert, From Zimmermann's Coffee House, with a program inspired by Bach's Leipzig Collegium Musicum, with music by W. F. Bach, Telemann, and J. S. Bach: the double violin concerto, the harpsichord concerto in F minor, and Brandenburg No. 3. It was heartening to see a full house in the school's lovely Griswold Hall, a diverse audience ranging in age from about five to over 80. The appreciation of the audience was palpable, not just in the applause, but also in the way so many of them wanted to engage with performers afterwards, to congratulate and thank them, and to ask questions about the music and the instruments.
At a time when our country feels so divided, we musicians are fortunate in being able to bring people together and to provide respite and sustenance. The students just want to keep doing more. Their top question for us after the concert: "So, what are we doing next week?"
John Moran teaches viola da gamba, baroque cello, and performance practice at the Peabody Conservatory, where he also co-directs the Baltimore Baroque Band. He studied at Oberlin and the Schola Cantorum (Basel, Switzerland) and subsequently earned a Ph.D. in musicology at King's College, London. He is artistic director of Modern Musick, currently resident at Georgetown University. As a member of REBEL, heard frequently on NPR's "Performance Today," he performs all over the U.S. and in Europe. He is the vice president of the Viola da Gamba Society of America and president of the Kindler Cello Society of Washington, DC. He is married to the violinist Risa Browder.