by Jarrett Hoffman
Published March 29, 2021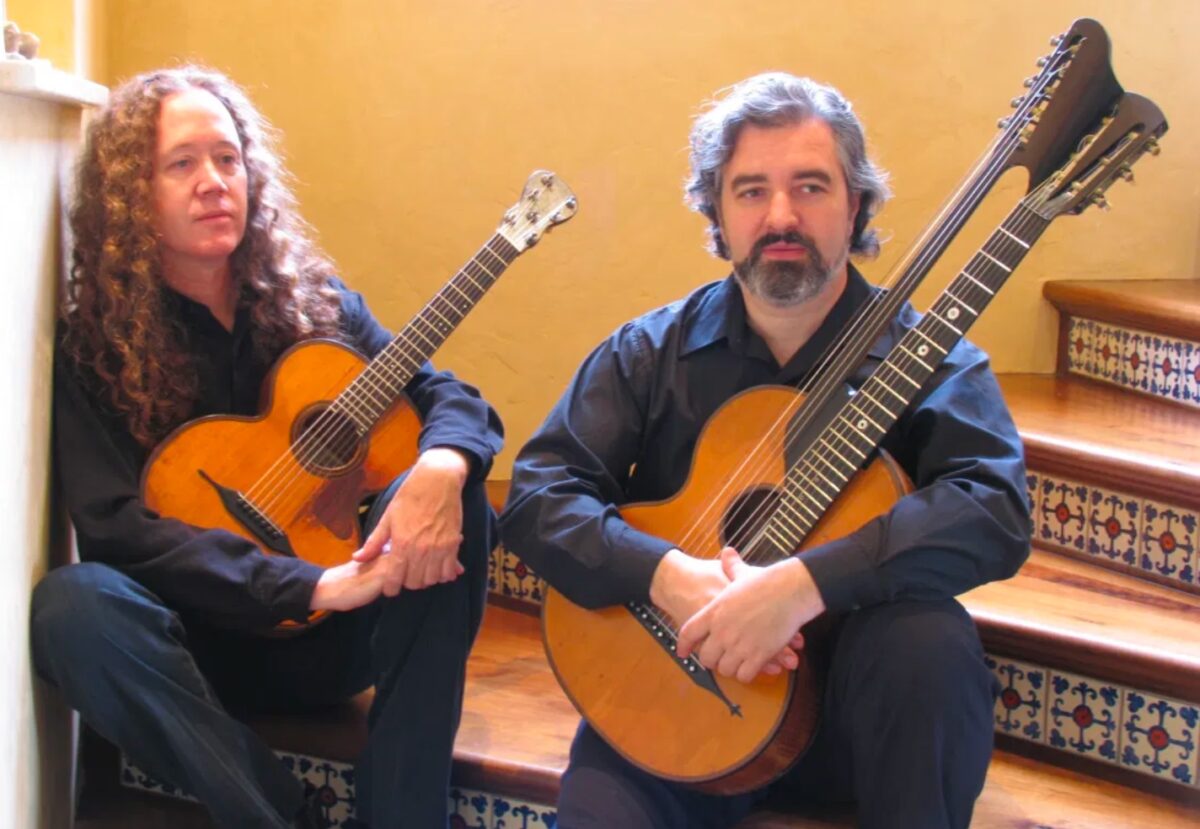 A Tribute to Vladimir Morkov. The Czar's Guitars (John Schneiderman and Oleg Timofeyev). Hänssler Classic HC20018.
Since 2004, Oleg Timofeyev and John Schneiderman have teamed up as The Czar's Guitars to explore 19th-century music for Russian guitar duet. That includes music by famous composers such as Glinka, but their latest album revolves around a figure who is likely a mystery to Western audiences.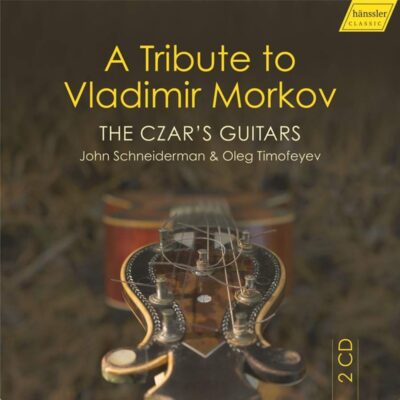 A Tribute to Vladimir Morkov highlights this guitarist, critic, composer, arranger, and pedagogue whose musical contributions have been almost forgotten, as Timofeyev writes in the liner notes, since the near-disappearance of the Russian seven-string guitar, which is undergoing a revival.
The album brings together original pieces and arrangements, laid out in four sections over two discs. Morkov's interest in opera, chamber music, and art song is revealed in Disc One, consisting entirely of duets. Solo works begin Disc Two, which then ventures into duo settings of Pergolesi's Stabat Mater and Morkov's own chorale-like preludes for two guitars.
That layout might represent the central debate over this album. It presents an organized way to take in the varied talents and interests of Morkov (1801-1864). But from the perspective of pure listening enjoyment, each section — especially the first two, which are lengthier — starts to feel fairly similar after a few tracks. For that reason, perhaps the best way to introduce yourself to Morkov is to pop around between a few highlights before delving in more thoroughly.
If you're new to this repertoire, the first thing you'll notice in the opening duets is the combination of Russian guitar (Timofeyev) and Russian quart guitar (Schneiderman), tuned a fourth higher.
What a rich tapestry those instruments weave. Their contrasts of timbre and articulation are delightful — the full-size guitar is deep and mellow, while the quart is more intense, especially in its high range. Sometimes, changing things up, Morkov brings them together into the same register, where it's more difficult to distinguish between them. That makes for a particularly unique duo sound — almost homogenous, but just barely, deliciously off.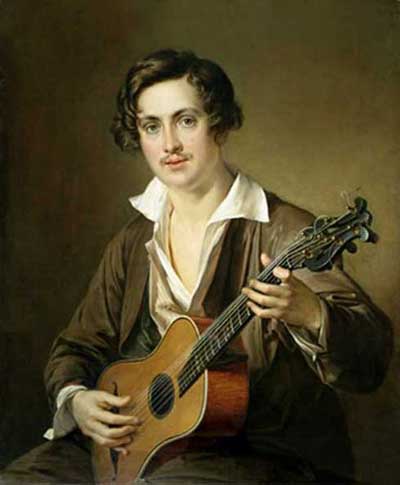 Disc One is a little heavy on operatic variations, but two Andante's stand out in varying the mood: one from Rossini's Otello, bringing forth heavier emotions, and the other from Anton Rubinstein's Piano Trio in F Major, Op. 15, taking us into a more mysterious realm. The final track, Variations on "Carnival of Venice," is a true must-listen. It shows off endless flair and technique from the performers, and its variations are exceedingly clever, even quirky.
Timofeyev sticks with the full-size guitar and Schneiderman switches between both instruments to begin Disc Two, where the players trade off solo works, most of them one or two minutes long.
Charm and beauty — perhaps a pastoral nostalgia — pervade this music, but the works that break up that pattern stick with you the most. A Haydn Theme and Variation brings variety with that musical form, while Morkov's Zapateado grabs your attention with bold colors and spicy writing. Other pieces shine for a particularly special performance. With his engaging rubato, Timofeyev brings plenty of intrigue to Matteo Carcassi's Etude in c minor (arranged from the d-minor work for Western six-string guitar), while Marie, a nocturne by Brinley Richards, oozes style in the hands of Schneiderman.
Moving to the Pergolesi, of course you can't expect the solemnity and tragedy of the Stabat Mater to quite carry over to two guitars, even if Morkov chooses the more intimate movements. Still, this presentation is compelling simply because it's totally different. Be sure to listen to the closing Aria, which provides the greatest sense of richness and emotional power.
To borrow a description from the liner notes, Morkov's preludes for two guitars — almost all under a minute long — are "peculiar." Timofeyev wonders whether their chorale-like textures, an odd choice for guitars, were actually intended to be "a starting point for rhythmic improvisation."
He and Schneiderman have chosen to leave them be, and indeed, many of them sound more like the groundwork for a piece rather than a piece themselves. Most convincing are the second Prelude in A Minor, thanks to its moving notes and faster-shifting harmonies, and the second Prelude in C Major, which closes the album nicely with its melodic arpeggiations in the quart guitar.
You can understand why the duo decided not to experiment with them here. To quote Timofeyev again, "Today's classical guitar culture does not have an analogous phenomenon to Morkov's preludes for two guitars, so let us first inhale them the way they are written and imagine what a great guitar culture it must have been."
Still, you can't help feeling tantalized.
Jarrett Hoffman is the managing editor at ClevelandClassical.com and served as a fellow at the 2014 Rubin Institute for Music Criticism. As a clarinetist, he performs in the Hudson Valley and New York City and runs a private studio.
Recent EMA Recording & Book Reviews
In a revealing look into the lives of 'ordinary' folks in 17th and 18th c. Germany, author Tanya Kevorkian taps a wealth of sources that detail city life, from religious beliefs to weddings to the rhythms and rules of town watchmen. With compassion and wisdom, the author notes that historians who look at street life "have to some degree replicated the perspective of the authorities."
Emily Zazulia's valuable 'Where Sight Meets Sound: the Poetics of Late-Medieval Music Writing' explores notational aesthetics in polyphonic music, where it's not obvious how you're meant to sing what's on the page.
Long undervalued, Alessando Scarlatti's vocal writing naturally weds singable lines with the Italian language. Ars Lyrica Houston's colorful new recording of a Scarlatti oratorio, with an outstanding cast, makes a brilliant case for this rarely heard music.