by
Published March 11, 2019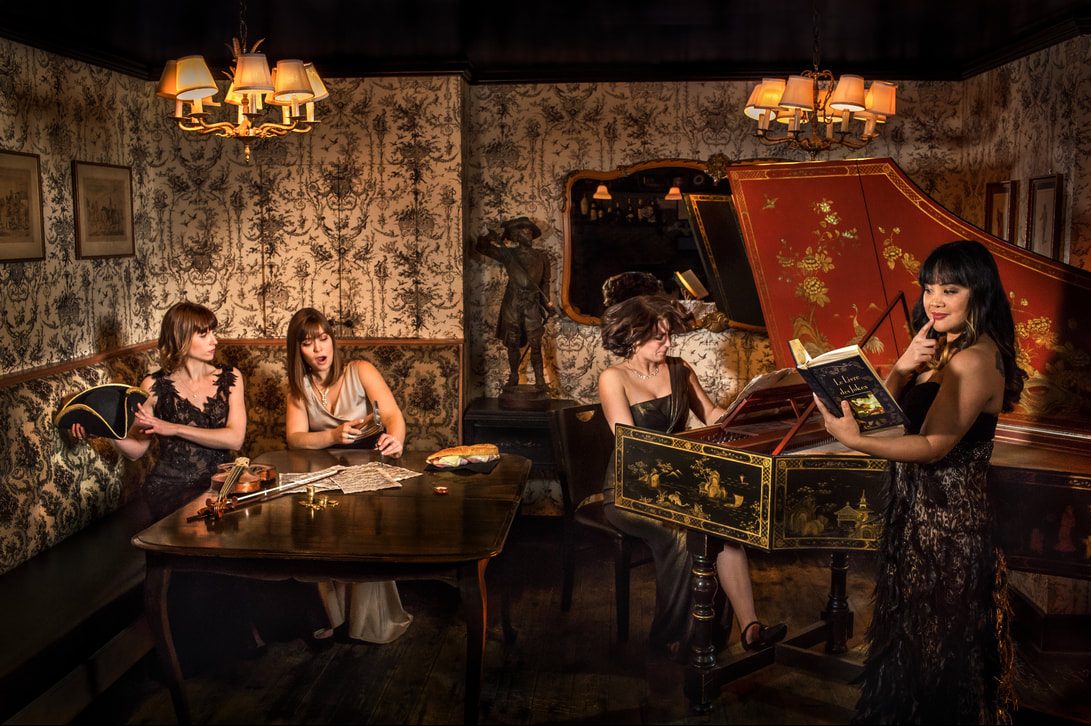 Kreüsser: 6 Quintettos, Op. 10
Infusion Baroque
Leaf Music LM223
By Karen Cook
To call something charming these days runs the risk of coming across as trite or dismissive. But this new album by the Montreal-based ensemble Infusion Baroque (Alexa Raine-Wright, Sallynee Amawat, Andrea Stewart, and Rona Nadler, with guests Amanda Keesmaat and Jacques-André Houle) is in fact charming, in the word's proper sense: It is immediately appealing, even beguiling.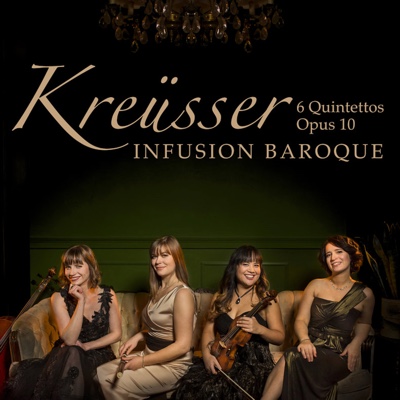 Fortunately, Infusion Baroque is in no danger of being dismissed. Rather, their star is on the rise, and rightfully so. Critics, musicians, and fans have celebrated their energetic musicality — and praised their interactive live performances — since the ensemble won the Baroque Performance Competition hosted by Early Music America in 2014. Its 2017 debut album, a collection of trio sonatas by C.P.E. Bach, was described as elegant, refined, sensual, and virtuosic. No faint praise there.
Nor is there any here. Infusion Baroque's earlier elegance and refinement reappear here in spades, but they do so alongside a lovely sense of wit, pathos, and verve. All, of course, are characteristics well suited to music of the late 18th century, as what is now known as the Classical era was at its height and composers such as Mozart, Haydn, and Joseph Bologne were among the biggest names in western Europe.
But the composer featured on this album — known and admired by many of those big names — was all but forgotten after his death. Georg Anton Kreüsser (1746-1810) was a German composer who was already known as composer, performer, and conductor by his mid-twenties. After he became the Konzertmeister of the electoral Kapelle in Mainz in 1774, his popularity escalated, but the occupation of the city by the French armies caused the Kapelle to disband, and Kreüsser ended up living in seclusion for the rest of his life. While he composed a good deal of vocal music later in life, he was especially well known for his instrumental music, which blended the popular Italian and French styles of his day. His six quintets of Op. 10, written for an unusual ensemble of flute (or violin, or perhaps oboe), violin, viola, cello, and continuo, here receive their world premiere recordings.
Music of this time was dominated by a melodic line, so Raine-Wright's flute is prominent throughout, but chamber music of this time was also largely conversational, and the clarity of Kreüsser's textures allow you to hear every member of the ensemble chime in as participants in the bigger dialogue, such as in the first movement of the quintet in Bb major.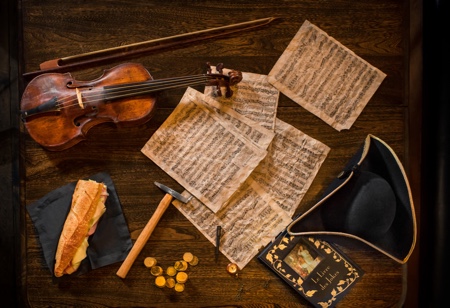 Violinist Amawat has described these pieces as some of the ensemble's favorites, and such genuine enjoyment shines through in the recording. The faster movements sparkle without losing their warmth, while the slower movements really relax into a feeling of collective breath, like the rise and fall of the beautiful Andante of the A major quintet.
Infusion Baroque has set a rather unfortunate standard, at least for other chamber ensembles, for not only have they resurrected a wonderful composer and six fantastic quintets, but they also have done so with utmost musical panache. A hard act to follow, but let us certainly hope that they do.
Karen Cook specializes in the music, theory, and notation of the late medieval and early Renaissance periods. She is assistant professor of music at the University of Hartford in Connecticut.
Recent EMA Recording & Book Reviews
In a revealing look into the lives of 'ordinary' folks in 17th and 18th c. Germany, author Tanya Kevorkian taps a wealth of sources that detail city life, from religious beliefs to weddings to the rhythms and rules of town watchmen. With compassion and wisdom, the author notes that historians who look at street life "have to some degree replicated the perspective of the authorities."
Emily Zazulia's valuable 'Where Sight Meets Sound: the Poetics of Late-Medieval Music Writing' explores notational aesthetics in polyphonic music, where it's not obvious how you're meant to sing what's on the page.
Long undervalued, Alessando Scarlatti's vocal writing naturally weds singable lines with the Italian language. Ars Lyrica Houston's colorful new recording of a Scarlatti oratorio, with an outstanding cast, makes a brilliant case for this rarely heard music.