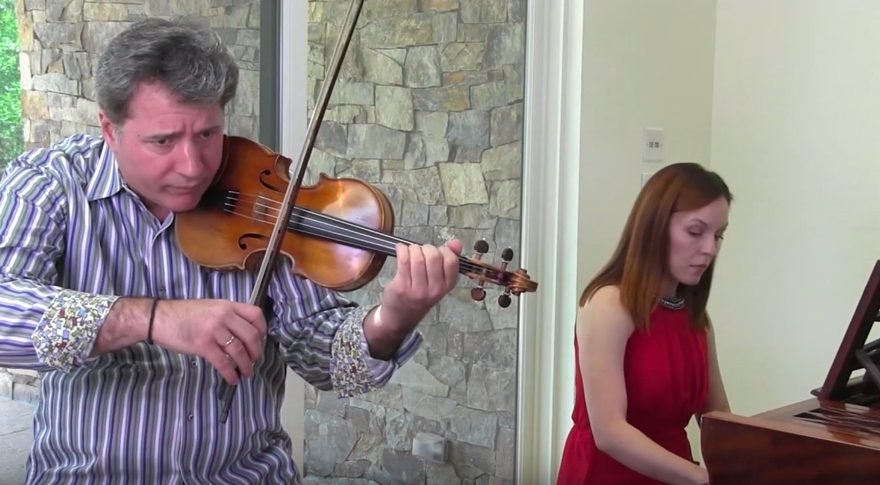 Boundless. Zachary Carrettín, violin; Mina Gajić, piano. Sono Luminus. DSL-92240
Violinist Zachary Carrettín and pianist Mina Gajić bring their unique historical instruments and seasoned musical chemistry to Schubert's Op. 137 Sonatinas in Boundless on the Sono Luminus label.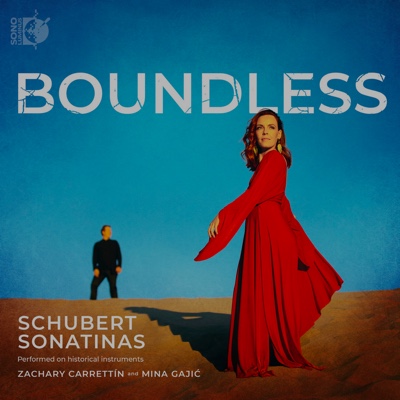 Immediately apparent is the duo's uncanny unity of phrasing. In each gesture — whether long sequences of harmony, punchy statements, delicate lifts, or phrases that come to a halt at the edge of an emotional cliff — Carrettín and Gajić share the same sense of propulsion, giving their playing a lean power and an extra glimmer of energy. It might be lazy writing to note that they're married, but it's also unrealistic to dismiss any effect this has on their music-making. Regardless, they partner brilliantly here.
Their historical instruments deserve their own recognition, especially the Érard concert grand. Built in Paris around 1835 and conditioned by Frits Janmaat at Maison Érard in Amsterdam, the piano has a unique, marbly tone, and in Gajić's sensitive hands takes on a personality all its own. Meanwhile, Carrettín's gut-string violin, built by Franz Kinberg in Chicago after World War II and paired with a bow made by John Dodd around 1800, stands out with fine, crisp articulation.
As for Op. 137 — written in 1816, when Schubert was 19 — it has many virtues. The first Sonatina, in D Major, leaves the strongest impression of the three, in part due to its brevity. Tearing through different keys, the harmonically adventurous Allegro molto evokes Beethoven, whom Schubert admired greatly. The delightful Allegro vivace comes with a moment of daring virtuosity, tossed off with glee by Carrettín and Gajić.
After a delicate opening, No. 2 proceeds with a bit of contrast, to put it lightly: Schubert summons what can only be described as a musical bolt of lightning, leading to an absorbing, unsettled atmosphere. A quick staccato section brings to mind the classic Erlkönig, written a year earlier.
 The brooding Allegro giusto of the G minor Third Sonatina is classic Sturm und Drang, while the second movement — sly and good-natured, like a Mozart comic opera — ushers in an invitingly warm sound from the duo. The Menuetto pulses with energy, and the finale, rousing and festive, is a fitting conclusion to the album.
The Sonatinas may result in a bit of ear fatigue when experienced in one sitting. Of course, the playlist is purposefully narrowed and focused in its scope, but some of Schubert's repeated sections could benefit from more interpretive decisions by the performers. Still, Boundless is an excellent snapshot of a year in Schubert's life as portrayed by a duo joined musically at the hip, with instruments that will fascinate you.
Jarrett Hoffman is assistant to the editors at ClevelandClassical.com and served as a fellow at the 2014 Rubin Institute for Music Criticism. As a clarinetist, he performs in the Hudson Valley and New York City and runs a private studio.