by
Published September 10, 2018
Telemann: The Concerti-en-suite
Tempesta di Mare; Gwyn Roberts, Richard Stone, co-directors
Chandos CHAN 0821
By Benjamin Dunham
In the event that readers ever get tired of hearing the Brandenburg Concertos of J. S. Bach, the concerti-en-suite of Georg Philipp Telemann (1681-1767) should fill the bill. They were written, we may believe, for the outstanding court orchestra in Dresden, where the violinist Johann Georg Pisendel, Telemann's friend, was in charge. Coming almost a generation after the Bach works, they exhibit a still-wonderful flexibility in the definition of what makes a concerto (or suite, for that matter) and express a genuine joy in communal music-making, before the form had fully hardened into a vehicle for spotlit virtuosity.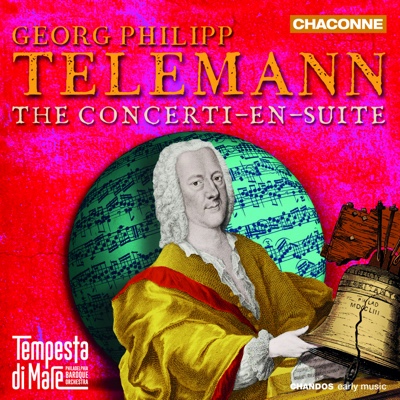 This recording by Tempesta di Mare, supported by the Pew Center for Arts & Heritage, mimics the array of musical talent in Dresden in the 1740s and documents the thriving health of the early-music scene in Philadelphia.
In the Concerto-Suite in F Major, TWV 54:F1, Brandenburg lovers will appreciate the mixture of winds and strings, especially, in the opening Vivace, the daring horns of Todd Williams and Linda Dempf together with the mellifluous oboe of Priscilla Herreid and incisive violin of concertmaster Emlyn Ngai. This riot of sound, which returns as the third movement, is contrasted with the delicate violin and recorder duet of Ngai and Gwyn Roberts in the offsetting Scherzando. Then follow the suite movements, marked in French. In the Bourées, we focus on the energetic duets of cellists Lisa Terry and Eve Miller and violinists Ngai and Rebecca Harris.
In the Minuetts, horns and oboes dominate again, courtesy of some reconstruction work by co-director Richard Stone, then the delicious bassoons of Anna Marsh and Stephanie Corwin in the Loure and the heroic horn duets that emblazon the final Gigue. It's easy to believe that Telemann had many friends in the court orchestra in Dresden, not just the violinist Pisendel, and these concerto-suites were his way of sending each of them a personal gift.
Tempesta co-director Roberts is the featured recorderist in the more intimate Concerto di Camera in G Minor, TWV 43:g3. Was this written for Telemann to perform himself? Recorder players always have this feeling with Telemann; he seems to be inside your head, laying down exactly the track you are hoping to play. Roberts' soft-grained articulation and blossoming tone combine for an ideal effect throughout.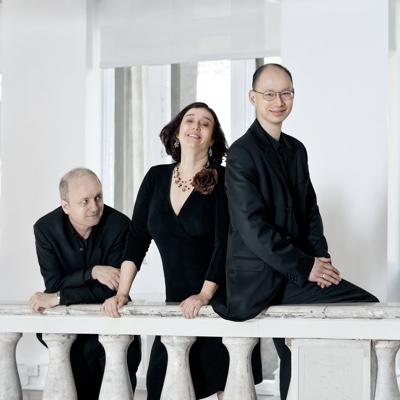 It was interesting to read in Steven Zohn's informative notes that the concluding Concerto-Suite in F Major, TWV 51:F4, might have been written in answer to Pisendel's mild complaint after he had gone to the trouble of sending Telemann some signatures of Bohemian (music?) paper. He hadn't seen any results back in the mail. While the manuscript pages available at IMSLP.org look as if the staves were hand-drawn and not printed, the score is, to be sure, filled with a quasi-violin concerto of great invention that must have pleased Pisendel no end. It certainly seems to please Ngai, who sails through the solo passages with elan and adds a beautiful cadenza at the end of the opening Presto. As the work proceeds through its suite movements, everyone gets in on the act — flutes, horns, oboes — and they all revel in the folk rhythms and the sinuous, chromatic touches here and there.
With Telemann there is always Gemütlichkeit, a feeling of well-being and plenitude — so much creativity, so much joy, so much verve. Waiting for the attention of Tempesta di Mare are many more large-scale works by Telemann, who otherwise doesn't figure in the group's extensive discography. We sincerely hope for a sequel CD.
But don't wait for "Brandenburg ennui" to set in. Enjoy this recording as soon as you can.
Formerly editor of American Recorder and Early Music America magazines, Benjamin Dunham has reviewed for Musical America, The Washington Post, and Gatehouse Media.
Recent EMA Recording & Book Reviews
Jeannette Sorrell's adaptation of Handel's popular 'Israel in Egypt' cuts, re-orders, restores, and replaces music and text throughout the oratorio. But Handel didn't leave us with a 'definitive' edition, and Sorrell's version is so artistically logical that someone new to the work might not know anything is missing. Apollo's Fire and the outstanding vocal and instrumental soloists make a compelling case.
People who love Wagner operas can separate his music from his toxic beliefs. Yet J.S. Bach's 'superlative ability to move listeners' and status as 'a pinnacle of Western art' brushes aside the composer's harsh theology and often intolerant personal philosophy. In this collection of essays, Bach scholar Michael Marissen warns us to 'not soften or assimilate this figure to our own preferences, no matter how much we find inspiration, solace, or transcendence in his art.'
Trumpet soloist Josh Cohen and Ensemble Sprezzatura bring together regal flair and expressive grace with 'Altissima,' exploring the varied colors and dimensions of the high Baroque trumpet. The recording makes an ideal introduction to myriad trumpeting styles through mostly unfamiliar repertoire.