by Anne E. Johnson
Published August 1, 2022
Baroque and Alone. Martin Davids, violin. Self-released.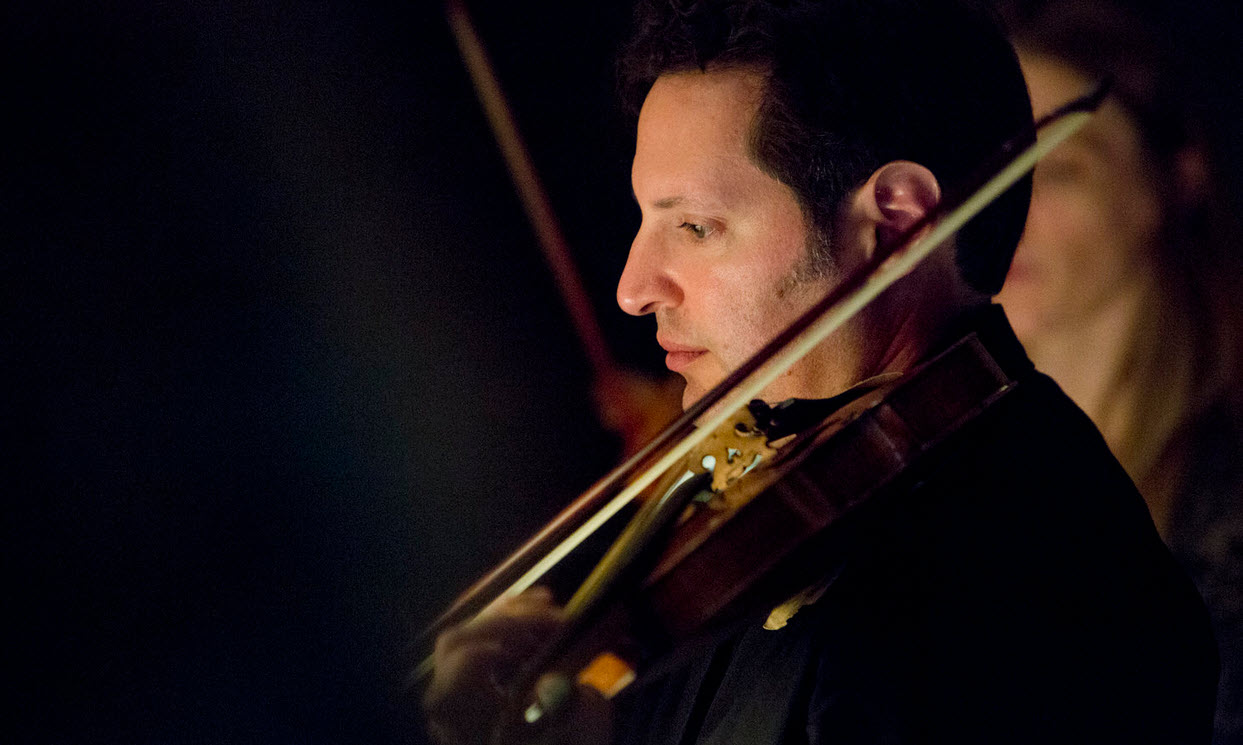 Martin Davids has created unaccompanied Baroque violin suites where there were none. His new CD, Baroque and Alone, was a pandemic project and a very personal one. While multiple quarantined colleagues focused on the Bach solo sonatas, he wanted to carve his own one-fiddle path, even if he had to dig it himself. That meant newly assembled pastiches, a completely original work inspired by the Baroque, and the premiere recordings of two 18th-century pieces. It is, to a degree, a successful experiment.
In the liner notes, Davids justifies the project: "As much as I love and respect many composers, I sometimes find I don't love every movement of their sonatas." So he glued together movements he liked from multiple composers, organized by key and tempo rather than dance type. Not the most Baroque approach. Then again, even purists must admit that pastiche itself is a sublimely Baroque construct.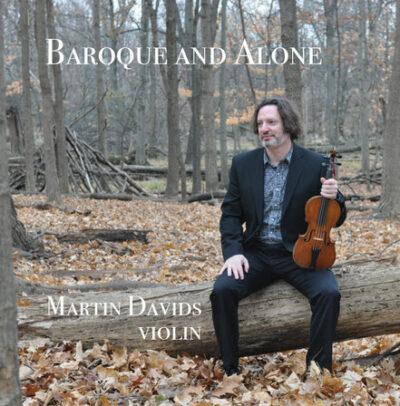 What Davids calls Suite No. 1 in B-flat Major combines a prelude by Johann Christian Pepusch, an allegro from Georg Philipp Telemann's Fantasy No. 1, and a theme (based on Rameau) with two variations from Variations on Les Sauvages, a never-before-recorded work by Joseph-Barnabé Saint-Sevin, known as L'Abbé le fils (1727-1803), familiar to early-music scholars for his book on violin pedagogy.
Now playing a 1750 Ferdinando Alberti violin, Davids was a student of Stanley Ritchie's at Indiana and is a strong presence in early-music ensembles around the country. In these pieces, he seems determined to erase all thought of dancing from the movements he's collected. While the Pepusch Prelude is appropriately stretchy, so is the Telemann Allegro, rather than providing a contrast of metrical tightness. The Allegro does, however, grow naturally out of the prelude's material, so it fits well.
Intriguing and tricky, the Saint-Sevin demands delicate string crossings, quick left-hand shifts, and intricate double stops. Davids' rhythmic looseness knocks the legs out of the syncopation that the composer carefully provided. These theme and variations are stylistically so different from the Pepusch and Telemann movements that it's hard to understand why Davids combined them.
Davids' own Chaconne, using techniques borrowed from Baroque literature, is skillfully wrought, a retrospective exercise inspired by love for the era. The other premiere recording here is Fantasia pour un violon seule (1723) from the second volume of sonatas by British violinist and composer Henry Eccles. The three-movement work, distinct from other movements on this recording for its tonal simplicity, is a nice find but hardly a hidden gem.
In the pastiche titled Suite No. 2 in G Major, Davids intersperses movements by Nicola Matteis (fl.1670-1730) with those of the more widely known Giuseppe Tartini. Tartini then swaps licks with Telemann in Suite No. 3. In Suite No. 4, the most coherent of the pastiches, it's Matteis and Tartini again with a surprise visit from J.S. Bach for the finale. The first movement by Mattheis, marked Passagio rotto, andamento veloce, is a particularly engrossing journey through implied polyphony, preparing the ear for the Bach to come (from his A minor Sonata, BWV 1003). The Tartini Adagio second movement uses a repeated motif of minor-second double stops that's worth the price of admission.
The violin's rich, warm sound does not smooth away the high frequencies of normal bow-to-string friction, which is so important to a natural sonic presentation. Producer Julia Davids and engineer Mary Mazurek keep the instrument focused and without echo, despite it being recorded in a church; that clarity helps in moments of metrical uncertainty.
All the pastiches are fun, and some movements are eye-openers. However, with the exception of Suite No. 4, it's hard to know if Davids' home-made concoctions will have a life beyond being a pleasant way to pass pandemic time.
Anne E. Johnson is a freelance writer based in Brooklyn. Her arts journalism has appeared in The New York Times, Classical Voice North America, Chicago On the Aisle, and Copper: The Journal of Music and Audio. For many years she taught music history and theory in the Extension Division of Mannes School of Music.
---
More CD Reviews:
American pianist David Hyun-su Kim's historically informed recording of three familiar Robert Schumann masterworks—Papillons, Carnaval, and Arabeske—is brilliant artistry indeed. And his instrument is of special interest: a copy of an 1830s Graf fortepiano, made in 2013 by Rod Regier of Freeport, Maine, and based on an instrument given by Conrad Graf to Robert and Clara as a wedding present. Kim is sensitive to Schumann's mercurial mood shifts, and he uses the fortepiano for sounds and effects that are hard to achieve on a modern instrument.
Pinchon and his superb singers and ensemble offer an immersive, all-encompassing experience. Throughout, they let Bach's dance rhythms propel music and narrative. The conductor's attention to relative weights and specific articulations adds a dimension of almost sensual physicality—the emotions expressed here are vividly embodied, not abstract prayers, What makes this interpretation a significant contribution to the vast Matthäus-Passion discography is the admirable balance it finds between dramatic, contemplative, and even architectural approaches, too often taken as polarities.
Recent EMA Recording & Book Reviews
Pianist Andras Schiff is no newcomer to period-instrument performance. His latest recording is music by J.S. Bach on an unfretted clavichord -- likely the same type used by the composer.
The evolution of St. Cecilia, from an early Christian martyr to the patron saint of all musicians, is told in a fascinating new book through documents, visual art, and music.
A complete Mozart symphony recording project from Il Pomo d'Oro, a crack ensemble, and conductor Maxim Emelyanychev, is off to an auspicious start, and then some. Mozart's first and last symphonies are here, along with the Piano Concerto No 23. These are performances of high elegance and spirit.