By Kyle MacMillan
Nicknamed the Mile High City, Denver is well known for its easy access to the mountains, its non-stop fervor for professional sports, and, more recently, its enthusiastic embrace of legalized marijuana.
It might come as something of a surprise that Denver is also home to the 14-year-old Baroque Chamber Orchestra of Colorado. More than a mere regional outpost, it has built a national reputation as a first-rate period-instrument ensemble. Todd Williams, a nationally known exponent of the natural horn, has joined the orchestra a handful of times and describes the ensemble as "really wonderful."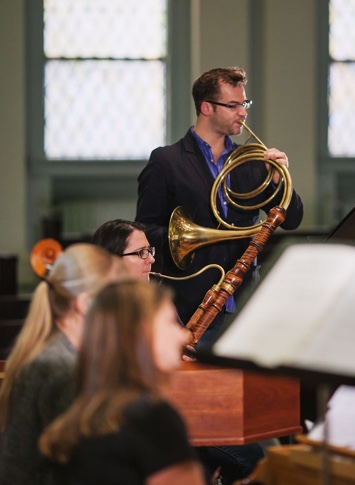 "Last year was their first time for a complete Brandenburg cycle," said Williams, principal hornist of the Handel and Haydn Society in Boston, "and that's really a big undertaking and quite an achievement to get through. So, that in and of itself is a testament to their willingness to be challenged." He was referring to the chamber orchestra's four performances in May 2018 of the complete set of Johann Sebastian Bach's six Brandenburg Concertos, among the most famous instrumental works of the Baroque era.
Another milestone for the ensemble will come May 11 and 12 with its first-ever concert performances of L'Orfeo, one of the three extant operas of Claudio Monteverdi (1567-1643). Serving as conductor will be Stephen Stubbs, co-artistic director of the Boston Early Music Festival, who also led the chamber orchestra's performances of St. Matthew Passion in 2015.
Taking on the role of Silvia, the Messenger, will be Seattle soprano Danielle Sampson, a 33-year-old early-music specialist who graduated from the University of Denver's Lamont School of Music in 2007. She has been a soloist with the ensemble three times and has considerable praise for its performance level. "It's so high," she said. "(Concertmaster) Cynthia Freivogel and (violinist emeritus) Tekla Cunningham are fantastic musicians."
Denver's early-music scene was relatively barren in the early 2000s when harpischordist Frank Nowell, who has lived most of his life in the city, began contemplating the formation of a baroque chamber orchestra. Around the same time, Freivogel, 42, then based in the San Francisco Bay Area, was spending her summers at the Colorado Music Festival in Boulder playing modern violin — rare breaks from her usual focus on period performance. In 2004, the two met when the festival presented a Baroque program that included Bach's Concerto for Two Violins in D minor, BWV 1043, with her as a soloist and Nowell on continuo. After the two became acquainted and played through some sonatas in their off time, the harpsichordist realized she would be an ideal concertmaster and leader for the conductor-less group he envisioned.
"I wanted someone who could complement me as an artistic director," he said, "and I really wanted someone who was a strong leader from the violin. There are different models you can use for a baroque orchestra, but that is the one I wanted to make happen. And it seemed like the two of us were very well matched in terms of our interests and strengths."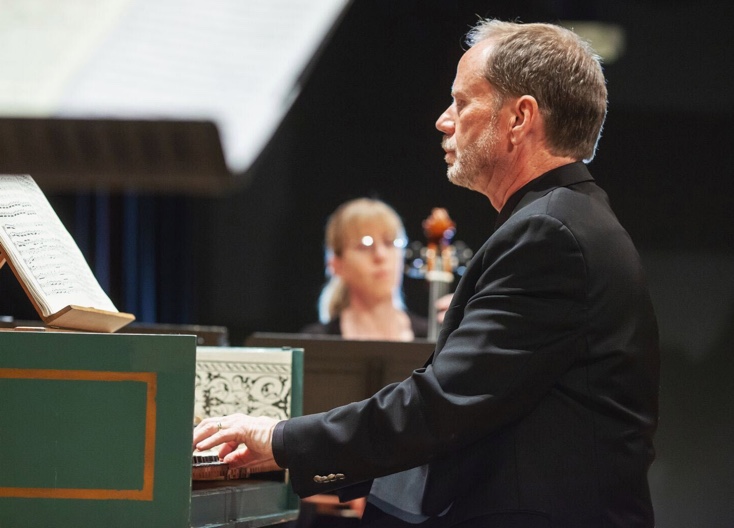 Nowell called the group the Baroque Chamber Orchestra of Colorado because he envisioned it traveling around the state. And it has done outreach concerts in such towns as Grand Junction, Winter Park, and Silverthorne, and, in September, it gave its first concert in Fort Morgan, in the state's northeast corner.
Given the paucity of early music in Denver, Nowell wasn't sure how this new ensemble would be received when it debuted in 2005. "In the early days, that was a challenge," he said. "I didn't know how much support there was and if we could sustain it. But after we made it through the year, it became clear that there was a community of support that would respond to this music."
The ensemble began with an annual budget of $25,000, and that has soared to $225,000 in 2018-19. Nowell made sure its members were compensated right from the start. "That was really important to me in the beginning — that we pay the musicians and that we pay them competitively," he said. As a mark of the group's maturation, it was among 35 Denver arts organizations selected in September to receive a portion of $43 million in grants as part of Bloomberg Philanthropies' Arts Innovation and Management Program. The national program provides two years of operating support and wide-ranging management training.
Unlike some baroque ensembles which rely on itinerant performers to fill out their ranks, about three-quarters of the 16 or 17 core string members of the chamber ensemble reside in the Denver area. (It imports wind and brass players as needed.) Freivogel said the chamber orchestra has a sense of cohesion that many others can't match. "It's one of these rare birds where the whole is greater than the sum of its parts," she said. "It's really an ensemble. It's not a collection of players."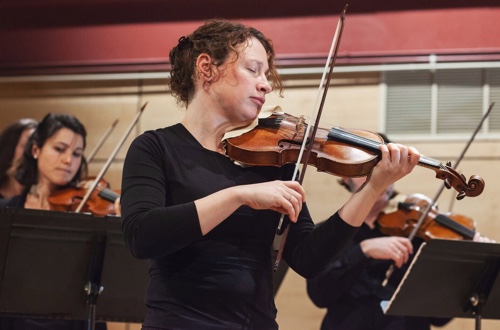 The group's musical approach largely derives from Freivogel's energetic, assertive style and personal aural aesthetic. "It is definitely my sound," she said. "I had a picture of how I heard the sound, and they do it." She has expectations of how it should be built from the bass up, with a specific ringing quality and chordal balance and a constant sense of motion — the music "landing, going, and coming" from the weak to the strong beats.
While Freivogel focuses on what she calls "nuts and bolts stuff" like overseeing rehearsals and stage configurations, Nowell, as artistic director, devotes his energies to programming, long-range planning, and community engagement. "I just love his programs," the violinist said. "I love what he dreams up for us. I love his vision." She praised the harpsichordist for finding works that stretch her playing in ways she never imagined. One example came in September 2011 with Pietro Locatelli's Concerto in G minor, Op. 3, No. 6, with its technically daunting capriccios. "I didn't even really realize I could do it until I heard a recording of it," she said. "I actually came to him almost in tears, saying, 'Wow, Frank, how did you know that I was capable of that, because I didn't know.'"
The group presents four main programs each season, as it has from the beginning, but the number of performances for each has grown from two to three, with sometimes even a fourth added for higher-profile line-ups. Area churches remain among its prime venues, but the ensemble also appears in the 520-seat concert hall in the King Center on the Auraria academic campus near downtown Denver and the 320-seat Lakewood Cultural Center. Audiences typically range from 150 to 300 people.
The chamber orchestra, of course, showcases mainstream repertoire like the Brandenburg Concertos or Antonio Vivaldi's The Four Seasons, but Nowell also makes a point of including more obscure selections as well. "I worry a little bit about the music that is not so well known," he said, "Maybe we don't always have our biggest audiences at those (concerts), but people respond really well. They say they love encountering something new."
Notably combining both familiar and not-so-familiar works was a January 2018 program titled Corelli's Circle, which featured the music of Arcangelo Corelli and two generations of composers in London he influenced — Charles Avison, George Frideric Handel, and John Stanley. The chamber orchestra released a recording of the line-up in September.
Besides the group's strong sense of ensemble and distinctive style, what also sets it apart is what Williams describes as the laid-back and friendly atmosphere Nowell and Freivogel have fostered. Playing with some groups can feel rote, but that is never the case in Denver. "It's just very nice to be there," he said. "There's something homey about it, something folksy about it."
Sampson echoed his words, noting the feelings of "warmth, calmness, and trust" that Nowell brings to the group. "I always feel completely supported," she said, "and completely free to rely on my own artistic sensibilities when I'm singing with Frank and the other musicians that he chooses." She is still grateful that he took a chance on her when she was a novice and cast her as Dido in the chamber orchestra's concert version of Henry Purcell's Dido and Aeneas in February 2009.
In addition, the ensemble is putting an increasing emphasis on collaboration. This season, it launched its Confluence series, in which the group teams with a range of artists from other fields who cast different and sometimes surprising lenses on Baroque music. Nowell said the mission is simple: "Let's try some new things and explore and see what happens." It began in October with an artist creating new paintings in response to the music, and it continues Jan. 25 and 27 with Dissolve…Baroque+Spoken Word+Hip-Hop Dance, a program featuring spoken-word artist Assétou Xango and three hip-hop dancers. "It's not what you would expect or what I would expect," he said.
Freivogel moved to Amsterdam about six years ago when her husband got a teaching job at a university there. Although she gave up many of her other regular engagements in the United States, she maintained her post with the chamber orchestra. (Nowell found the money to pay for her plane trips back and forth.) While the presence of her sister in Denver was no doubt a factor in her decision, her principal motivation was not wanting to lose the sense of camaraderie and artistic challenge she felt with the group.
"Whenever I go back there, it feels like home now," she said. "It's always worth it."
Kyle MacMillan served as the classical music critic for the Denver Post from 2000 through 2011. He is now a freelance journalist in Chicago, where he contributes regularly to the Chicago Sun-Times and Modern Luxury and writes for such national publications as the Wall Street Journal, Opera News, Chamber Music, and Early Music America.