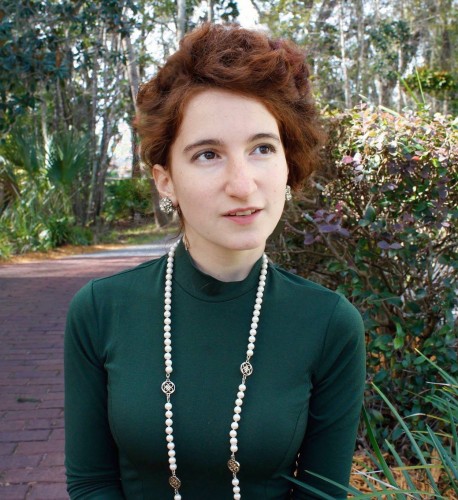 Born in Florence, Italy, and described by Third Coast Percussion as "sharing passion for meaningful cross-disciplinary collaboration", Camilla Tassi is an engineer and musician interested in the production of interdisciplinary classical performances that include technological visual components and mixed media. 
Camilla's true passion lies in directing and producing classical works and her most recent, grant-funded, projects include G.F. Handel's "La Resurrezione" HWV 47, a multimedia Giacomo Carissimi tribute "Pen e Tormenti", and "If This is a Man: music, science, and humanity" an interdisciplinary project and tribute to Italian chemist and author Primo Levi – which included the US Premiere of Ennio Morricone's "Se questo e` un uomo" for chamber orchestra, soprano, and reciting voice. 
Camilla holds a Bachelors of Science in Computer Science and a Bachelor of Arts in Music (with a Minor in Italian Studies) from the University of Notre Dame and is pursuing a Master of Arts in Digital Musics at Dartmouth College.
How did you come to the field of Early Music?
My junior year of undergrad I decided I wanted to feel like an impresario and and put on an oratorio – my friend suggested Handel's "Resurrezione", with my native language being Italian. I had heard and enjoyed early/baroque music before, but this is where I fell in love in a more immersive and complete fashion. I got the chance to coach and audition all the vocal roles, create a new translation for the program, select the venue, bring in some orchestral players from outside my school (including an incredible professional gamba player!), approached a doctoral friend of mine to conduct from the harpsichord… It was really a transformative experience for me. In the same year, I was first exposed to Alfonso X's cantigas for solo voice. I thought they were beautiful, and a professor who played viola da gamba at my undergrad wrote a viol accompaniment for them. I hadn't heard anything like them before and those cantigas were such a treat to sing. Since then, the early music bug as caught on, and I've continued to sing the repertoire and have begun harpsichord lessons! As I am writing this, I am currently in Italy assistant directing a production of Handel's Serse through Oberlin's Arezzo Opera Festival. 🙂
Tell us about your most memorable concert experience?
Attending Monteverdi's "Incoronazione di Poppea" at Paris' Palais Garnier (Paris Opera) only a month after having sung the role of Drusilla in a small college's production of the same opera. Seeing it at a completely different level of musicianship, scale, and location was incredibly inspiring after one gets to know a score so intimately from months of work. 
If we're talking more recently, taking a 5-hour bus ride with a friend of mine (during the busiest part of the school year) just to see Handel's Ariodante at Carnegie Hall (with The English Concert) – which was completely worth it! You know those concerts where you feel incredibly engaged every second? It was life changing!
But, the most memorable was an Apollo's Fire concert at Dartmouth that I had the chance to stage manage. So much incredible energy and such professional but kind, inspiring, and down-to-earth musicians. Their concerts are like shots of adrenaline and emotion.
You're listening to music… what's on your playlist that would surprise us?
Lots of songs by Italian 60s pop-icon, Mina. What a phenomenal and powerful voice! Check out "L'immensita`"! Alternatively, also EDM tracks by Alan Walker.
Unexpectedly, you have two hours of free time later today… what will you do?
Enjoy the sun and walk around the piazze in Arezzo, grab an aperitivo… But also prepare for tomorrow's scenes staging work!
As a music student, what is one surprising aspect of early music you have encountered?
With harpsichord especially, I've been blown away by the importance of articulation, of lengthening a note, of releasing a figure, which ornamentation to use… And the other aspect has been how much we can still create with early music today. My work lately combines animated visual projections that I create to go along with early music programs, such as an all-Carissimi tribute I did in March that had animated projections of the manuscripts, artwork of the period…For one of the choruses from Jepthe that I had the students sing, I visually surrounded the audience with pictures I had taken of the interior of the Crocifisso oratory where the work was originally premiered. There's a lot that we can bring to life with today's visual technology and the imaginative power of early music.