by
Published March 15, 2017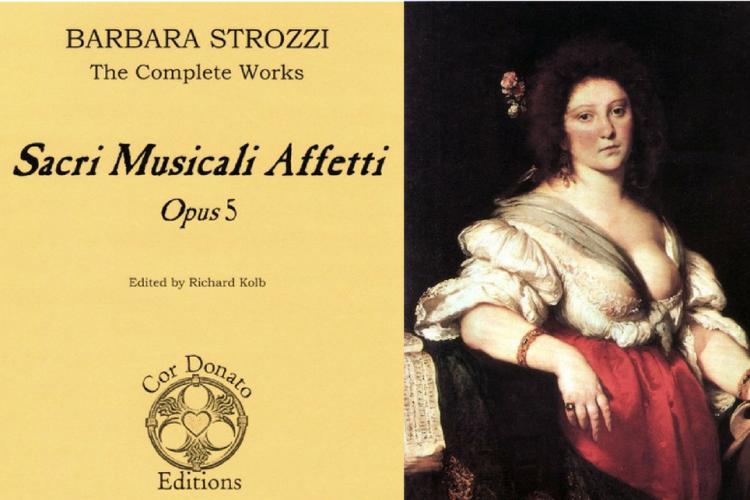 Tenth in our series of guest articles marking Early Music Month
By Richard Kolb
Is there really a need for a modern edition of all of Barbara Strozzi's music? That question has sometimes haunted me as I've worked (endlessly) on the complete edition of Strozzi's music for Cor Donato Editions, the sixth volume of which is now nearing completion. Strozzi (1619-1677) is an exceptional figure in today's early music scene, both because of her growing fame and because she was the only woman to have been recognized in 17th-century Venice as a leading composer of vocal chamber music, on a par with the most famous of her male contemporaries.
Strozzi's reputation is attested to by the appearance of several of her works in positions of prominence in two important Venetian anthologies published in 1656, alongside works by Francesco Cavalli, Giovanni Rovetta, and Maurizio Cazzati. Such recognition is all the more notable because Strozzi was born into a precarious social position as the illegitimate daughter of a servant in the household of her probable father, Giulio Strozzi, who was himself an illegitimate member of a noble Florentine family. Giulio Strozzi was an important figure in the Venetian cultural scene, and he astutely used his influence in launching and promoting Barbara's career in the 1630s and 40s, but his death in 1652 left her in an insecure position with four young children to support.
In editing Strozzi's music, it is impossible not to feel uplifted by the story of a personality with such remarkable strength of character, who managed to fashion a successful career in spite of the constraints of an entrenched patriarchal society, masterfully combining musical abilities with skillful negotiation of the complexities of patronage and finance. As I can gauge at first hand from the hours of concentrated work it is taking to produce the present editions, it is astounding that a person in Strozzi's situation could have had the energy and perseverance to produce eight substantial volumes of well-crafted and inspired music, six of them within a nine-year period (amazingly, from today's perspective, without a computer).
Facsimile reprints of Strozzi's published volumes are available, and most can be used well enough for performance by experienced musicians, but they are rather inconvenient because the movable type used by Venetian printers did not allow for precise alignment between lyrics and notes, or of rhythmic values between staves within a score. It was also often not practical to provide a layout with practicable page turns for continuo players. The possibility of remedying these drawbacks is the principal incentive for producing a modern performing edition, along with the generally greater clarity of modern printing. A further incentive is that modern note shapes make the scores more accessible to musicians not used to reading 17th-century scores.
The Cor Donato Strozzi editions are conservative in adopting other signs and conventions of modern notation, however, preserving all original note values, key signatures, time signatures, accidentals and other markings, with as few editorial additions in the scores as possible. Response from musicians and scholars to the volumes that have appeared so far has been most encouraging, and when the project is completed it will be satisfying to have made a potentially useful contribution to the growth of early music.
The five published volumes are available in both printed volumes and in digital downloads from Cor Donato Editions. The project is very much a collaboration with Cor Donato's general editor, Dr. Candace Magner, whose sharp-eyed proofreading and comments, as well as tireless work in assembling the volumes and overseeing printing, have contributed as much to the edition as the editing.
Richard Kolb has performed throughout North America and Europe as a soloist and with a variety of Baroque and Renaissance ensembles. He has published widely-used editions of music by Barbara Strozzi and Antonio Francesco Tenaglia. Dr. Kolb teaches harmony and continuo and serves as scholar in residence for the NY Continuo Collective.