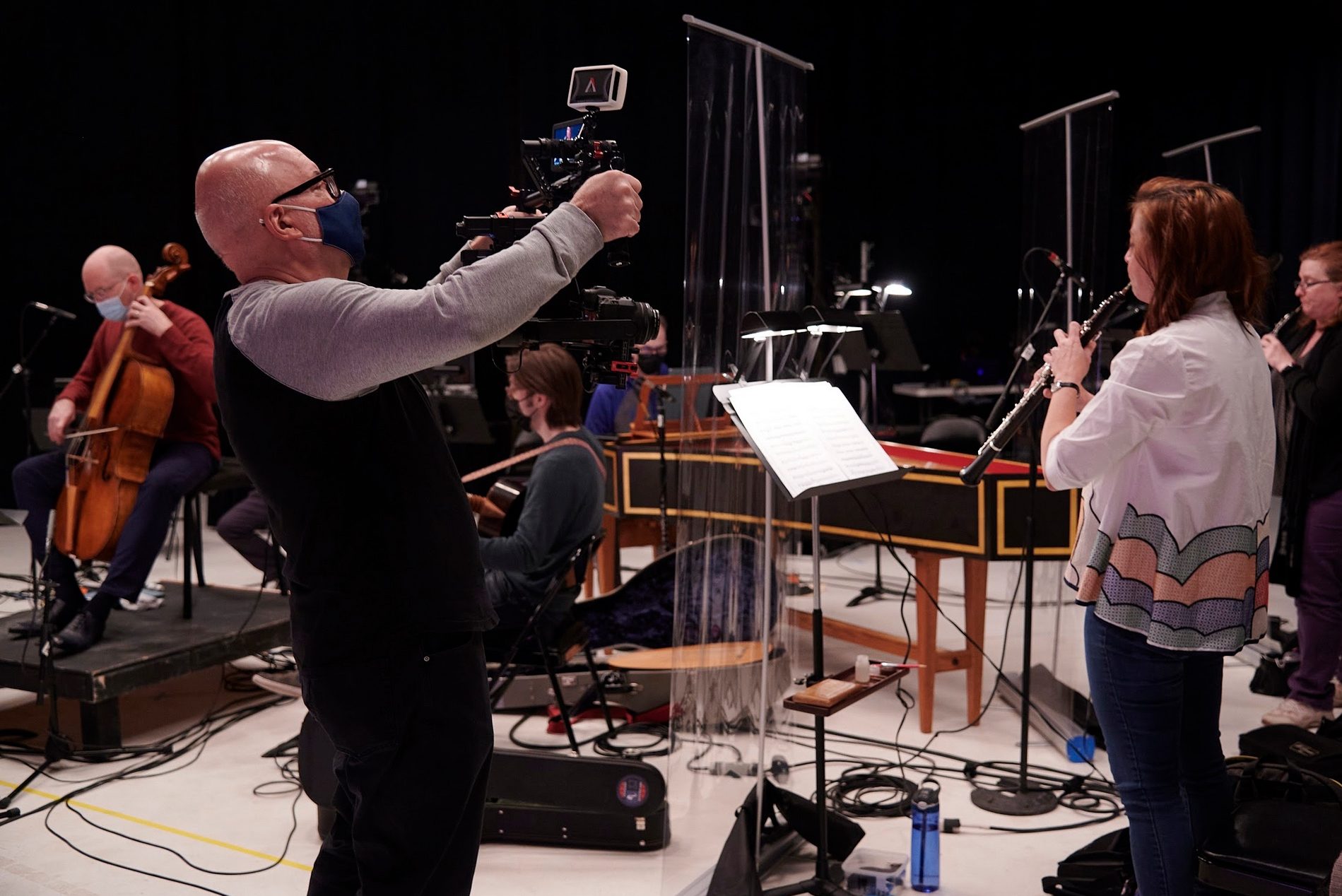 Just a month or so after coronavirus restrictions were imposed in mid-March and Chicago-based Haymarket Opera Company was forced to cancel its season-ending June production, organization leaders already began contemplating the possibility of moving its entire 2020-21 line-up online.
"We decided very early on in discussions with the board of directors that we wanted to make our choice," said general director Chase Hopkins. "That drove us to say that we need to assume that the fall is not happening [onstage], and we need to seek alternative methods of production."
In early August, the Baroque company announced that the first two productions in its 2020-21 season, dubbed "Myth, Magic, and Madness in a Handelian Triptych," would be offered virtually. But rather than just mount Acis and Galatea (Oct. 30) and Apollo e Dafne (March 5, 2021) in the usual way and film them, Haymarket created smaller-scale, semi-staged productions tailored to fit the demands of such a format and to accommodate necessary spacing and COVID-19 concerns.
Rehearsals began in early October, and cellist Craig Trompeter, Haymarket's founder, artistic director, and conductor, said that everyone was relieved to be together again after months of little or no performing work. "It's great to be making music again," he said. "It's a thrill to see my friends and hear them sing and work on this great stuff together. I'm really excited."
The big question is what will happen with the company's culminating production of the season — Orlando, which is set for some time in the summer of 2021. For now, plans call for it to be offered in the same way, but company leaders are holding out hope that it could be performed onstage with at least a limited audience or presented online as a full-scale production.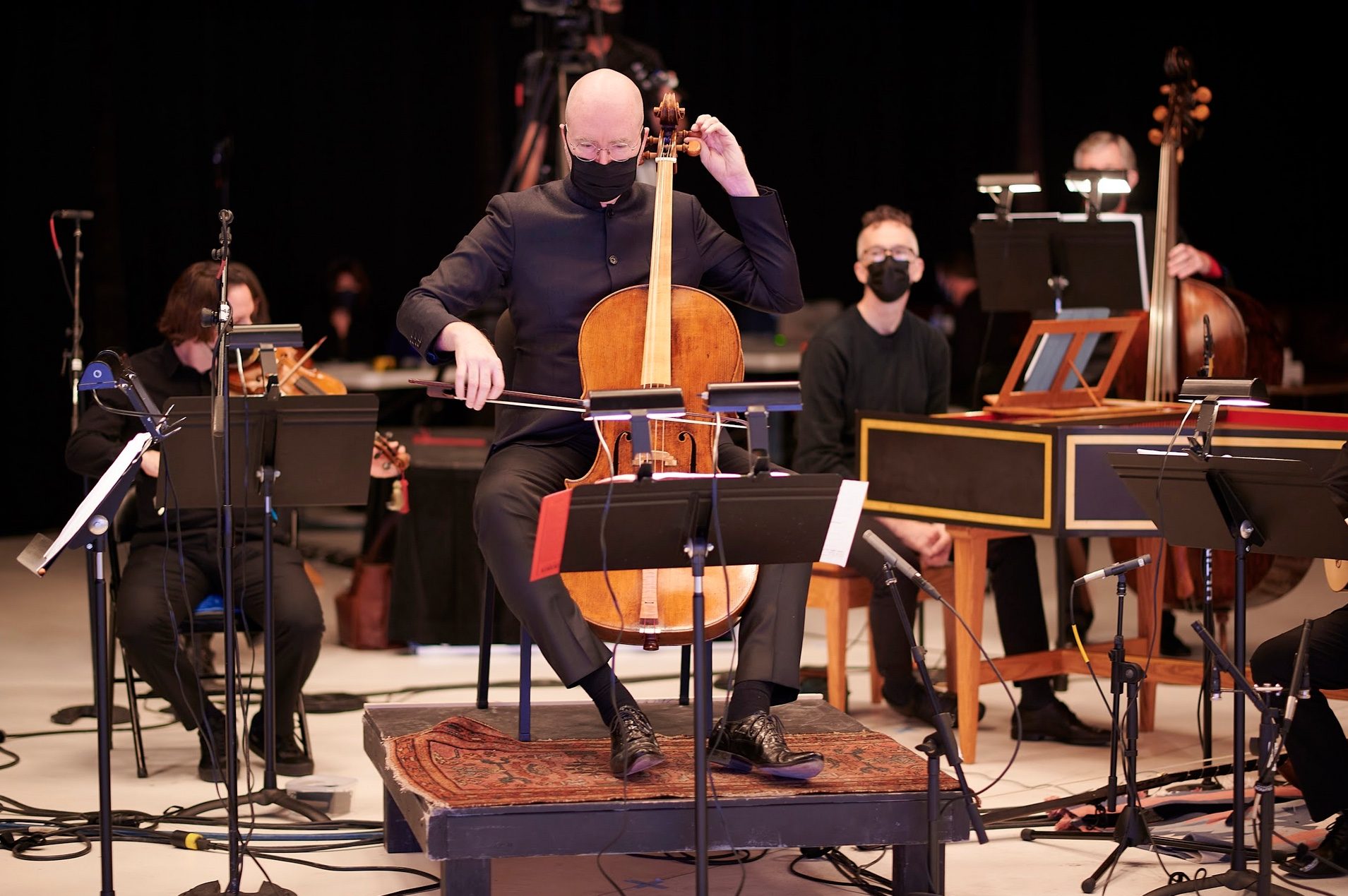 "We want to leave ourselves a trigger date to make those decisions," Hopkins said. "Originally, we were going to put all tickets on sale at the same time. But we soon realized that we needed to better understand what 2021 was going to be, because if a live component is possible, that's obviously our first choice."
To celebrate the Haymarket's 10th anniversary, the company had originally intended to present its season at DePaul University's 160-seat Jarvis Opera Hall, ending with an attention-grabbing realization of Francesco Cavalli's little known 1664 opera, Scipione Affricano.
But once the company pivoted to an online season with less-certain revenues, it switched gears to save money and accommodate the new format. It was already going to open with Acis and Galatea (a nod to its debut production in 2011 — Handel's Aci, Galatea e Polifemo, a 1708 dramatic cantata with an almost identical plot), so the decision was made to turn 2020-21 into an all-Handel affair.
In place of the company's usual Lenten oratorio or mid-season concert, it is performing Apollo e Dafne, a 40-minute secular cantata. The season closer, Orlando, one of Handel's most admired and popular operas, has a smaller cast than the Cavalli opera. Trompeter thought its magical elements would be well-suited to on-screen treatment.
"Orlando has been on our bucket list forever," Trompeter said, "and we just realized that having an all-Handel season is something we've never done. It's obviously great music, and it's a great way to celebrate a Baroque, early-opera company by doing pieces by basically the greatest Baroque opera composer."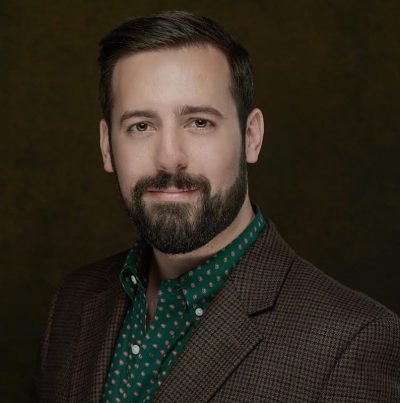 Haymarket, the Boston Early Music Festival, and Toronto's Opera Atelier are the major companies in North America that specialize in presenting Baroque opera with both period music and staging. Other companies might offer 16th- and 17th-century works with original instruments, but they typically employ a more modern theatrical style.
After Haymarket made the decision to shift its 2020-21 season online, a company supporter recommended Resolution Studios, an 80,000-square-foot production space on Chicago's West Side, and an exploratory meeting was scheduled. "Quickly, it became obvious to us that this could be very cool, and our creative juices started to flow," Trompeter said.
Haymarket leaders decided to rent the facility for back-to-back tapings of Acis and Apollo and bring in its own production team, including lighting designer Lindsey Lyddan and scenic designer Zuleyka Benitez, who had worked with company previously. Hopkins served as creative producer.
For its film director, the company turned to an old friend, Garry Grasinski, who has overseen archival tapings of productions since 2014. Later, he began creating short, clever promotional videos of Haymarket offerings that have been credited with boosting its audiences.
Grasinski expected to use at least four to five cameras, and he carefully marked up the score so he knew where each needed to be focused as the performances proceeded. "I want to stay out of the way of the music," he said. "I don't want to add stuff for the sake of adding stuff."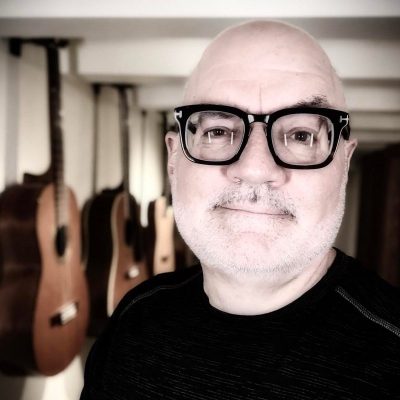 Because of limitations imposed by coronavirus restrictions (the company employed a COVID compliance officer), the singers had to be spaced during rehearsals and performances, so little in the way of action or physical interaction was possible. Instead, camera work injected a sense of movement and provided close-ups and alternative angles that are not feasible onstage.
"We're trying to impose as much safety as we possibly can," Trompeter said. "We're depending on our fine singers to direct themselves to some degree."
At the same time, rehearsals were kept to a minimum — just five days — because of a desire to have singers, musicians, and technical staff spend as little time together as possible, and these first two productions were taped in just two days.
"I think if we get a good performance from the musicians and singers, that will be it," Grasinski said beforehand. "I don't anticipate having time to do a lot of retakes."
Because of the safety limitations and the need to reduce expenses, Trompeter eliminated the use of costumes, but scenery still plays a big role. Baroque stages were typically set up to suggest a strong sense of perspective. Haymarket employed this approach, lining two facing sets of large LED screens along each side of the performance space and another across the back.
Projected on the screens were enlargements of 11 "vignettes" or sets of scale paintings created by Benitez for the two productions. She finished the last one toward the end of September, with time to spare. "I'm one of these Girl Scouts — 'Be prepared,'" she said. "If they need something different, I've got time. It's not like doing things the night before."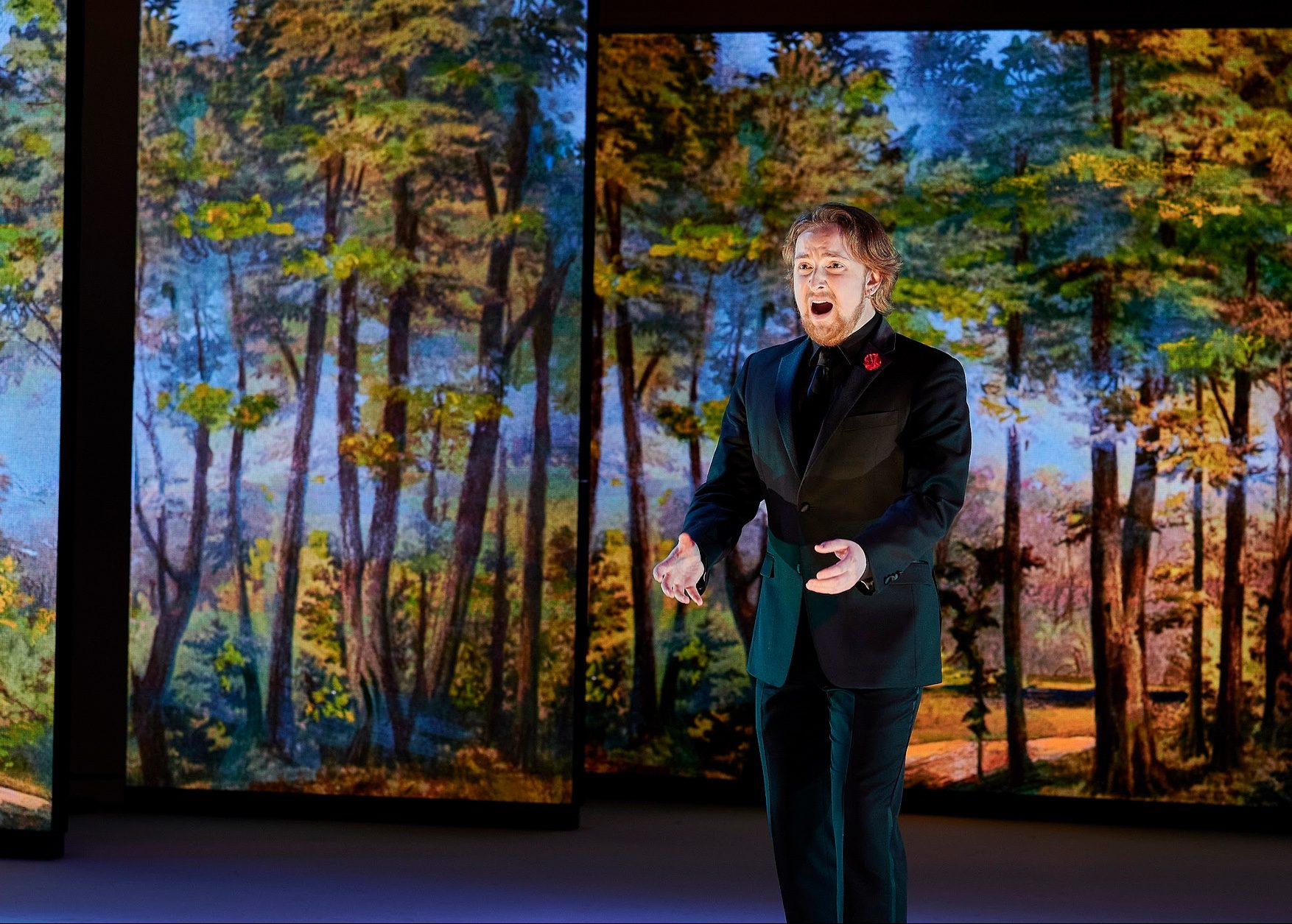 Because there is no orchestra pit at the production studio, the accompanying ensemble for each production (nine musicians for Acis and 13 for Apollo) is off to one side and visible at times during the online productions. Trompeter conducted while playing cello, an approach that was common during the Baroque era.
Tenor Michael St. Peter, who grew up in the Chicago suburb of Elmhurst and sang in the Chicago Children's Choir for seven years, made his debut with Haymarket in October 2019 in a production of John Frederick Lampe's The Dragon of Wantley. Shortly afterward, Trompeter offered him the part of Acis.
"I assured him that I was willing to do the production in whatever capacity would be possible," St. Peter said. "I was expecting it to be canceled. So, the fact that Craig and Chase Hopkins have been able to be so inventive and roll with the punches, given what is going on in the world now, I admire that so much."
The New York-based tenor had never sung the role of Acis before, but he had plenty of time in recent months to learn it. He has been idle except for videotaped services with a Unitarian Church choir. "It's very exciting," St. Peter said before the taping. "A little scary. I'm not sure what to expect, but I'm looking forward to it and looking forward to performing again."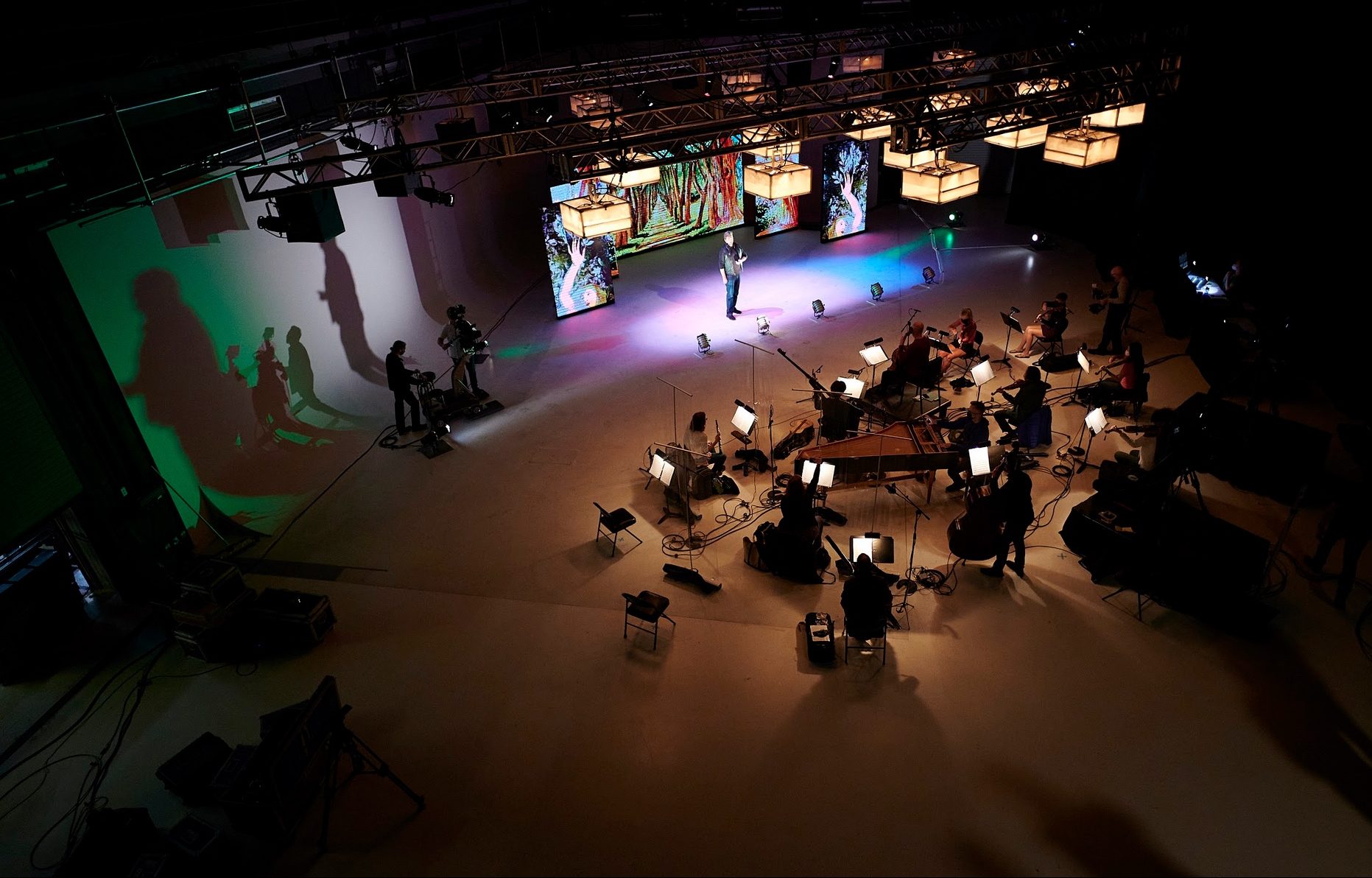 Although these high-resolution productions mean a loss of in-person connection with audiences, they do offer some advantages, such as the opportunity to marry seemingly contrasting realms — a Baroque approach with vanguard technology. They also give Haymarket a chance to reach audiences beyond Chicago and obtain permanent, high-quality records of the company's work.
"The benefit, as I see it," Grasinski said, "is that with a camera you can get a lot closer than any audience member can. Using the cameras correctly, we'll be able to capture some of the facial emotions that you wouldn't get sitting in an audience."
No one has any idea how many people will buy tickets for these offerings, but Haymarket has received enthusiastic support so far from sponsors and supporters. And no matter how successful the online season is at the box office, Haymarket leaders believe it lays the groundwork for other promising technical and artistic possibilities.
As Grasinski said, "This might be a little bit of a kick into the future for Haymarket."
Tickets for Acis and Galatea and Apollo e Dafne are $25 for one production or $40 for both. They are available at haymarketopera.org. Each will stream on-demand for nine days.
Kyle MacMillan served as the classical music critic for the Denver Post from 2000 through 2011. He is now a freelance journalist in Chicago, where he contributes regularly to the Chicago Sun-Times and Modern Luxury and writes for such national publications as the Wall Street Journal, Opera News, Chamber Music, and Early Music America.