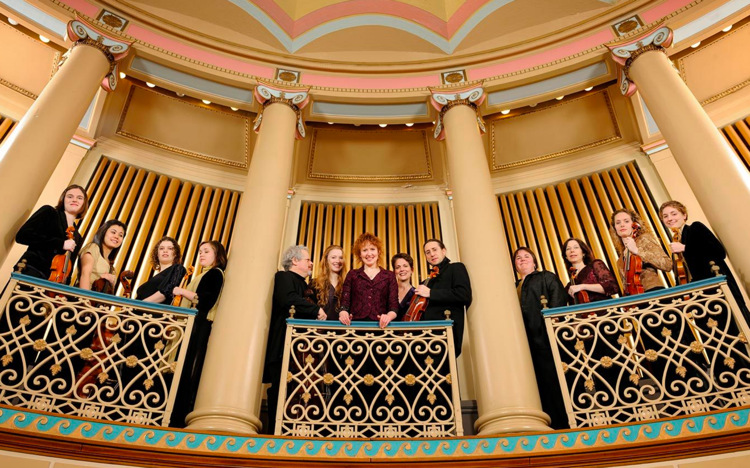 By Daniel Hathaway
Apollo's Fire, the Cleveland Baroque Orchestra, is marking its silver anniversary this season. Borrowing that term from the celebration of a marriage spanning two-and-a-half decades seems apt because of the special bond that founder and artistic director Jeannette Sorrell has established and nurtured with her players, board members, and fans.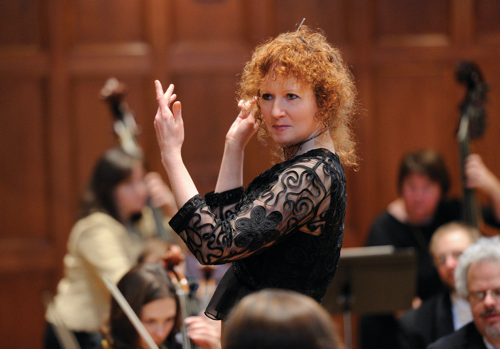 "Twenty-five years!" Sorrell exclaimed in a phone interview earlier this season. "It's amazing. I had a dream of conducting a baroque orchestra since I was 16, and I think it's quite a testament to Northeast Ohio that the audience here has enabled the group to flourish all these years."
Tracing the conception, birth, and evolution of an organization can be a fascinating story. In the case of Apollo's Fire, the orchestra was inspired by Sorrell's dream, launched out of her frustration and boosted by some happy turns of fortune.
After receiving her Artist Diploma from Oberlin in 1990, where she studied harpsichord with Lisa Crawford and conducting with Robert Spano, Sorrell moved to Amsterdam to study for a year with Gustav Leonhardt. She returned to the U.S. to compete in the 1991 Spivey International Harpsichord Competition in Atlanta. "It only happened once, but it was pretty huge," she said. "There were 70 contestants from five continents, and, miraculously, I won."
In fact, she took home both the first prize and the audience prize. But what next? "I came back to Oberlin because I had completely run out of money. I was 26, and there were no jobs for a harpsichordist." Sorrell began house sitting for a former professor, living off the Spivey prize money. Just when those funds were about to run dry, the phone rang.
"It was Roger Wright, the artistic administrator of the Cleveland Orchestra, who said they were running a search for an assistant conductor." Although Sorrell knew about the opening, she hadn't applied. "I wasn't pursuing a symphonic conducting career. I had my heart set on working with period instruments."
As it turned out, her name had appeared on the orchestra's short list of candidates anyway. The other fourteen candidates had been rejected by music director Christoph von Dohnányi after exhausting the available audition time in front of the ensemble. Wright asked, "Would you come for an interview and see if Dohnányi likes you?"
"It was a little odd," Sorrell said, "but when you're living on ramen noodles…" Two days later, she drove to Cleveland for a late-summer poolside meeting at the conductor's house."It was a lovely chat that had nothing to do with music." Dohnányi finally told Sorrell that he didn't think there was any point in her auditioning, because the Cleveland audience would never accept a woman conductor.
Wright continued to encourage her, facilitating three meetings at the Cleveland Foundation to discuss funding a nascent ensemble. Sorrell was rebuffed on two occasions. "The third time, they said 'Here's $20,000.'"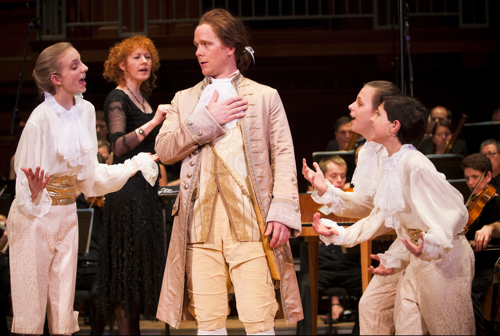 Next step: a name for the organization. In separate telephone conversations, Case Western Reserve University musicology professor Ross Duffin and Oberlin Conservatory baroque flutist Kathie Stewart remember attending a meeting to decide that question — the day before the new orchestra's tax-exempt application was due.
"We were scratching our heads and only coming up with boring names," Stewart recalled. Then Sorrell left the room briefly and Duffin suggested, "How about Apollo's Fire? Apollo's the god of both the sun and music. You think about Apollo and his lyre, but 'Apollo's Fire' brings in the sun and it's more dramatic."
"Jeannette wasn't crazy about it at first," Stewart said, "But she added the subtitle 'Cleveland's Baroque Orchestra' and we went with it," Duffin noted.
Sorrell enlisted a group of local artists, including Stewart, violinists Julie Andrijeski and Miho Hashizume, cellist René Schiffer, and chorus members Duffin, Beverly Simmons, and Gayle West, and forged ahead with plans for three debut concerts in 1992 featuring works by Mozart.
"We planned two performances of the Mozart Requiem, the D minor Piano Concerto with fortepianist John Gibbons, and a third concert of chamber music," Sorrell said. "We made the conscious decision to open with a big splash. We understood that we had to operate at a high level from the beginning, or nobody would pay attention to us."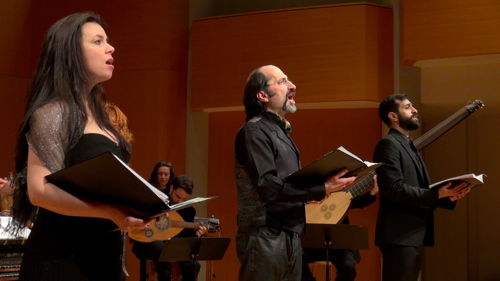 "That very first concert was in the sheep barn at Case Western's farm in Hunting Valley," Duffin said. "The end wall was all glass and the audience could see deer grazing outside. It was a memorable day." Stewart didn't get to play — there are no flutes in the Requiem — so she joined the alto section of the chorus.
Sorrell declared the debut a triumph. "The three concerts sold out, and we had touring offers landing in our lap," Sorrell said. "It's pretty amazing that it worked."
Sorrell identified several moments that were important for the evolution of the ensemble in the following years. "There was the day in 1995 when I went to Akron to explore alternative venues, which resulted in our decision to play concerts around the region. That meant more performance income vs. the cost of rehearsals, and really helped Apollo's Fire to survive."
Then, in 2006, the Aspen Festival called "out of the blue," Sorrell said. "They wanted to present a period-instrument orchestra for the first time. So we became not just a regional touring ensemble, but also a national one. That was significant for our board, musicians, and staff. Not all of our board members wanted the organization to go in that direction, though the musicians passionately did."
Four years later, Apollo's Fire cast a wider net, making its European debut at London's Wigmore Hall. "Our board president, Norm Harbert, had the vision and gave a challenge gift to make it happen," Sorrell said. "Wigmore was sold out and four critics attended the concert. Could the stakes have been any higher? Four months earlier, two Avie CDs had been released into the European market and the one of Brandenburg concertos attracted a lot of attention. People were curious to hear the group live."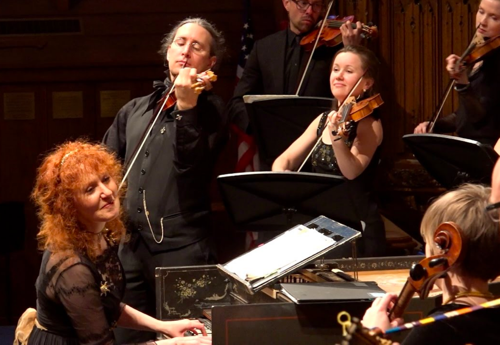 In the summer of 2016, Apollo's Fire made its debuts at Tanglewood and the BBC Proms in sold-out performances. "Since then we've been running along to keep up with the fire that's ahead," Sorrell said.
While pursuing a busy schedule of local performances and national tours, Apollo's Fire has also developed an engaging series of Countryside Concerts featuring both Baroque and folk-inspired programs. "It was an obsessive dream," Sorrell said. "I kept whining to our board that I wanted to find a barn where we could play in the summer — either that or a ruined stone chapel with one wall collapsed. In Northeast Ohio, we spend seven months a year under a gray cloud cover. When summer arrives, everybody wants to be outside, but music should still go on."
One of Sorrell's board members took her on a tour of barns in the eastern suburb of Hunting Valley, and they settled on an old apple barn where the ensemble is still playing 19 years later, even though the property has changed hands. Until recently, newcomers to summer period-instrument concerts were greeted with the rather jarring sight of a United Airlines gangway that provided access to the performance loft. A more period staircase is now doing that job.
Sorrell's plans for celebrating the 25th season have included a Purcell program; a multi-cultural "Love in Venice" series celebrating the joys of a diverse society soon after the presidential election; Handel's Messiah performed dramatically in Sorrell's signature style; and two separate programs featuring the orchestral and church music of Johann Sebastian Bach.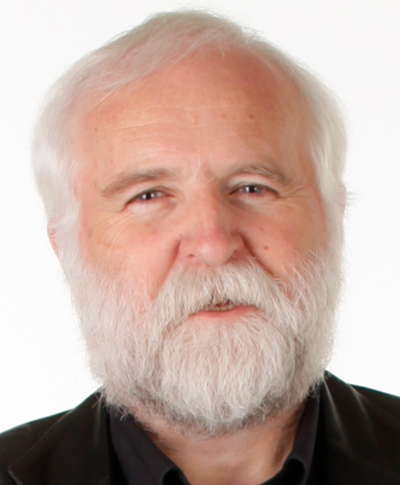 "To end the season, we decided to stretch the organization with a Beethoven-Schubert mini-festival," said Sorrell of the event, which takes place April 27-30. "Whenever you play Beethoven's music on period instruments, the sense of revolutionary struggle that his music is all about takes on new meaning. It really is a struggle to avoid breaking the instruments. He pushes the limits. The Fifth Symphony will be amazing, like people have never heard it before."
Now that the 25th season has been duly celebrated, Sorrell is looking forward to Apollo's Fire's Carnegie Hall debut in Zankel Hall in March 2018 and more international tours. The ensemble has just released a major recording of Bach's St. John Passion recorded at performances in Cleveland and New York last season.
Sorrell is pleased to note that Northeast Ohio now has the third largest Baroque audience in the country. "The other two are Boston and San Francisco, but those are much larger cities and more affluent," she said. "The fact that Cleveland has nurtured a period-instrument orchestra is remarkable. That's partly because of our wonderful staff, but it really speaks to the sophistication of our audience. We're very fortunate to be in Cleveland."
That success is also due to the high level of cooperation Sorrell has drawn from her board. "Jeannette had the vision, and she has had such an effect on the audiences that the board has wanted keep the orchestra going," said Duffin, still a member of the ensemble's chorus, Apollo's Singers. "It's a success story largely due to Jeannette's nearly infallible sense of how to reach her audience."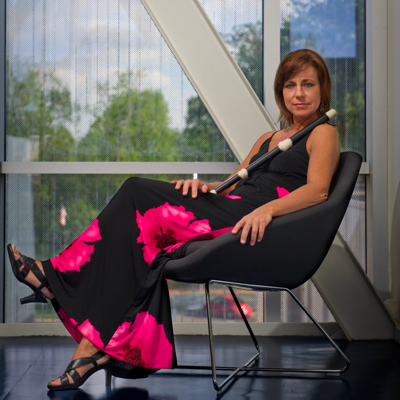 Stewart agrees. "Jeannette is good, but she's also very smart. She knows how to draw good players, audience members, and supporters. She's made great contacts and she's charismatic. She's just got everything."
Sorrell said that when she shopped the idea of a baroque orchestra around to funders in 1992, they said, "That's a nice dream, Jeannette." These days, her dreams extend to producing Baroque opera in Northeast Ohio. "That could really make Cleveland a national center. Baroque titles are much more affordable than Verdi — not half as expensive even at the highest level." One problem is the lack of a suitable theater. "Here, we mostly have to play in churches, where sightlines are a problem. The visual experience in theaters is so much stronger."
Asked if she has any advice to give to other would-be entrepreneurs, Sorrell said, "Don't be discouraged when everybody tells you something can't be done. I can't tell you how many people told me that. You have to believe in yourself, and when you reach a roadblock, either turn right or turn left."
Daniel Hathaway founded ClevelandClassical.com after three decades as music director at Cleveland's Trinity Cathedral. He studied historical musicology at Harvard College and Princeton University, and orchestral conducting at Tanglewood, and team-teaches Music Criticism at the Oberlin Conservatory of Music.