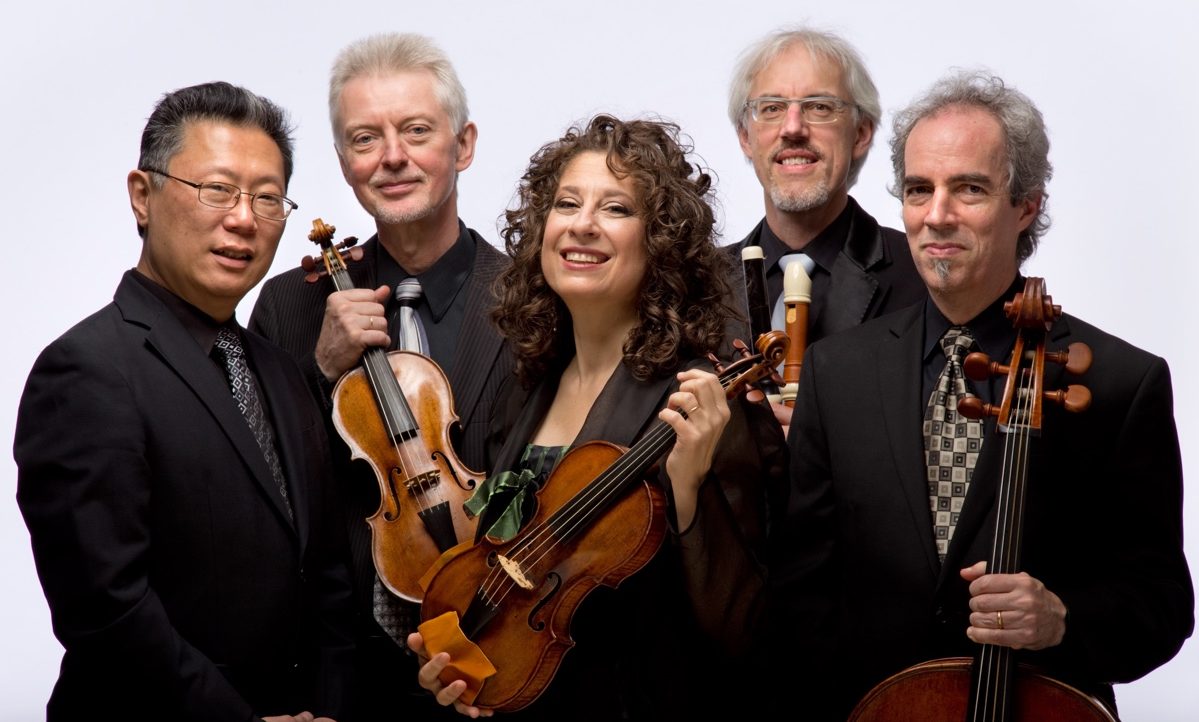 By Jarrett Hoffman
For Jörg-Michael Schwarz, Karen Marie Marmer initially was just his ride to a gig. Or more specifically, to "a lousy gig in Jersey," as he put it recently in a New Jersey accent while smiling at Marmer in their home in Peekskill, NY.
When they first met all those years ago, around 1987 on the Manhattan side of the George Washington Bridge, the two violinists were dating other people. When they saw each other again a few months later for another gig, they were both single. And that was that.
"He's the one who introduced me to Baroque playing," Marmer said. "I just fell in love with the style — and, of course, I fell in love with him, too."
A large part of their history together revolves around REBEL, the five-member baroque ensemble they helped found 28 years ago and co-direct. It all began in the Netherlands, where Marmer was studying baroque violin at the Royal Conservatory in The Hague and Schwarz was freelancing.
When Marmer saw a flyer announcing a competition for early-music ensembles — what's now known as the International Van Wassenaer Competition — she was intrigued enough to reach out to Pieter Dirksen, a harpsichordist with whom she had played the year before in a master class. And he brought along Gail Ann Schroeder, a friend who played viola da gamba.
After sitting down and reading some music together, Marmer and Schwarz decided to go for it. "We had nothing to lose," Marmer said, "no name to defend." Worst-case scenario, they reasoned, they would work on some repertoire and have a good time.
Before sending in their tape, they had to choose a name. They knew they wanted to reference Jean-Féry Rebel, whose Le tombeau de M. Lully was the first piece they had played together. But their first-choice name, Les élémens, the title of another Rebel work, had already been taken by an ensemble in London.
"So we had to scramble for a name," Marmer said. "We were going back and forth — this name and that — and finally I said, 'All right! Let's just call ourselves Ensemble Rebel and get this tape over there!'" Later, they would streamline the name to REBEL.
Lo and behold, they ended up winning first prize at the competition. They were shocked — as were the established groups they'd beaten out. "They were like, who are these guys?" Marmer said.
Concert offers started pouring in, and the group's first big performance came later that year, 1991, at the Holland Early Music Festival in Utrecht. The festival's organizers decided to pair the first-prize winners of the Van Wassenaer Competition with the first-prize winner of that year's Bruges competition: a young German recorder player named Matthias Maute, whom the group had never met. "And we've been playing with Matthias ever since," Marmer said. "It was a match made in heaven."
When Maute moved to Montreal and Marmer and Schwarz back to New York, rehearsals became difficult to schedule with the other players. That, in addition to some differences in artistic vision, led to a reshuffling of personnel towards the late '90s: In came cellist and gambist John Moran and keyboardist Dongsok Shin, who had performed at Marmer and Schwarz's wedding in 1993.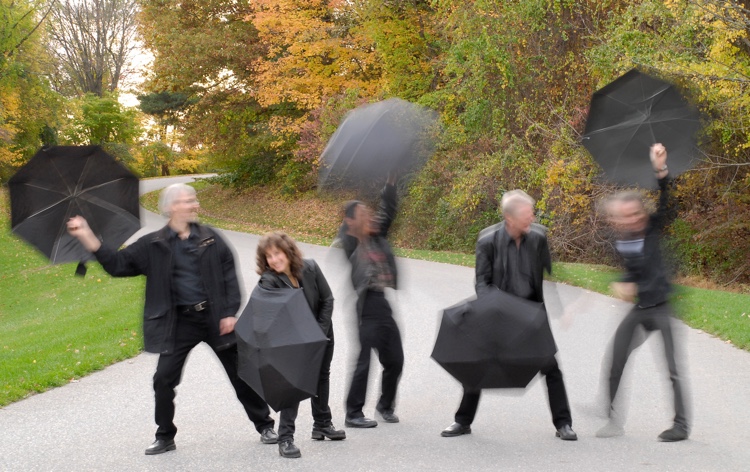 The year 1997 marked the beginning of an important period for the ensemble: a 12-year residency at Trinity Church Wall Street in New York, where the REBEL Baroque Orchestra was born. Along with the church's choir and then-music director Owen Burdick, the orchestra gave a nationally broadcast performance of Mozart's Requiem following the 9/11 attacks. The REBEL/Trinity Choir collaboration produced an 8-CD box set: The Complete Haydn Masses on the Naxos label.
That larger version of REBEL continues to this day and includes partnerships this season with the Central City Chorus in New York and The Thirteen in Washington, D.C. "We have a regular pool of players who have been with us ever since Trinity," Marmer said. As Schwarz added, "We're very loyal, because the most important thing is to have players who understand our style."
About that style? "To this day, we are the royal articulators," Schwarz said. "We try as best as we can to speak with the bow, which is what Baroque music is really all about." The group is also not afraid to "make some rough sounds where it serves the music," Marmer said. "We're not polite across the board."
Both violinists noted REBEL's reputation for playing with a large dynamic range. Their volume can surprise audience members, who many times have approached them after concerts to confirm that they were indeed playing baroque instruments. The answer, of course, was always yes. "We have a pair of Jacob Stainer violins from the 1660s," Schwarz said — more on those instruments later.
A recent honor for REBEL was being chosen to participate in WQXR's March 21 Bach Birthday Bash, headlining the event alongside the Arturo O'Farrill Trio and pianist Simone Dinnerstein with Ensemble Baroklyn. "And, of course, we played Bach," Schwarz said, laughing.
The ensemble will follow up appearances in Virginia in April with two concerts closer to home in May. The first, titled "BAROCCO," takes place May 11 at 8 p.m. at the Westport Arts Center in Connecticut.
"I call it a smorgasbord," Schwarz said.
"A potpourri," Marmer offered.
"A potpourri," Schwarz agreed, "starting with Vivaldi, going back to 17th-century music — Marini, Pandolfi Mealli, Corelli, and Schmelzer — and then some 18th-century stuff, including a Telemann Tafelmusik Quartet." Also representing the 18th century will be two composers with the first name Francesco — Mancini and Geminiani — and the G-major trio for flute, violin, and continuo, BWV 1038, most likely by Johann Sebastian Bach and not his son Carl Philipp Emmanuel, as some have suggested.
An entirely different program, this one celebrating Mother's Day and spring, will be on tap the very next day, May 12, at 4 p.m. at Bedford Presbyterian Church in New York. That performance closes the 19th season of Musica Antiqua Nova, REBEL's self-produced concert series.
Putting on their own shows is a lot of work, but it also gives the ensemble extra freedom they enjoy. For the May 12 program, that means a concert with 10 players. "We call it a big band," Schwarz said. Joining the core quintet of Schwarz, Marmer, Maute, Moran, and Shin will be Sophie Larivière (recorder and traverso), Peter Kupfer (violin and viola), Dan McCarthy (viola), Motomi Igarashi (double bass), and Daniel Swenberg (theorbo and Baroque guitar).
"It will be a good variety of pieces," Schwarz said, "with some for only strings, and a lot of smaller pieces with only recorders." He also mentioned the theme of birds dotting the program, from "a beautiful cuckoo imitation by [Theodor] Schwartzkopff" to François Couperin's Le Rossignol en amour and Louis-Claude Daquin's Le Coucou.
Particularly fitting will be "Spring" from Vivaldi's The Four Seasons, featuring Schwarz, who also made a point to mention the inclusion of Evaristo Felice Dall'Abaco's Concerto in E minor, Op. 5, No. 3, "a gorgeous concerto grosso for two traversos and strings." And Marmer hinted at a surprise ending that should prove quite charming.
Plus, anyone attracted to the idea of food and drink at concerts should take note of the fully catered reception and champagne toast "for all the mothers in the room and elsewhere," Marmer said.
Looking ahead to next season, which marks the 20th anniversary of Musica Antiqua Nova, Marmer spotlighted the opening concert: a program titled "Les Barricades Mystérieuses" that she is curating. It centers around Couperin's work of the same name, which will be performed in its original version for harpsichord and in an arrangement for two chalumeaux, two violins, viola, and cello.
Other highlights include Telemann's two-chalumeau concerto, featuring Ed Matthew and Nina Stern — "probably the top period clarinet players in the city," Marmer said — and an original piece for three recorders by REBEL's own Maute. Narration by the actor Paul Hecht will offer thematic commentary throughout the program. "I've chosen poetry about barriers, veils, and all the ways that we separate ourselves from here to there," Marmer said.
Getting back to those Jacob Stainer violins, Marmer explained that they're considered "pretty much top of the line" for baroque instruments. As recently as 100 years ago, Schwarz noted, a Stainer was more highly valued than a Stradivarius. "Then they made a switcheroo," Marmer said, "because a Stradivarius lends itself more to the higher tension of modernized violins."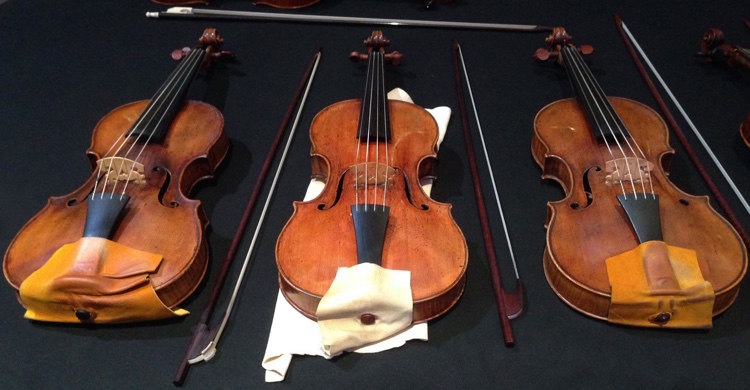 Schwarz said that at least six Stainer violins are currently being played in the early-music scene in New York. "Occasionally, it happens that we have three or four of us together," he said. "We just took a picture of three Stainers next to each other when we were down in D.C."
Winding down our conversation, we talked about the violinists' interests outside of music. In their bios, Schwarz describes himself as "an avid wine enthusiast," while Marmer emphasizes different forms of spirituality. I asked her if that feels connected to her music-making.
"It does," she said. "I've been interested in healing ever since I was a teenager. I think that bringing music to people is an act of healing."
Click these links for tickets to REBEL's May 11 and May 12 concerts.
Jarrett Hoffman is assistant to the editors at ClevelandClassical.com and served as a fellow at the 2014 Rubin Institute for Music Criticism. As a clarinetist, he performs in the Hudson Valley and New York City and runs a private studio.