by
Published July 8, 2019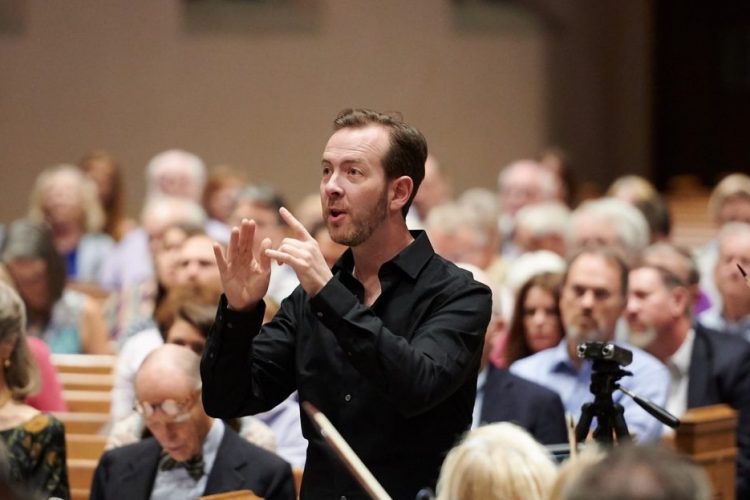 Early Music America is delighted to welcome Scott Allen Jarrett as president of the EMA board. A leading Bach interpreter, he is artistic director of Bach Akademie Charlotte, director of music at Boston University's Marsh Chapel, resident conductor of the Handel and Haydn Society Chorus, and music director of the Back Bay Chorale. He has maintained a long relationship with the Oregon Bach Festival, where he serves as conductor of the Discovery Series, teaching cantatas and motets. Jarrett was the first guest conductor to lead Miami's Seraphic Fire, and he continues to collaborate with the ensemble and founder and artistic director Patrick Dupré Quigley.
Amid activities last week at the Oregon Bach Festival, Jarrett spoke with EMA editor Donald Rosenberg. Here are excerpts from their conversation.
How do you feel about becoming EMA board president?
It's daunting but surely an honor. I was inspired by both Marie-Hélène [Bernard]'s leadership and Miguel [A. Rodríguez]'s leadership and vision. More recently, I was on the search committee that identified Karin [Brookes] to be our next executive director. I very much appreciate and value all she brings to our organization and what she's doing for EMA on an hourly basis, day by day. I'm honored to help support the work of Karin and our amazing staff.
What impresses you most about the organization?
It's quite remarkable what EMA is able to do with such limited resources, not just financially but in terms of the size of the staff. It actually feels like a treat for me to serve and work a little bit in support of what they're doing every day. I also feel strongly that we have a fantastic group of board members. Over the past couple of years, every meeting has gotten better and better, and the quality of discourse over the course of those meetings has been deeply enriching and exciting to participate in. I feel excited for and confident about EMA's future, both immediate and longterm, because we've got just a stellar group of people training their various foci and energies on EMA's mission and vision.
Have you devised strategies to take EMA into the future?
I'm trying to think about different perspectives and establishing some goals I can put on a piece of paper to articulate for myself over the course of a six-month or year period. Those have to do with making sure I know how to reach out to our membership and what EMA is doing currently and what EMA can do in the future for its communities, members, and ensembles. I live in Boston. Now, with my increased energy in Charlotte and other places, I'm excited about the quality and breadth of activity in early music that is expanding exponentially across the country. EMA has a wonderful role as a connector for our members and their communities. That's what's been so inspiring: to learn the ways EMA serves as a support network for so many organizations across the country.
I'm also eager to increase access to early music and to our members. That includes advocating for the music we love and nurturing it. It means increasing access not just for our members but also to what it means to work in the field of early music and to cultivate the work. That extends beyond people who practice in the High Baroque or High Renaissance to those periods and musics that connect those dots.
Do you have ideas about how to broaden the appeal of early music?
One of things I'm thinking of is access broadly — other musics that qualify as early music. My own way of addressing the challenges of inclusivity and diversity in our field is thinking of ways to increase opportunity and access and honoring and recognizing all kinds of music and practice, not just the old dead German guys, whom I, of course, love and adore.
How do you view the breadth of early music from your perspective in the vocal arts?
As somebody who practices and teaches the music of Josquin this semester and next semester will teach Mendelssohn and Brahms, I've never been aware of or made the distinctions that characterize so many musical disciplines. A nice departure for me is that I'm excited to advocate for everybody who comes to early music. The other exciting thing is what characterizes my experience and perspective as somebody who works with voices: Our training these days is trying to match the sound to what the music wants. I find faculty studios acknowledge that you might have a different approach. I find in particular string faculties are opening up to not applying the same beautiful tone and bowing to Corelli as you would to Paganini caprices. In short, I sense the academy catching up with professional practice and expectation, driven by the inspiring sense of entrepreneurship that so defines today's classical music markets across the country.
There's plenty of room, then, for the field of early music to increase its impact.
I do find in residencies and teaching and conversations with our friends in academia across the country that more and more schools of music and faculties of music are aware of the importance of preparing their students for what the workplace actually is. There's an awareness to share and create opportunities for their students to experience a variety of ways of making music, and schools of music are encouraging that. They're being driven by market and entrepreneurial drivers. However it's happening, I'm happy for it. People are discovering and trying to jettison their fears about something they're not quite comfortable with. EMA is contributing through our Young Performers Festival, Emerging Artists Showcase, scholarly opportunities, and other facets we can accomplish together.
Recent EMA Features
A Q&A with Music Before 1800's new artistic director Bill Barclay: 'If people are going to take a risk of coming to a concert for the first time, they need something to hold on to'... it's 'sadly a bit of an exclusionary pleasure — you have to know a little bit to get a lot out of it, unless there's something that resonates and makes people understand that early musicians are arbiters of ancient insights into human performance.'
The latest essay in EMA's 'Early Music: the Americas' series looks into the private notebooks of two women who preserved music of Latin American and European composers -- music that in some cases is found nowhere else.
Video games generate more revenue than the movie industry, and many games are set in 'legendary times' that cry out for an early music soundtrack. As technology improves, many games employ early music not just as background but as element of play.