by Jacob Jahiel
Published June 19, 2023
As the second son of Johann Sebastian, Carl Philipp Emanuel (1714–1788) — you can call him Emanuel — was a chip off the old Bach. But in a new album from Channel Classics, "C.P.E. Bach: Sonatas for Keyboard & Violin" from Rachel Podger (violin) and Kristian Bezuidenhout (harpsichord and fortepiano), Emanuel plays second fiddle to nobody.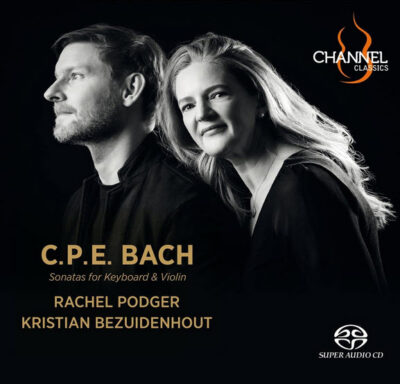 In 1772, Charles Burney, the eminent English music historian, observed of the composer during a Hamburg visit, "This man was certainly born to write for great performers." While he heard a few during his stay, had Burney waited a couple hundred years and bought himself this new recording, he would have found his great performers in Podger and Bezuidenhout.
There is, as listeners should by now expect, the duo's undeniable technical prowess: Podger's rich command of tone and color, Bezuidenhout's uncanny eloquence across a range of keyboard instruments. And, as an ensemble, the pair never seems to lose sight (or sound) of each other.
But Emanuel made it clear that a great performance requires something more, writing, "a musician cannot move others unless he himself is moved," and that "It seems to me that music primarily must touch the heart" — two neat summations of his characteristic, proto-Romantic empfindsamer Stil (sensitive or sentimental style). Accordingly, the duo commits absolutely to its task, not merely evoking emotions, but inhabiting them fully. The result is, in short, sure to move.
The works themselves span Emanuel's long career, beginning with the stylishly-played Sonata for Flute (or Violin) and Basso continuo in G minor, a piece formerly attributed to Johann Sebastian but which, sometime in the 1730s, was probably co-written by the two. ("In composition and playing I never had any teacher other than my father," wrote Emanuel.) And by ending the album with another relatively early work, the ebullient D Major Sonata Wq. 71 (composed in 1731, rev. 1746), the recording gains an elegant, even Classical symmetry.
But it is really the music at the album's center which features Emanuel at his most compelling, and the duo at their most convincing. Here, in the C minor (Wq 78) and B minor (Wq 76) duo sonatas, both written in 1763, Podger and Bezuidenhout navigate a constellation of shifting moods, bouncing ideas back and forth with vigor and vim, sharing jokes, engaging in arguments, and providing consolation — sometimes all within the course of a single phrase.
And centered between the sonatas sits the album's crown jewel, the idiosyncratic, keyboard-driven Arioso in A Major with Variations. Composed in 1780, it is the latest of the works presented here. Ever articulate and unfailingly expressive, Bezuidenhout drives the musical conversation, eliciting from Podger responses that are honest, transparent, and pure of heart. In terms of the Arioso's psychology, a Freudian analogy might be drawn between the conscious, rational ego of the fortepiano and the subconscious, reactive id of the violin. Better yet, to get a sense for the natural intimacy between voices, look no further than the children's book series, Frog and Toad.
In any event, the duo presents a true dialogue of equals, a performance that is reactive, conversational and, most importantly, moving. These are Emanuel's kind of musicians.
Jacob Jahiel is a writer, editor, and viola da gambist currently living in Montréal. He was a fellow at the 2022 Rubin Institute for Music Criticism's Emerging Writers Program. For EMA, he recently reviewed consort music by William Whyte.

Recent EMA Recording & Book Reviews
In 2016, Jordi Savall assembled a group of immigrant musicians with a fundamental mission: to preserve and revive precious musical traditions from a range of under-stress cultures, from Syrian and Kurdish to Armenian, Sudanese, Afghan, and Moroccan. The resulting live performance was captured as 'Oriente Lux,' bridging gaps and making connections.
Jeannette Sorrell's adaptation of Handel's popular 'Israel in Egypt' cuts, re-orders, restores, and replaces music and text throughout the oratorio. But Handel didn't leave us with a 'definitive' edition, and Sorrell's version is so artistically logical that someone new to the work might not know anything is missing. Apollo's Fire and the outstanding vocal and instrumental soloists make a compelling case.
People who love Wagner operas can separate his music from his toxic beliefs. Yet J.S. Bach's 'superlative ability to move listeners' and status as 'a pinnacle of Western art' brushes aside the composer's harsh theology and often intolerant personal philosophy. In this collection of essays, Bach scholar Michael Marissen warns us to 'not soften or assimilate this figure to our own preferences, no matter how much we find inspiration, solace, or transcendence in his art.'