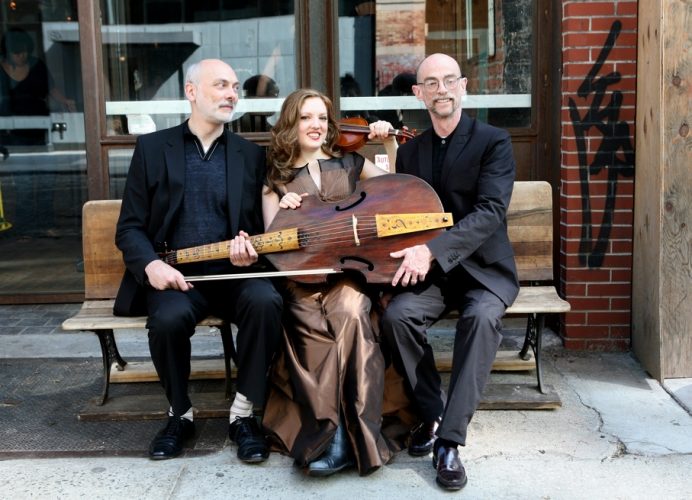 By Kyle MacMillan
CHICAGO — Rachel Barton Pine might be the best-known mainstream violin soloist who also performs on period instruments. The Chicago-based artist, who had an album debut at No. 1 on the Billboard Classical chart in 2013, does not just dabble in early music, like some of her peers. She owns two prized vintage baroque instruments and has consistently played 17th- and 18th-century repertoire for nearly 30 years.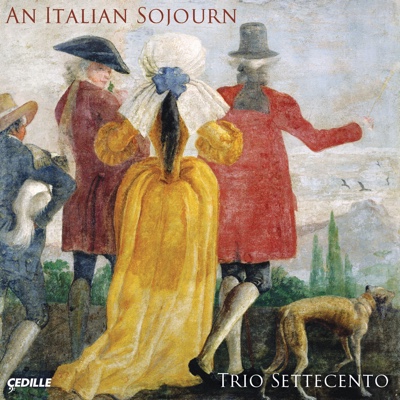 "I consider it to be a very organic part of my life," Pine said. "I'm not a baroque violinist who plays modern or a modern violinist who plays Baroque."
She does both side by side — sometimes in the same day.
Pine has learned to leverage her broader fame to gain attention for her more rarefied early-music pursuits, and it has certainly boosted recognition of Trio Settecento, the period-instrument ensemble in which she is the highest-profile member. "I'm so well known in the modern world of chamber-music fans and symphony fans and that whole constituency of listeners, and people who aren't really period-instrument aficionados will sometimes come to our concerts because they know me. So, it's almost like being a missionary for early music, almost like outreach in a way. And that's been really wonderful."
While the early-music world boasts no shortage of notable chamber orchestras such as The English Concert or Les Arts Florissants and vocal ensembles like the Monteverdi Choir or The Tallis Scholars, smaller touring instrumental groups are rarer. Examples includes the defunct Philidor Trio, which consisted of soprano Elizabeth Humes, harpsichordist Edward Smith, and Shelley Gruskin, who played baroque flute and recorders, or the fast-rising Wayward Sisters, whose four members play such instruments as baroque violin, recorders, and theorbo.
Trio Settecento ranks among the longest-running and best known of these small period-instrument ensembles today. Along with Pine, the group's members are David Schrader on harpsichord or other keyboards and John Mark Rozendaal on baroque cello or viola da gamba. "It's kind like a rock band, where you have a bass, a rhythm section, and a top voice," Schrader said.
The trio will celebrate its 20th anniversary Feb. 18 with a concert at Nichols Concert Hall in Evanston, IL, under the auspices of the Music Institute of Chicago, where Pine studied with Roland and Almita Vamos and now serves as a life trustee. The program, "Five at Twenty," will feature six selections from Arcangelo Corelli's Op. 5 from 1700, a landmark group of 12 violin sonatas that set the standard for such works for a century or more.
Trio Settecento's roots date to 1996, when, at the invitation of Chicago-based Cedille Records, Pine recorded an album of Handel sonatas for violin and continuo that had been under-represented on disc. To accompany her, the violinist turned to two veteran musicians with whom she had studied historically informed performance practices — Schrader and Rozendaal, mainstays of the Chicago early-music scene at the time. (Rozendaal has since moved to New York.)
The album became Cedille's first to reach sales of 10,000 units, a large number by classical standards, and garnered enthusiastic reviews. "Her [Pine's] wonderfully vital and buoyant performances of Handel's undervalued Sonatas for Violin and Continuo offer some of the most refreshing, life-enhancing Baroque playing heard in years . . ." wrote Lawrence A. Johnson in Fanfare. "Superb continuo players David Schrader and John Mark Rozendaal contribute to the real sense of ensemble teamwork."
Based on that success, the musicians decided to band together as an ensemble, which they named Trio Settecento (18th century in Italian). It made its first appearance around 1998, the milestone it is celebrating with the upcoming anniversary concert. Since then, it has appeared on music series large and small across the United States, including concerts under the auspices of such prominent presenters as the Frick Collection in 2006 and 2014 and the Boston Early Music Festival in 2007.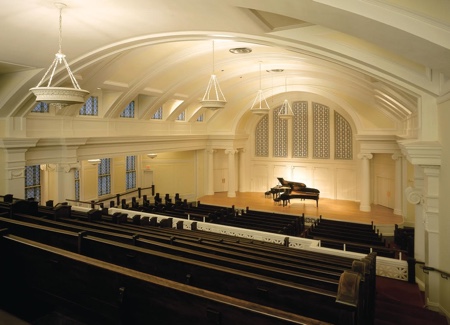 Because each of the musicians has his or her own solo career, it is tough for the threesome to carve out much time together, but they make a point of performing at least a handful of concerts each year. Besides its Chicago appearance, the trio returned to Houston Early Music this month and will perform March 24 at the Cedarhurst Center for the Arts in Mount Vernon, IL. In addition, the trio has recorded six more albums for Cedille, and another centered on Scottish Baroque music is in the planning.
While Pine possesses an innate chamber-music sensibility, Rozendaal said, she imbues her trio performances with much of the power and panache heard in her solo work with orchestras. "The main thing that sets us apart from other baroque ensembles is the size, immediacy, and impact of the trio's playing, and a lot of that comes from what Rachel is able to do as a violinist — the sheer immensity of her palette and technique."
Period instruments have been part of Pine's musical life since she was 14. As a student with big ambitions, she read everything she could find about great composers and violinists of the past. In what she called a "pivotal moment," she was in her favorite sheet-music shop and spied a modern reprint of the Roger edition of Corelli's Op. 5 sonatas. In later classical music, hewing to the printed notes is paramount, but in perusing these earlier works she discovered that the composer gave performers considerable latitude.
"It was a complete revelation to me," she said, "to realize that it was not only allowed but really necessary to take a slow movement of Corelli and add elaborations. So, I wanted figure out how to do this."
Since she was already receiving strong training on the violin, Pine turned for guidance to Rozendaal and Schrader, whom she had seen perform at early-music concerts around Chicago. What she quickly learned was that she had to grasp historically appropriate articulation, tempos, and phrasing before she could jump into crafting ornamentations. Once she had absorbed those lessons, she evolved from playing with a baroque-style bow and gut strings to acquiring authentic baroque instruments.
While contemporary artisans are building top-notch reproductions of such instruments, Pine decided she wanted a violin made during the Baroque era because she was used to playing a 1742 violin by famed Italian luthier Giuseppe Guarneri for her mainstream concerts. (This instrument, like most violins of this period, were long ago modernized, including adding steel strings and replacing the original flat neck with a tilted one that puts more pressure on the strings for heightened power.) "When you play an antique modernized instrument all day long, you kind want an antique baroque instrument, because you are just spoiled that way somehow," Pine said.
In 2001, she acquired a 1770 baroque violin by Nicolò Gagliano that was in pristine condition. She then began searching for a vintage viola d'amore — related to the violin — and when one by Gagliano from 1774 came up for auction in 2011, she bid on it without having an opportunity to play it. But owning an instrument already by the same maker, she was confident in its sound quality, and the instrument has far exceeded her expectations. Indeed, she later found out that the tops of both instruments were made of wood from the same tree — what she called "fate rather than coincidence."
When the trio is performing in or near Chicago, Schrader typically performs on one of his two harpsichords — a French double-manual instrument or smaller one built by Willard Martin of Bethlehem, PA, that combines historical characteristics of northern and southern European instruments. When the group travels farther afield, Schrader has to make arrangements to borrow a suitable instrument. Rozendaal performs on either an 18th-century Tyrolean cello or an English viola da gamba from 1650, what he called a "beautiful and special instrument."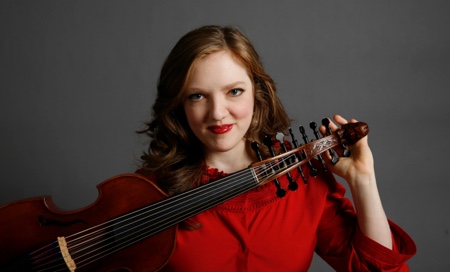 Because of the plethora of violin soloists, Pine pays attention to what her peers are doing when performing her modern-instrument concerts, trying to choose fresh, less frequently heard works for her programs. "When it comes to our trio," she said, "we really program what we are excited about and we believe in without necessarily taking note of what others out there are doing or are offering."
When the group performs on mainstream music series, where period-instrument ensembles are less common, Trio Settecento typically offers an introductory program with works by some of the big names in Baroque music, like Bach and Handel. But when it is invited to appear on early-music series or more academic series, the trio tends to perform programs with a more specialized historical or thematic bent. The upcoming all-Corelli concert falls into this second category.
So influential was Corelli's Op. 5 that violinists studied and composers imitated its 12 works throughout the 18th century and into the early 19th century. "That kind of persona of a violinist as an expressive, poetic, rhetorical soloist who can tell a story with the same kind of presence as an opera singer — that's something that really came together in the work and career of Arcangelo Corelli," Rozendaal said. "So, these pieces really are vehicles for exactly what Rachel does."
The set is divided into six church sonatas and six chamber sonatas, the latter possessing a lighter, more playful feel. Trio Settecento will play three of each on Feb. 18, book-ending the repertoire with the first and last of the 12 pieces. The six total selections are one more than had originally been intended in the "Five at Twenty" program. "It had such a nice ring to it that we didn't change the title," Rozendaal said. "So, there's a bonus."
One of the challenges for any chamber ensemble is simply remaining intact because of internal squabbles, outside pressures, or simple fatigue that too often lead to break-ups. Whether it's because of "blind luck," as Schrader jokingly suggested, or the infrequency of its performances, Trio Settecento has managed to keep going for two decades, and it has no plans to stop now.
"When we're onstage together, it's always electric," Rozendaal said. "There's always presence and a give and take among the three of us. We keep coming back together for more because it's so satisfying."
Kyle MacMillan served as the classical music critic for the Denver Post from 2000 through 2011. He is now a freelance journalist in Chicago, where he contributes regularly to the Chicago Sun-Times and Modern Luxury and writes for such national publications as the Wall Street Journal, Opera News, Chamber Music, and Early Music America.