by Edwin Huizinga
Baroque stringed instrument makers today have waiting lists years long. As the love of Baroque music increases and gathers greater audiences to hear superb players around the world, North American instrument makers like Gabriela Guadelajara, Karl Dennis, and Jason Viseltear have more and more performers knocking on their doors. Musicians rely on these artisans, as they do on such bow makers as Ralph Ashmead, Stephen Marvin, and Michelle Speller.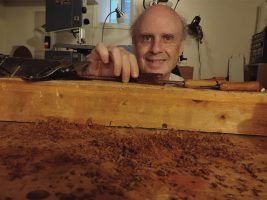 My own career as a baroque violinist began in the 21st century. Working with some of the most incredible baroque specialists of our time has given me the perspective to appreciate how differently artists come into their own. In ACRONYM, the ensemble in which I'm a founding member, we have established a niche performing modern premieres of works by rediscovered composers and chamber music that may have been untouched for hundreds of years. Our passion has a striking parallel in the dedication of makers of period instruments and bows.
Gabriela Guadelajara, a New York City-based baroque instrument maker, played cello from an early age. She grew up listening to Baroque music and always loved it. She left Mexico 25 years ago to begin working at William Monical and Son in Staten Island, NY. Like many luthiers, Guadelajara talks about the importance of mentoring under someone and spending time on instrument repairs and restoration. Learning how to fix an older instrument and make it sound better, as well as talking to artists about such issues as quality of sound or playability of the instrument, are huge parts of mastering the trade.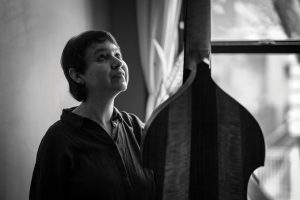 These discussions, said Guadelajara, are ways to gain perspective on the true desires of artists—how they wish something to sound, what problems come up, how they're trying to work around the instrument. As someone who considers herself a slow worker, she advises young luthiers to be patient: so many things must be learned along the way; they'll make mistakes and must try again. One of Guadelajara's favorite aspects of building a violin or cello is making her own varnish, a process she describes as fun.
Guadalejara said she is not interested in making copies of old instruments but simply learning from them and then discovering how to make her own. The most important thing in the process is, she said, "Just listen."
A truth about bow makers and instrument makers is that each is nothing without the other. What is a voice without air? Bow maker Stephen Marvin of York, Ontario, with whom I shared a violin stand in Tafelmusik, the baroque orchestra in Toronto, said that "it is best when they become friends," referring to the specialists he makes bows for around the world. To date, he has made approximately 480 bows.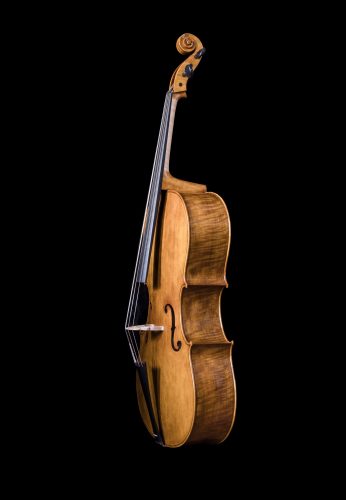 An avid player and maker, Marvin has been creating baroque bows for 40 years. He has always balanced making with performing. From an early age, he knew he wanted to specialize in early bows and that they should be closely modeled after surviving original bows—not modified or changed by clever inventions of the modern era. Some makers stay true to the lineage and the old ways, while others spend their careers discovering new and fascinating ways to change things subtle or big. The diverse ways of making these pieces of art create the opportunity for continued differences and spectrums of sound color, and for making history.
"An early difficulty I encountered was finding the various woods from which 17th- and 18th-century bows were constructed," Marvin said. "At first, I found snakewood sources in England. I took out a loan for $6,000 and brought back only about as much wood as I could carry, but it was excellent. The great coincidence of my career came in 1985—the year after I joined Tafelmusik as principal second violin and moved to Canada—when I was visiting a friend about wanting to find historically used South American woods and an old fellow came over and introduced himself."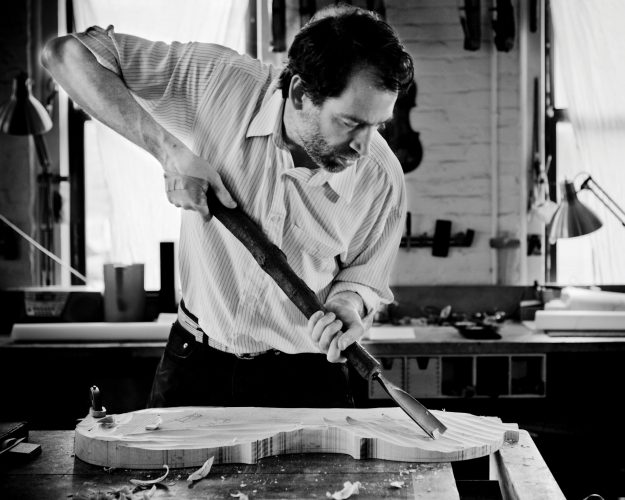 The man was David Persram, a conservator, forestry expert, and wood specialist who sells carefully prepared exotic woods. He lives in Guyana but has family in Toronto. "Unbelievable luck to have found him!" Marvin said. "Over the next 30 years, he sent me many boards and samples, which helped me identify about 20 woods used historically in Europe for bow making. Over this time, I put him in contact with most early bow makers. We kept him well employed sending us snakewood and many other species. I developed a collection of these woods which has toured in the U.S. to various bowmaker events to help my colleagues identify and study these historical woods."
It was impossible to not discuss the current global pandemic with several makers, whose work has not changed much, especially compared to the performing artists whose lives and careers have come to a screeching halt, though everyone has been affected. We discussed the Great Plague of Milan of 1629-1631 that wiped out more than a million Italians, a quarter of the population. Although it is impossible to see into the future and know what devastating effects the 2020 pandemic will have, it is instructive to learn from the tragedy of the luthier Girolamo Amati, who, along with his wife and two daughters, died during the plague, which had a long-lasting effect on violin makers of the time. As the weight of not being able to perform today increases for thousands of artists around the globe, luthiers are still working in their shops day after day on their newest project of a baroque cello, violin, or viola da gamba for an eagerly waiting client.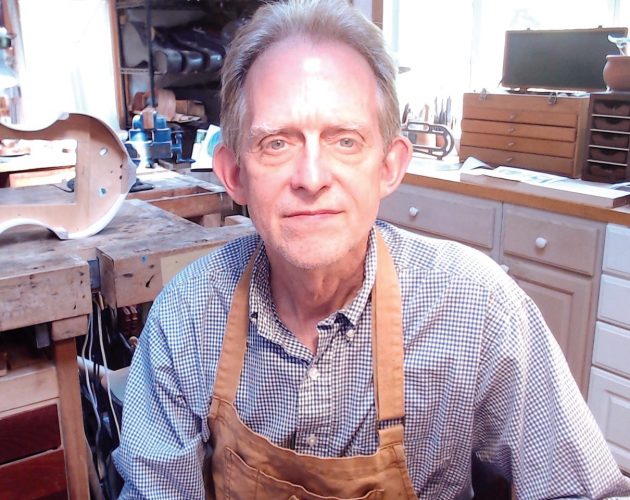 For Karl Dennis, a violin maker in Warren, RI, making an instrument for an artist in the field of early music is so specialized that it usually creates a reason for a personal connection. It is an experience as beautiful as going to a local shoemaker or potter, buying carrots from a farmer, or obtaining eggs from your neighbor with chickens in the backyard. Dennis is eager to build relationships with his clients, many of whom he considers friends. These relationships are satisfying and integral to him making the best possible instrument for his clients. Watching how they play on his instruments, said Dennis, is crucial because even if he can't hear issues, he can see them and try a different set up. He said he "provides someone with a voice," and that voice is something the artist becomes attached to and that becomes her own.
Dennis is inclined to question everything. "I have read and studied so much from my colleagues, some of whom have been dead for 300 years, but there is always more to learn," he said. Baroque instruments of old were made for people, and the beginning of the era of modern violins and power of commerce started with the French luthier Jean-Baptiste Vuillaume, who helped turn the violin into an industrial project. Things are similar today, with many modern instruments coming out of shops and factories, yet modern early instruments are made almost exclusively by commission, and for specific artists and clients.
For some, having the opportunity to work with the maker is similar to a relationship with a pet: You become so close, spend time with this instrument every day, get to know it better and better. It is something you carry with you for the rest of your life.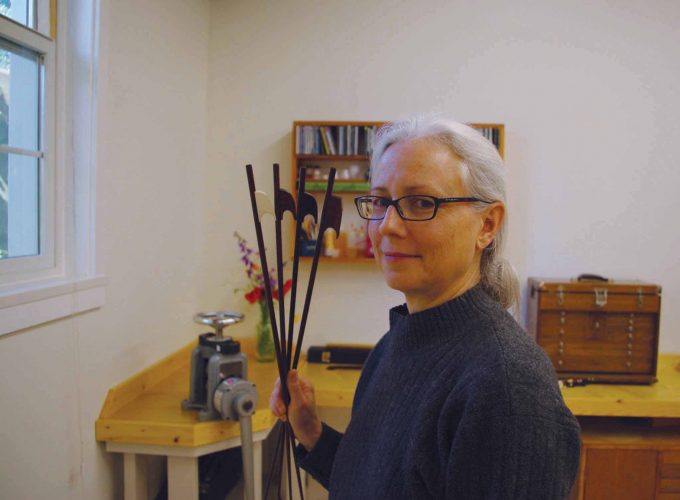 The question of how historically accurate instrument and bow makers try to be elicited an impassioned response from Michelle Speller, a Canadian bow maker. "Either completely or not so much, depending on how you define 'historically accurate'! Exactly copying relatively few surviving examples ignores the spirit in which bows were made—that is, not as a precious artifact, but a basic tool that should meet the needs of the player-composers, while allowing for variety in materials, regional styles, and personal taste. I find a parallel in a musician's approach to performance— understand the musical form and context, respect the composer's intent, then make the performance and interpretation your own."
Speller pointed out that performers know all too well how important it is, as they dive deeper into the world of period performance, to try to have an accurate bow for the specific century and style in question. For example, a short Italian bow is hugely different from a late Baroque bow, and even more different than an early Classical bow. The list goes on.
Musicians are constantly collecting more styles and shapes, as well as sizes and lengths of bows. It is invaluable to give students the chance to play on a baroque bow as they discover Bach, Telemann, and Vivaldi. There is almost no better way to explain style than by allowing a student to literally feel the style play itself out on the right bow for that period. As a player herself, Speller enjoys being almost done with a bow, playing on it, and puzzling out what changes to make. That sounds a bit like a dress rehearsal—super fun—and also a chance to make a last-minute change or adjustment for an even better performance.
Jason Viseltear makes both modern and baroque violins, violas, and cellos in his Manhattan atelier. (My own instrument is a Viseltear violin on long-term loan from Brandywine Baroque.) Ineffable is a word Viseltear uses to describe the power of what happens when the artist meets the instrument, and when the musician meets the maker. A violin can't say much without a bow; however, what may be even more true is that a violin is nothing without its player. When the artist draws the bow onto the strings of a new instrument is the moment when the magic happens, when the sound becomes greater than the sum of all the parts, and when a story can begin to unfold. Or, as Viseltear said, "Now we're talking about music, so perhaps we should dance."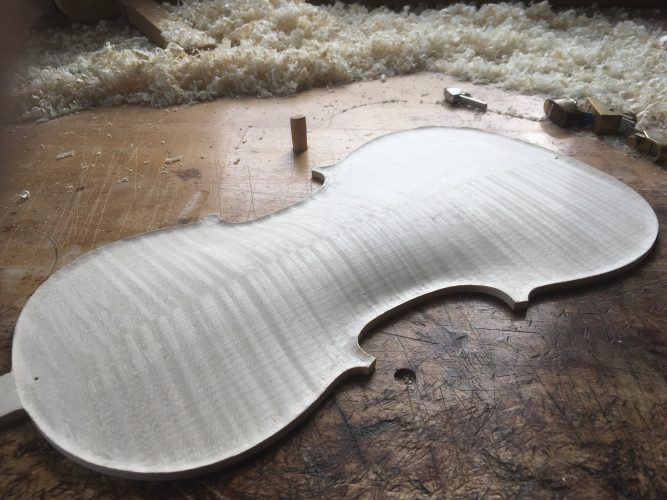 Viseltear is constantly reading and discovering old methods, questioning how instruments were made and the changes they went through. The violin has undergone many changes due to the existence of so few historical instruments in their original form; almost all of them having been modernized in some way, from their neck to their bridge to their tailpiece. Even most of the historical instruments kept in vaults at the Smithsonian Museum in Washington, D.C., when not being played on Kenneth Slowik's concert series, have been modernized. As Viseltear said: "I see every instrument I've made as an example of my work just as every performance or recording is an example of yours; and my interest—quite alive, I have to say—is in ensuring the continuing excellence of both."
Ralph Ashmead, a baroque and classical bow maker in Tuolumne, CA, started his career making instruments. He couldn't find an appropriate bow to use on a tenor viol he had created, so his teacher, Margaret Panofsky, encouraged him to make a copy of one of her bows. When Ashmead returned with a bow that worked quite well, Panofsky said she always had students looking for bows. At the same time, in the 1980s, Philharmonia Baroque Orchestra was starting up, and there was more and more interest in bows for period performance practice.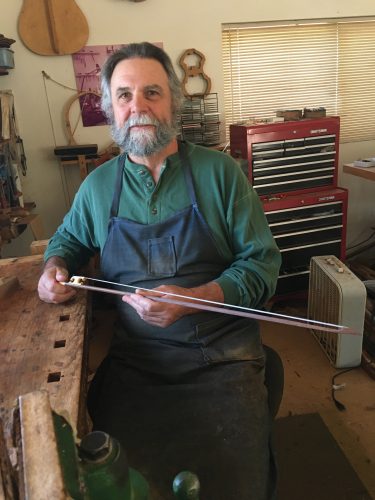 Among Ashmead's cherished experiences have been relationships forged with major artists, including conductor Seiji Ozawa, who invited him to Japan to share bows with an orchestra there, and baroque violinist Enrico Onofri and Il Giardino Armonico, which led to several trips to Europe over the years. These stories are similar to those experienced by performing artists, who have careers based on chance introductions and brief connections with gifted colleagues that blossom into a lifetime of music making.
The bow-making world has changed so much in the past 40 years, said Ashmead, from no internet and little information on historical bows and models to today, when many schools have early-music programs and ensembles and Baroque concerts are happening around the world. Ashmead savors the small pleasures. "Watching a player's face light up when they find the bow that makes their instrument open up and instantly makes their playing better! The best analogy I heard from a player was that trying bows was like going to Ollivanders wand shop in Harry Potter and having the bow choose the player."
In the end, bow maker Marvin believes it's important to focus more on music than equipment. "We find our way into this world because of our love for the music, our appreciation for a smaller, more chamber-music environment, and often a healthier and friendlier place to be. Of course, this can be disputed, and it is not my intention to draw comparisons or create a wall between the worlds of modern and Baroque. However, I do think those are some of the reasons makers, artists, and audiences alike find their way to early music."
---
Baroque violinist Edwin Huizinga is a founding member of ACRONYM who also has played with Tafelmusik Baroque Orchestra, Apollo's Fire, Smithsonian Chamber Music Society, Brandywine Baroque, Wallfisch Band, Atlanta Baroque, and more. One of his new passions is composing in a neo-Baroque style for Opera Atelier, based in Toronto, Canada.
---