This feature appeared in the May 2022 issue of EMAg, the Magazine of Early Music America.
On a Rocket to Stardom, the Versatile Countertenor Remains Committed to Early Music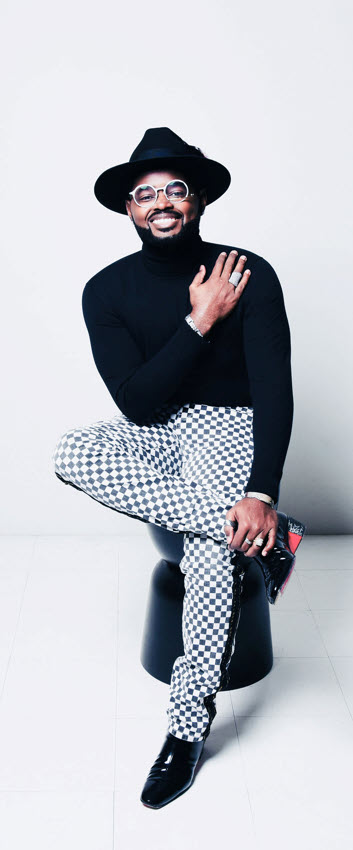 In an age of remarkable countertenors, John Holiday cuts a unique profile. At 37, less than a decade out of Juilliard, he's made a striking impact in the early-music world and, with equal adeptness, on the new-music scene—enlivened by a foundation of church and popular genres.
Stage director Francesca Zambello, who runs both the Washington National Opera and Glimmerglass Opera in upstate New York, has hired Holiday for both companies. In an email to me, she calls John Holiday "one of the most versatile opera singers I have ever met: Not only an accomplished countertenor, he's a jazz and gospel singer, and pianist extraordinaire."
Zambello engaged him as the lead in Vivaldi's Cato in Utica and Handel's Serse, where Holiday "dominated the stage both vocally and dramatically. After many a performance he would perform his cabaret act, keeping the Glimmerglass audience engaged with his work on the keyboard and his raconteur style going all night long after singing a demanding role."
Holiday's fame and fan base multiplied immensely in 2020 when he became a finalist on Season 19 of NBC's The Voice. His soaring vocals and utterly idiomatic traversal of music associated with Ella Fitzgerald and Frank Sinatra—but also Beyoncé and Coldplay—makes him a rare catch. He's an artist who naturally and completely commands several distinct musical styles.
On The Voice, Holiday wowed judges John Legend and Gwen Stefani and introduced millions of viewers to the concept of a classically trained countertenor. In the process, his success opened up all manner of career possibilities. He's headlined a Gershwin evening at the Hollywood Bowl under Gustav Dudamel, sung the National Anthem for his hometown Houston Astros and Rockets, and done a national tour of The John Holiday Experience, bringing together classical, pop, jazz, and R&B traditions. He's worked the Apollo Theater and last summer dropped a pop single, "Alive in Me."
He's on the map of the larger entertainment universe, big time, and enjoying the ride. So it's a relief to find out that his commitment to both performing early music and generating contemporary classical work remains deep and absolute.
In church singing there's a lot of improvisation. What we call 'riffs' and 'runs' are akin to coloratura and Baroque ornamentation.
Speaking in February via Zoom from Chicago, where he was rehearsing for Lyric Opera of Chicago's March 2023 world premiere project Proximity—billed as a trio of new American operas—Holiday discussed his ongoing musical journey and its underpinnings.
"I would say that my upbringing in church informs a lot of my music. In church singing there's a lot of improvisation and what we call 'riffs' and 'runs,' which are akin to coloratura and Baroque ornamentation. Growing up with improvisation made it easier, and it's central to every kind of music-making that I do. Not everyone might agree, but for me singing church music always forced me to listen. I'm a good listener. I play organ, saxophone, and piano, too, and always travel with, or rent, a keyboard.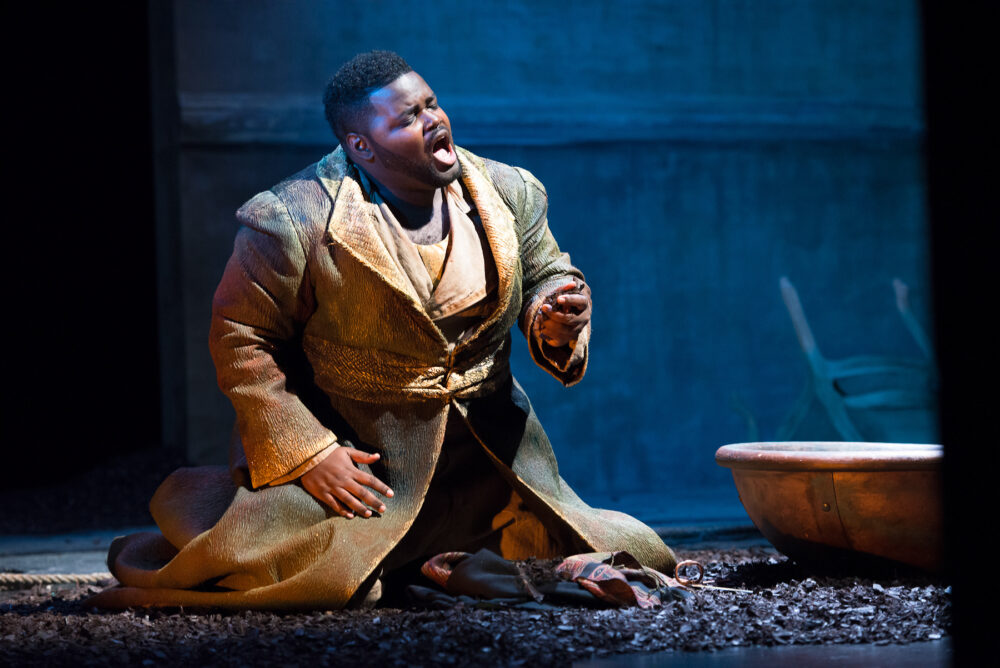 "Growing up in church enabled me to listen to singers from all kinds of backgrounds and hear how they improvised," he continues. "When my family came to see my first Handel role, Tolomeo in Giulio Cesare (at the University of Cincinnati's College-Conservatory of Music), my grandmother heard the varied repeats and said, 'That's just like church music' and I said, 'Exactly!' I'd say, similarly, that my classical training informs my jazz, pop, and gospel. One strand doesn't trump the other—they come together to form the tapestry of my vocal instrument."
His church training sharpened his sense of communicative musicality as well as technical skills such as ease with fast passagework. The singer also pursued a formidable musical education at Southern Methodist University, Cincinnati's CCM, and Juilliard. What caught the attention of Handel devotees (and the New York critics) was his confident and vocally exhilarating headlining of Radamisto, back in 2013, with what was then a newish Juilliard415, just a few years old.
George Loomis noted in the British magazine Opera, "John Holiday sang the title role with a smooth, agile countertenor of substance, and he brought out the pathos of 'Ombra cara'." The following year, singing Serse's intense, cascading "Crude furie degli orridi abissi," Holiday placed among four bronze-medal winners in the Operalia competition in Los Angeles. A Handelian star was clearly on the ascendant.
That same year, at the L.A. Opera, Holiday made a striking Sorceress in Barrie Kosky's well-received production of Dido and Aeneas. In what was surely a historic first, two other Black countertenors, Thomas Allen and Darryl Taylor, played Purcell's First and Second Ladies (the Sorceress' fellow conspirators and backup singers).
Along the way, Holiday has alternated projects in Baroque and contemporary opera and concert repertoire. He took on Handel's Giulio Cesare at Wolf Trap in 2014 and the above-mentioned Vivaldi Cato in Utica the following summer at Glimmerglass. The Washington Post's Anne Midgette heard both: "John Holiday, who sang Handel's Caesar so well at Wolf Trap last summer, was excellent as Vivaldi's version of the same character: a voice both sweet and ardent."
Conductor Ryan Brown describes Holiday with the highest praise: "I had the pleasure of working with John in both Glimmerglass and Opera Lafayette's productions of Cato in Utica: a wonderful Cesare, with a brilliant, clear, penetrating voice and a commanding stage presence."
Holiday's technical prowess and impassioned delivery in Vivaldi can be sampled on YouTube in the remarkable secular cantata aria "Ah, ch'infelice!" from Cessate, omai cessate (RV684), interlocking his phrasing with the pizzicato strings of the Academy of Ancient Music. In April, he's meeting a new Vivaldi challenge: the Stabat mater with Ottavio Dantone and his Accademia Bizantina at London's Barbican (where he and Dudamel have toured Bernstein's Chichester Psalms). Having fallen in love with the harmonically challenging aria "Gelido in ogni vena," he'd now love to do the Venetian composer's opera Farnace.
Two years after Cato in Utica, Holiday made the cover of Opera in the title role of Glimmerglass' Serse—kneeling beneath his beloved plane tree in a brilliant red and gold robe over a regal purple tunic. I attended that opera and noted how he performed with dignity and captured Serse's iron whim, dispatching virtuoso embellishments in a bright, clear timbre. (Although the musically eviscerated edition, stripped of full aria structures, made me hope he'll revisit the role under happier circumstances.)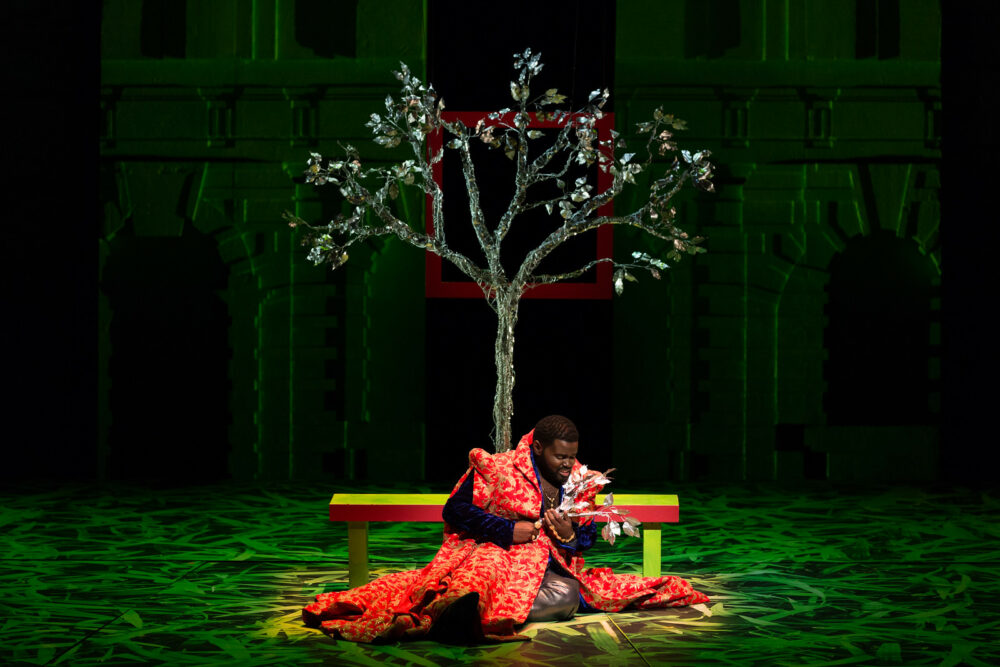 He doesn't stop. A month later, he gave a shattering, heartbreaking performance of the transboi John Blue in Daniel Bernard Roumain's impressive We Shall Not Be Moved (2017) at Opera Philadelphia. During the pandemic, he and composer Tyshawn Sorey collaborated on another piece for Philly, Save the Boys, addressing crucial issues of racial equity. It's available on-demand from Opera Philadelphia's website.
'Open your heart and sing'
As an out gay Black man, Holiday is concerned with issues of representation in the classical-music world, especially in highly visible spaces like the Metropolitan Opera. "I recognize in my journey that I want to make room for other African-American countertenors and countertenors of color. There have been only two of us to grace that Met stage: Derek Lee Ragin and John Thomas Holiday Junior."
The career of American-born and Oberlin-trained Ragin flourished largely in Europe. He recorded Gluck's Orfeo with John Eliot Gardiner and sang the role of Tolomeo in Handel's Giulio Cesare under René Jacobs. In the small role of Nireno, also from Giulio Cesare, in 1988, Ragin was actually the first countertenor ever heard in a Met opera, and he later returned to sing Britten's Oberon. Holiday uses Ragin's career as a model for his own.
"I have been luckier than some colleagues that I know in that I haven't encountered head-on racial bias with companies," Holiday says. "But if I do sense some kind of tentativeness from a company, I can move on. I like to sing places where I feel comfortable. If a regional place wants me to sing, and I like the vibe—I ask about the cast, conductor, and director—I'll sing there. I try to create equity even if it seems there's none, and safe spaces even if it seems there aren't any."
He continues: "I come from a family of nine sibling, so that's how I am: You state your case, and move on. My job is to open the door for other countertenors of color—also for other LGBTQIA artists, though I feel that that's easier in our industry." Indeed, Holiday has encouraged several countertenors of color on the rise, including Rudy Giron, Key'mon W. Murrah, and Iván Maria Feliciano.
This past December, Holiday bravely interlaced his debut appearances at the city's two most formidable musical institutions, showing his strengths in the two classical fachs he inhabits. He made a triumphant Met debut in Matthew Aucoin's Eurydice, succeeding his good friend Jakub Józef Orliński, the star Polish countertenor, as Orpheus' Double, a role which Holiday himself created at the L.A. Opera.
"The very first night [at the Met] I felt outside my body, but I felt ready. And it was absolutely one of the easiest houses to sing in. You walk out there and can't see anybody! I couldn't even see my family, and they were in the fifth row. So you just open your heart and sing! I'll never forget singing on that stage."
Between Eurydice performances, he made his New York Philharmonic debut with a favorite score, Messiah. Conductor Jeannette Sorrell—also making her Philharmonic debut—offered a highly dynamic, theatrical concept, with daredevil cadenzas for the soloists that filled Riverside Church with vivid life. "That was the most comfortable I've ever felt singing the Messiah, which is close to 100 times," Holiday recalls. "I loved Jeannette's concept because I like to move and gesture and give every bit of visualization to the piece. Teachers, bless their hearts, they tell you to sit with your hands folded and score open and wait for your cue. But there's no way you should sit through the Messiah and not move!"
He adapted to the COVID-mandated cuts: The shortening of his favorite aria, "He was despised," was compensated by the skipping of his least favorite number, "O death, where is thy sting?"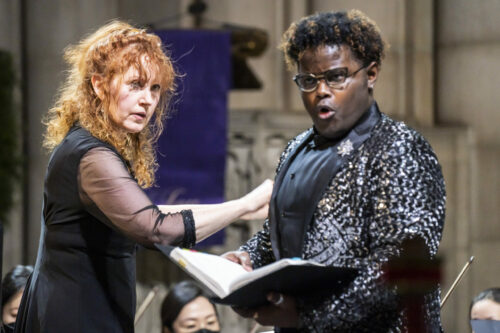 "For me, as a Christian, it's so beautiful to have these Biblical texts put to music and then to share them. I get chills when the bass sings 'Behold I tell you a mystery: we shall not all sleep but we shall all be changed.' And if you like math, you'll like singing Handel—there's very much a pattern to his writing, like equations. I like to write my own ornamentation and, with conductors who know me, I'll change them every night, on the spot. I am not convinced that some of the treatises on ornamentation that have come down to us weren't just written by people in the audience who wrote what they thought they heard. People like Senesino and Farinelli, the rock stars of the day—I bet onstage they didn't feel constrained by rules. They just did what they wanted! I might get shot for saying that, but that's what I think ornamentation should be."
He greatly enjoyed a 2018 Carnegie Hall Israel in Egypt with MasterVoices and anticipates more oratorio in his future, especially roles like David in Handel's Saul and the St. Matthew Passion. Holiday knows that "Bach's writing is very difficult and it sits in the middle of the passaggio, but it's very beautiful. And the Mass in B minor is so jazzy!" He's fascinated by arias with obbligato such as Mozart's "Parto, parto" from Clemenza di Tito, accompanied by the clarinet, which was Holiday's mother's instrument.
For upcoming projects, Holiday says he isn't free to disclose more than the fact that he has leading roles planned for the Met. (Rumors place him in the starry cast of an upcoming Baroque pastiche.)
We're in an era when Baroque operas, like Wagner's music dramas, boast their own travel-ready audience. The Met has never staged early-music masterpieces like Monteverdi's L'incoronazione di Poppea or Alessandro Scarlatti's Griselda or Handel's sensational Alcina or Ariodante—all of which contain ideal roles for Holiday. (In 2011, the Met's first attempt at Baroque pastiche, The Enchanted Island, was an artistic disaster, confused and pretentious, despite many wonderful singers. So why would this world-class company plan a second Baroque pastiche? It boggles the mind.)
In addition to his accelerating international career, Holiday is a committed voice teacher. After a stint at Ithaca College, he is now Associate Professor at the Conservatory of Music at Lawrence University in Appleton, Wisc. (Lawrence's best-known classical vocalist alumni are probably baritone Dale Duesing and soprano Heidi Stober.) He's manifestly generous with his time and encouragement in "passing it forward."
Through it all, with his cabaret act on the side, the rising star has enjoyed the bifurcation of his classical repertoire between new and early music. Jonathan Dove's Flight and Handel's Agrippina (as Nerone) are in prep on his music stand. "I'm so excited by working on the Vivaldi Stabat mater, I'm getting chills."
"As a young singer, I used to hate it when you'd see people tell interviewers who asked their favorite role, 'Oh, whatever I'm doing now!' because I thought it was so fake! But, being an adult, the truth of the matter is that the joy is in the work."
Critic and lecturer David Shengold resides in New York City. He regularly writes for Opera News, Opera, Opéra Magazine, Opernwelt and many other venues and has done program essays for the Metropolitan, Lyric Opera of Chicago, Washington National Opera, ROH Covent Garden and the Wexford and Glyndebourne Festivals.