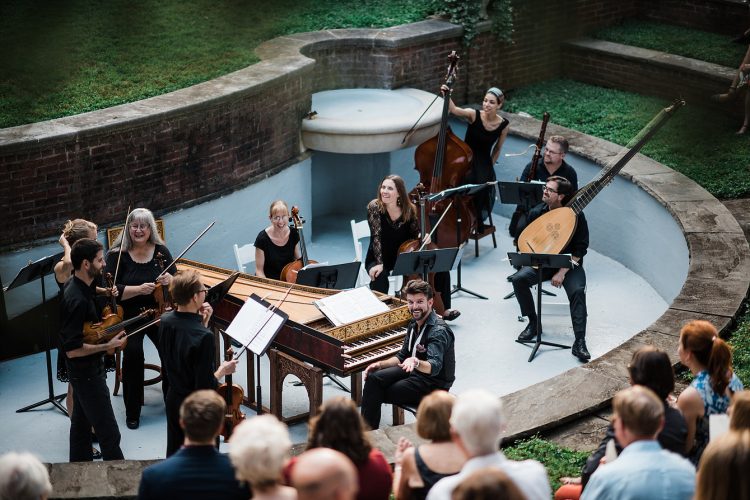 Violinist Alice Culin-Ellison grew up in Louisville, Kentucky, went away for college, and came back. Now she's the common thread between Bourbon Baroque and Incantare, two early-music groups making some noise, as they say, both at home and beyond.
Of all things, what got Culin-Ellison in the door with Louisville-based Bourbon Baroque was a pitch from her mom to the ensemble's founders, John Austin Clark (keyboards) and the late Nicolas Fortin (violin). "She said, 'My daughter is learning the baroque violin and you need to consider her.' She was very forceful. It was funny," said Clark about the encounter, which took place after a Bourbon Baroque concert around 2010.
"She's my No. 1 fan," Culin-Ellison said of her mom, laughing. By that point, the violinist had indeed begun dipping her toes into the historical side of the pool. At the time, she was enrolled in a master's program in modern violin at the Mannes School of Music in New York, but she realized it wasn't what she wanted and left after a semester, returning home to Louisville.
There she connected with Clark and Fortin and proved her mettle with a recital of solos and chamber music.
"I was thrilled with her playing," Clark said. Culin-Ellison soon enrolled in the early-music program at Indiana
University, honing her craft while remaining an easy two-hour drive from gigs with Bourbon Baroque.
Clark also grew up in Louisville. "I always intended on coming back and starting a baroque ensemble of professional quality," he said. Organizational skills were seemingly in his DNA: Already as an undergraduate at the Oberlin Conservatory, he found himself bringing people together for multiple large projects.
During graduate studies at McGill University, Clark met Fortin, a violinist from Quebec, and in 2007 the duo moved to Louisville to start Bourbon Baroque. The name is, of course, a tip of the hat to one of the area's most famous industries: Kentucky is known as "the birthplace of bourbon," and 95% of the world's supply is made there.
It's also a reference to the French royal House of Bourbon, to the connection between France and Louisville (named for King Louis XVI), and to the music of the French Baroque. That genre was just a starting point for the ensemble. Their biggest projects have run the gamut from Telemann (Don Quixote at Camacho's Wedding with Kentucky Opera) and Handel (Alcina with Sacred Heart School for the Arts) to Rameau ("Les Sauvages" from Les Indes Galantes, featuring the giant, beautiful puppets of Squallis Puppeteers) and Mozart (a recent program with Louisville Ballet). These collaborations and others have also solidified the group's reputation for working with local institutions, a particular point of pride.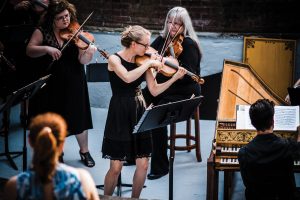 Yet another feather in their cap: a tradition of producing Handel's Messiah every Thanksgiving weekend since 2013. "It's a huge project—you're dealing with lots of people—but it's totally worth the effort," Clark said. The most recent edition involved the Philadelphia-based vocal ensemble Variant 6. Culin-Ellison arranged for a performance at the Hotel Louisville, a building that serves as both a traditional hotel and a transitional living shelter. "I'm a little biased, but that was the most incredible Messiah I've ever been involved in," she said.
In 2015, the group found itself geographically divided, with Fortin back home in Montreal.
Clark decided it was as good a time as any to move Bourbon Baroque to New York City, where he could also explore his interest in directing musical theater. Ironically, that two-year chapter included what might be the group's most Kentucky-themed program: a celebration of the Kentucky Derby on the day of the race—the first Saturday in May, known as Derby Day.
In a way, anywhere but home was the perfect place to do it. "If we were in Louisville," Culin-Ellison said, "we could never perform on Derby Day because nobody would show up." The program began with footage of the previous year's race, won by American Pharoah—one of the rare horses to complete the Triple Crown (a sweep of the Kentucky Derby, Preakness Stakes, and Belmont Stakes).
"We were all able to relive that first race of the Triple Crown, which was really fun," Clark said.
Then the group launched into Telemann's suite Burlesque de Quichotte, which not only includes a movement representing Don Quixote's horse, but, as Clark said, is also just "fun, rollicking, and horse-like" in general.
More Kentucky flavor came in the form of two arrangements: Louisville-born composer John Jacob Niles' "The Lass from the Low Countree" and Stephen Foster's "My Old Kentucky Home," the state song, performed in a sing-along with the audience. "I thought, 'We need to show New York what our Kentucky roots are,'" Clark said. To top it off, the group projected that year's race live during intermission, and winners of a drawing were able to walk away with a bottle of Medley Brothers bourbon.
In 2016, Clark received shocking news: Fortin had died. "Personally, obviously it was devastating," Clark said. He knew nobody could replace the violinist, and yet he needed help. Who to ask? "I wanted someone who would bring to the table the healthy back-and-forth that you need to create growth," he said. He recalled going to Culin-Ellison for advice. She told him there was no rush—he would know what to do when the time came.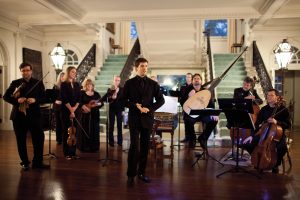 Eventually, it hit him "like a load of bricks," said Clark. He phoned Culin-Ellison, who gave him a resounding yes. "It was so great to hear that because she's a phenomenal player, extremely intelligent, a great person, and she's from Louisville."
What's more, Bourbon Baroque was coming home. The ensemble's first concert back in Louisville was also Culin-Ellison's first as co-artistic director. "She did 'Autumn ' from The Four Seasons," Clark said. "I wanted her to show off."
But the basis of the program was the Ursuline Manuscript, a document that includes the oldest music performed in New Orleans after its founding by the French in 1718. What made the occasion so special was that Fortin had mentioned the Manuscript to Clark in an email that ended up being one of their last correspondences. "I still have those emails—I haven't deleted them," Clark said. "It was very meaningful to perform that music."
Bourbon Baroque continues to honor Fortin with a scholarship fund in his name. Each year, the ensemble helps a rising Baroque specialist cover tuition for a one-week summer workshop. The most recent fundraiser for the scholarship was held in February 2019, thanks to sponsorship from the local Ballotin Whiskey company. "It was really wonderful that they reached out to us and wanted to be part of this," Culin-Ellison said. "We want Nico's legacy to live on. He was so passionate, and we all miss him a lot."
The group performed live on local morning television to promote the event, then hauled a harpsichord to a liquor store, where Clark played solos, pop arrangements, and chamber music with friends. "You think you've done it all," he said. "As you can imagine, people were just coming in for a handle of liquor, and they came across Handel."
I told him I'd watched a clip from the morning talk show and had heard him make that same joke, though admittedly it's a good one. "I thought of that last-minute," he said, laughing. "Plus, TV hosts do all these punny things. I was like, I can do that, too—watch me."
One person outside Bourbon Baroque who has seen the group grow from its beginning is Daniel Gilliam, program director at 90.5 WUOL Classical Louisville. In a telephone conversation, he described how the group fits into the local arts community. "We've always had a robust early-music scene," he said, pointing out the University of Louisville's early-music program, long directed by Jack Ashworth. "But I felt that Bourbon Baroque concerts elevated the quality and the commitment quite a bit."
To Gilliam, the ensemble's approach to historically informed performance feels more contemporary and less historical.
"Of course, they're young, so they bring a lot of energy and youthfulness to early music that you don't normally associate with it, at least in Louisville," he said. "And they aren't a part of the university. They're their own entrepreneurial ensemble. I think their energy really affects how people perceive their concerts."
Sackbuts and a Violin
In 2018, the last year of Culin-Ellison's doctorate at Case Western Reserve University, her teacher, Julie Andrijeski, organized a project on campus with trombonist Greg Ingles that involved some of his current and former students coming to town. Having played trombone growing up, Culin-Ellison felt a special connection with the players, especially Ben David Aronson from Rochester, Garrett Lahr from Minneapolis, and Liza Malamut from Boston.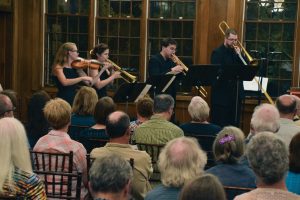 The feeling was mutual. Already familiar with each other, those three knew they wanted to form a mixed-instrument group involving the sackbut (a historical trombone). "And then Alice was just perfect," Malamut said. "It felt really intuitive to play with her. We all fit right in together, and we think about music in similar ways." Part of what they share is a passion for research. "We really dive in as performer-scholars," Culin-Ellison said.
The group, which came to be called Incantare, puts that research to good use, programming marginalized and forgotten composers to expand the canon and put their music in context. A great example is their "Exile" program, which they'll perform next year in New Jersey and New York. It focuses on Jewish composers in Italy, like Salamone Rossi, and the famous composers they influenced, like Monteverdi. "What we're hoping to do is help people rethink artistic legacy," Malamut said, noting how external circumstances often play a role in determining who is remembered down the line and who isn't.
Incantare was looking forward to spending the summer of 2019 at the Avaloch Farm Institute, an invaluable time for the players to work together in person, since they all live in different cities. "It's a good opportunity for us
to develop programs," Malamut said. "That includes finding the repertoire, experimenting with it, doing some playing, and of course all the administrative stuff that's easier together rather than thousands of miles away."
The instrumentation of violin and sackbuts might surprise some listeners. WUOL's Gilliam described how the group's February concert in Louisville was received, saying that the audience seemed to walk away "with a sense of awe" about the unusual combination. "There was a childlike fascination with the instruments and the music," he said. While that instrumentation is indeed uncommon today, Malamut pointed out that in the 17th century, lots of music was written for combinations of strings and winds, especially trombones. "It's actually a very easy and beautiful blend," she said.
Aside from creative programming, interesting repertoire, and a unique instrumentation, there's a "special something" that characterizes the group, Malamut said. "It's hard to put it into words, but you become a unit. You're making music together in tandem rather than separately." She immediately felt that with Culin-Ellison, as she had with Aronson and Lahr before. "And that feeling was part of the impetus to start the group, because that's really hard to find."
Incantare had a chance to demonstrate what they do during an outreach event at the Youth Performing Arts School in Louisville, where Culin-Ellison went to high school. "My band teacher is still there," she said. "It was really fun, and it made me super proud to go back."
There may have been some giggles in the room when the term "sackbut" was mentioned—"Everyone thinks it's hilarious," Malamut said, laughing herself. But the group used the opportunity to explain the origins of the word—French for "push" and "pull"—and to say that it's just a term to differentiate the instrument from its modern
grandchildren.
When Malamut played trombone back in high school, she had never heard of sackbuts or early music. "I know that's not true for everybody," she said, "but it was really nice to introduce this music to the students, especially the trombone players, who seemed really interested and engaged."
Having an awareness of historical performance opens up another door to young people, Malamut said, and gives the field a greater audience. "That's really exciting for us."
Jarrett Hoffman is assistant to the editors at ClevelandClassical.com and served as a fellow at the 2014 Rubin Institute for Music Criticism. As a clarinetist, he performs in the Hudson Valley and New York City and runs a private studio.