The versatility of Nashville's historically informed musicians has made them flexible, even delightfully heretical, in their approach to performing early music.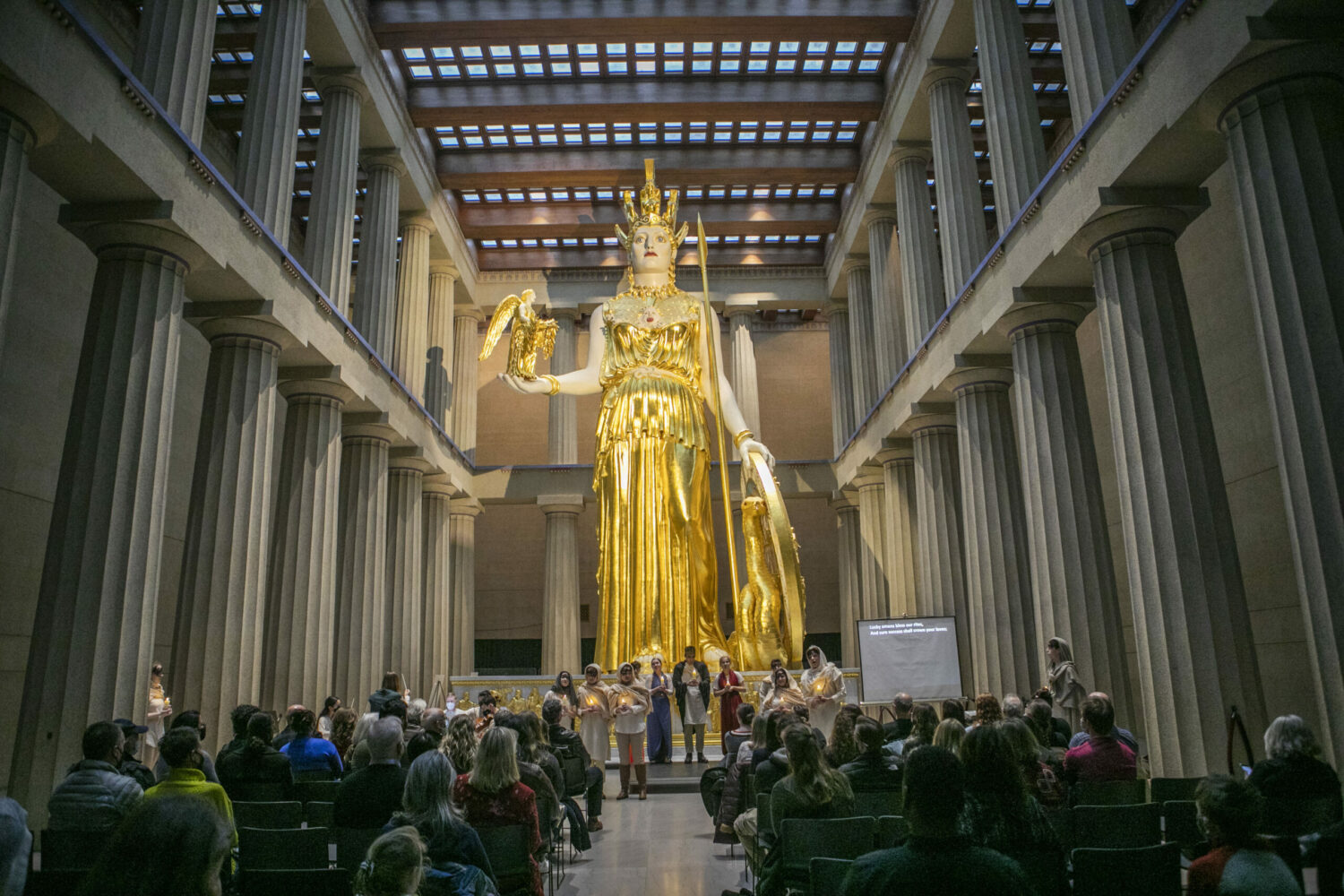 Half past eight on a frigid Nashville evening, and the King of the Gods is in a steamy mood. The object of Jupiter's lust is a social-climbing mortal named Semele, whose beauty is enough to make blushing flowers bloom. The pretty parvenu pines for immortality, but it's doom that awaits her. In the background, we see the towering figure of Athena, Jupiter's daughter, watching this adulterous spectacle with apparent disdain.
Of course, in George Frideric Handel's 1744 opera-oratorio hybrid Semele, the Goddess of Wisdom doesn't have a part. It's Jupiter's fiercely jealous wife, Juno, who sees to Semele's demise. But in Nashville, which called itself "Athens of the South" long before adopting the moniker "Music City," Athena is a ubiquitous symbol.
For Vanderbilt Opera Theatre, which staged Handel's masterpiece in February as its first regular public performance since the start of the pandemic two years ago, Athena was both the unavoidable and welcome 40-foot deity in the room. The production, featuring a small student string ensemble and singers expertly coached in Baroque performance practice, ran two consecutive nights inside Nashville's Parthenon. This full-scale recreation of the ancient Greek temple includes the towering statue of Athena as its centerpiece.
María Romero Ramos, an assistant professor of violin and director of historical performance at Vanderbilt University's Blair School of Music, describes the Parthenon's cavernous space, with its ample reverberation, as a near-perfect site for a historically informed performance. "You have to give your ears a moment to adjust," says Romero. "But you get used to it quickly, and then you hear all of Handel's amazing tone colors like nowhere else."
Vanderbilt's historical performance (HP) program is just one part of an early-music scene that's been ebbing, flowing, and growing in Nashville for nearly 20 years. The city is home to two HP ensembles, Music City Baroque and Early Music City. Each can boast of distinguished pedigrees. There are also a couple of churches, St. George's Episcopal and First Lutheran, that serve as regular venues for early-music performances, along with an assortment of choral groups that routinely perform Renaissance and Baroque music.
The Nashville Effect
Nashville's period-instrument musicians can play Bach's B-minor Mass with the best of them. But these musicians are influenced just as much by their close association with Music City as they are by their familiarity with valveless horns and viola da gambas. Nashville has a music infrastructure that is second to none, with over 180 recording studios, 130 music publishers, 100 live music clubs, and 80 record labels.
The urbanologist Richard Florida once famously described the concentration of musical talent and resources in a city as the "Nashville Effect." This phenomenon has contributed to a remarkably versatile commercial- and classical-music culture.
It's not uncommon for Nashville classical musicians to perform Mahler with the Nashville Symphony, record a pop song with Miley Cyrus, premiere a 21st-century piece with one of Nashville's several contemporary-music ensembles, and give a period-instrument performance of a Bach Brandenburg Concerto—all in a few weeks.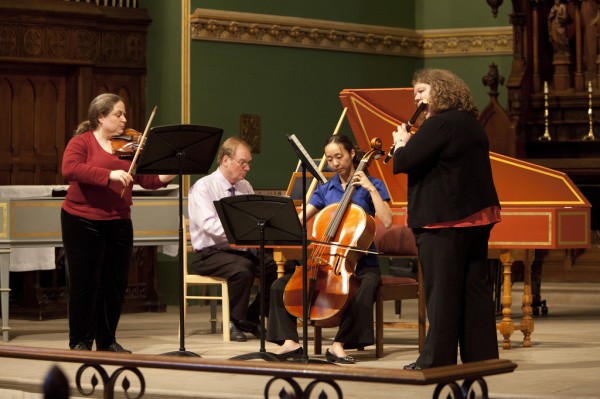 Chris Stenstrom, a long-time cellist with the Nashville Symphony who also performs regularly with Nashville's contemporary group Alias Chamber Ensemble as well as Music City Baroque, is typical of this kind of musician. Indeed, he keeps a spare cello in his closet, strung with sheep gut and tuned to A415. "I like to have one instrument that's settled in and ready to play Baroque music," Stenstrom says.
The versatility of Nashville's historically informed musicians has made them flexible, even delightfully heretical, in their approach to performing early music. Sure, many performances take place on period instruments and are so exacting in detail that even the proper tuning for French Baroque music (A392) and German Baroque music (A415) are carefully observed. But many of Nashville's historically informed players are open to performances using modern instruments, and most are utterly expansive in their definitions of what constitutes early music.
Although Bach, Handel, and Telemann are often performed, one also encounters programs devoted to Baroque women composers, along with music from Nashville's early history, which includes Negro spirituals, hymns, and fiddle music. "Nashville musicians have never felt the need to be completely orthodox in their approach to early music," says Jessica Dunnavant, a long-time flutist with Music City Baroque who teaches modern and Baroque flute at both Vanderbilt and Lipscomb universities. "Rhinestone and twang are welcome at our concerts."
Nashville is truly a music city, boasting more professional musicians per capita than any other city in the U.S. other than Los Angeles. All the same, Nashville came late to the early-music game. Things didn't get started until 2003, when George Riordan, an oboist and scholar steeped in Baroque performance practice, left his post as an assistant dean at Florida State University College of Music to become director of the School of Music at Middle Tennessee State University.
That summer, Riordan's wife, Karen Clarke, a noted period violinist who had performed with the Atlanta Baroque Orchestra and Smithsonian Chamber Orchestra, among others, noticed an item in an Early Music America newsletter that caught her eye. Murray Forbes Somerville just announced he was leaving his position as Harvard University's University Organist and Choirmaster to take up a post in, of all places, Nashville.
Born in London, raised in Rhodesia (now Zimbabwe), and educated at Oxford University, Somerville is an urbane artist who mastered his craft playing some of Europe's finest organs while also studying under Karl Richter in Munich. He brought his elite background and charming Oxford lilt to Nashville.
There wasn't much of an early-music scene in the city when Somerville arrived to take over duties as director of music ministries at St. George's Episcopal Church, located in the city's upscale Belle Meade neighborhood. But the basic ingredients needed for an exceptional period-instrument culture were already in place.
Nashville's classical-music scene was, at that moment, on the cusp of its golden age. Kenneth Schermerhorn, then music director of the Nashville Symphony Orchestra, had already established a partnership with Naxos Records to record for its American Classics series. This arrangement would soon turn the Nashville Symphony into a Grammy Award juggernaut. Martha Ingram, a Nashville billionaire benefactor, was meanwhile dispensing funds to her favorite performing-arts groups with unprecedented largesse. This culminated with the 2006 opening of the Schermerhorn Symphony Center, modeled after Vienna's Musikverein.
The city, moreover, had plenty of choristers who knew their way around Handel's Messiah, and a growing number of classical musicians who had at least some training in historically informed performance. This was fertile ground for the right maestro to plow.
Somerville says he moved to Nashville because St. George's Episcopal invited him, he was ready for new challenges, and his South Carolina-born wife Hazel's "Southern bones never got used to Boston winters." If he harbored any doubts from afar about the quality of Nashville's classical-music scene, they were quickly dispelled. "Coming from Boston, I typically thought at first that I might need to approach the music in Nashville with a certain degree of charity," says Somerville, who was speaking by phone from South Carolina, where he has now retired. "But as soon as I heard the Nashville Symphony, I realized that no charity was necessary. Classical music in Nashville was just first rate."
Not long after Somerville moved to Nashville, Riordan connected with a phone call. "I invited Murray out to MTSU for an early music jam session," Riordan recalls. "We played that first session, and Murray declared that we needed to put on a show. Our first concert happened just one year later at St. George's Episcopal."
The duo had no trouble finding musicians for their project: Riordan's Rolodex seemed to include the name of every period-instrument wind player in North America. Riordan's connections ran deep because he'd been at it for so long. As a young musician, he had sought out instruction from the first generation of artists who were pioneers of historic oboe performance in America.
Turns out the man was an old-time fiddler player, and he noticed a close parallel between Ross' approach to French Baroque repertoire and his own Appalachian tradition.
Riordan and Somerville christened their new group Belle Meade Baroque, and its first concerts were generally small affairs with programs devoted to chamber music. But over time more ambitious works were on the bill, including Bach's Brandenburgs and Vivaldi's Gloria. Riordan played an oboe built by Harry Vas Dias and modeled after a circa-1700 Thomas Stanesby instrument.
Audience members who came to the group's concerts found themselves awash in sounds that approximated the styles heard in the 17th and 18th centuries. To some in Nashville, these sounds, and the bowing techniques employed, seemed strangely familiar. After one concert in Murfreesboro, Tenn., a man in overalls approached violinist Laura Ross to comment on her playing technique. Turns out the man was an old-time fiddler player, and he noticed a close parallel between Ross' approach to French Baroque repertoire and his own Appalachian tradition.
Clarke, who founded the historic-performance program at Vanderbilt, had noticed other similarities. She mentioned to Somerville that tunes from John Playford's 1651 The English Dancing Master are still standards of American fiddling. This helped convince Somerville and others in the ensemble to launch the Baroque Fiddling Project. With funding from the Tennessee Arts Commission, the project culminated with a series of workshops that brought together violinists and fiddlers from across the region.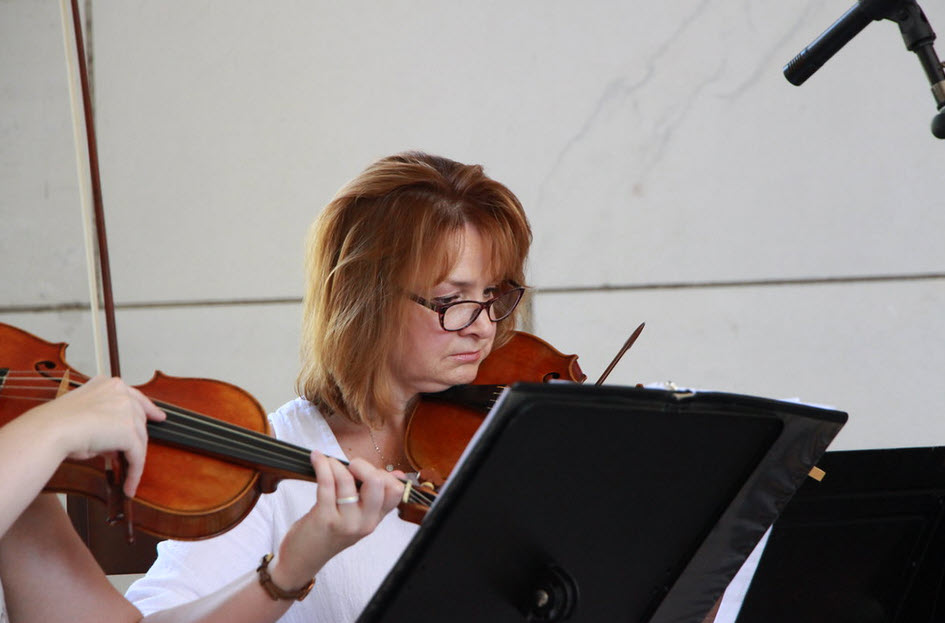 Tammy Rogers-King, the Grammy-winning founder of the SteelDrivers bluegrass band, participated in the Baroque Fiddling Project and has also been active in performing with Music City Baroque—the name that Belle Meade Baroque adopted in 2009. She believes the similarities between Baroque violin technique and fiddle playing has a lot to do with the penchant both styles have for snappy dance numbers.
"A lot of what fiddlers play are hoedowns and other fast pieces where you just don't have time to vibrate a string," says Rogers-King. "For the same reason, you use a lot less weight and tension in your bow strokes."
As a fiddler player, Rogers-King was accustomed to playing the soprano line in most performances. So it was a departure when Somerville approached her in 2012 to play viola in Music City Baroque's most ambitious concert up to that time, a full-fledged historically informed performance of Bach's B-minor Mass at St. George's Episcopal Church.
The performance proved to be both a high-water mark and a turning point for Music City Baroque. Somerville soon retired and left Nashville, and within a few years Riordan and Clarke would likewise retire. The respected Baroque violinist Allison Nyquist stepped in as artistic director of Music City Baroque and also filled Clarke's role as director of historic performance at Vanderbilt's Blair School of Music. But she eventually departed, leaving flutist Dunnavant, cellist Stenstrom, oboist Jared Hauser, and other long-time Music City Baroque players to fend for themselves. "It was like Mom and Dad had suddenly left us in charge of the house," Dunnavant says.
'Early Music 2.0'
As Music City Baroque was searching for a new direction, one veteran period instrumentalist was striking out on his own. Francis Perry, who teaches guitar and lute at Nashville's Belmont University, had been a fixture in Nashville's early-music community since moving to Nashville in 2005. As an accomplished lutenist, Perry was in high demand. And he had at least one perfect instrument for the job, an eight-course, 15-string lute crafted in London by Malcolm Prior. (After finishing Perry's lute, Prior crafted his next instrument for Paul O'Dette.)
In 2015, Perry and local violin shop owner Dustin Williams helped organize the first and, so far, only Nashville Early Music Festival. Held at Lipscomb University, the festival attracted a fair number of early musicians, who participated in workshops and attended concerts featuring such ensembles as the Cleveland-based L'Académie du Roy Soleil.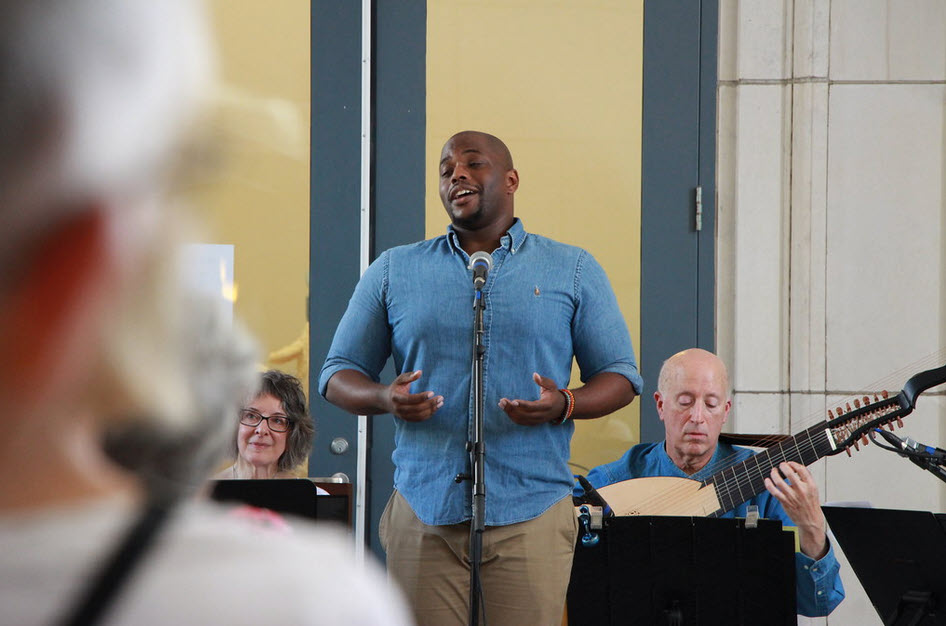 For Perry, the festival had a lasting impact because of his chance encounter with a young countertenor named Patrick Dailey. A vocal professor at Tennessee State University, Dailey heard of the Nashville Festival while attending San Francisco's American Bach Scholars Festival. He immediately sent Perry an email asking if he could participate in one of the Nashville Festival's master classes. Perry later visited Dailey at his Tennessee State studio and accompanied the countertenor on lute. The experience inspired both musicians to launch yet another early-music ensemble.
'In Bach's day, the performers and even the congregants were co-creators of the music performed during the service, and I'd like to have more of that at our church.'
Called Early Music City, the group would take a respectful but relaxed approach to historically informed performance. Period and modern instruments would both be welcome at Early Music City concerts, and programs might feature an eclectic mix of Baroque suites, Celtic songs, and Negro spirituals. Perry, Rogers-King (who is now active with this new group), and Dailey lightheartedly refer to their approach as "Early Music 2.0."
Since its official launch in 2020, Early Music City has performed at the Nashville Public Library Courtyard Concert Series. It was included in the 2021 Boston Early Music Festival Fringe Concert Series. Importantly, the ensemble has forged a new partnership with Nashville's First Lutheran Church, where it serves as ensemble-in-residence. Kristen Hansen, the church's minister in music, says she would like to include more of Early Music City's playing in her church's Lutheran service, just as old Johann Sebastian would have done.
"We think of the classical music we hear in the concert hall being sacrosanct and unalterable, but that's not the case with early music," Hansen says. "In Bach's day, the performers and even the congregants were co-creators of the music performed during the service, and I'd like to have more of that at our church."
Across town at St. George's Episcopal, early music continues to thrive under Woosug Kang, who succeeded Somerville as director of music ministries. Kang has created his own vocal ensemble called Elevare, a nine-member professional group capable of bringing out the most expressive and virtuosic qualities in sacred music.
Meanwhile, Music City Baroque, the city's original HP ensemble, has charted a new course. Following Nyquist's departure as artistic director, the group emerged as a musician-led ensemble intent on exploring the far reaches of the early-music repertoire. Romero, who succeeded Nyquist as Music City Baroque's period violinist, has done considerable research into the music of Baroque- and Classical-era women composers. The fruit of this research was showcased at a Music City Baroque concert in March 2020, days before the first Covid shutdowns. That program featured works by Isabella Leonarda, Anna Amalia, and Barbara Strozzi, among others.
Always looking for new approaches, Music City Baroque has delved into the music of such seldom encountered composers as Michel Blavet, Johann David Heinichen, and Antonio Caldara. The ensemble is planning future collaborations with Baroque singers and dancers, along with concerts at St. George's Episcopal and First Lutheran.
Back at the Parthenon, Romero and her Vanderbilt colleagues are thrilled with their string players and vocalists, who performed Handel's Semele with winning vitality. Romero is also excited about the success of Vanderbilt Opera Theatre's production, which sold out the Parthenon for two consecutive, icy cold evenings. That achievement, along with other early-music collaborations underway in the city, bodes well for Nashville's early-music fans. It means they can look forward to more grand ole Baroque opry in Music City.
John Pitcher writes about the arts for the Nashville Scene. He is chief operating officer for the Monthaven Arts and Cultural Center in Hendersonville, Tenn.