Award-winning Rachell Ellen Wong splits her time on Baroque and modern violins. 'I always try to do it in the most historically educated way'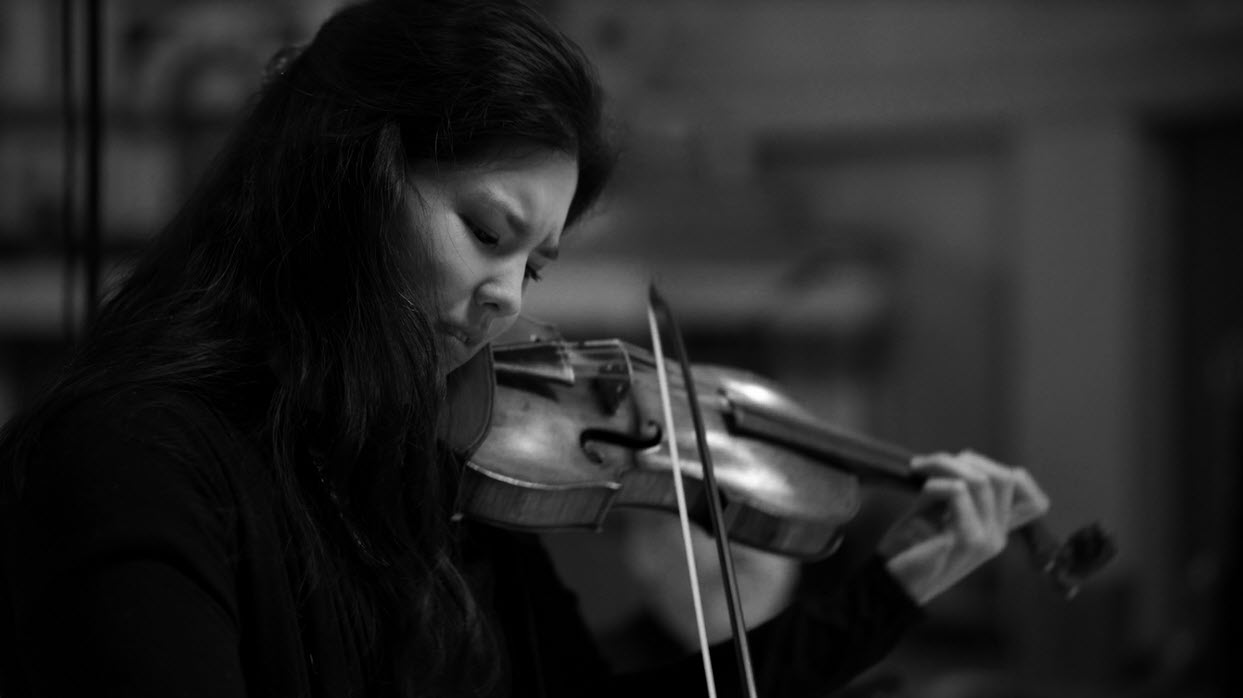 In recitals, violinist Rachell Ellen Wong often plays her arrangement of Giuseppe Tartini's Devil's Trill Sonata as a way of introducing herself, a glimpse into her musical mind.
The Devil's Trill—supposedly inspired by a wild 1713 dream in which the Devil played, according to the composer, "a sonata so singular, so beautiful, executed with such superiority and intelligence," that it nearly made Tartini abandon music altogether—is a common showpiece on violin recitals. In extroverted 20th-century editions, it's a fast, furious gauntlet of upbow staccato, multitasked trills, and flashy cadenzas of questionable historical merit. (Fritz Kreisler's cadenza keeps the violinist trilling through nearly two minutes of music.)
Wong's version mines a different kind of virtuosity. Research has shown that Tartini preferred to play his sonatas unaccompanied, forgoing the basso continuo lines included in their published editions. In the spirit of historical performance, Wong follows suit, fitting the would-be continuo accompaniment around the contortive solo violin part (and with inspiration from Andrew Manze's recording). At times, those additions manifest in grand ta-da! chords; at others, in a surreptitious note that implies a tonal center without giving too much away.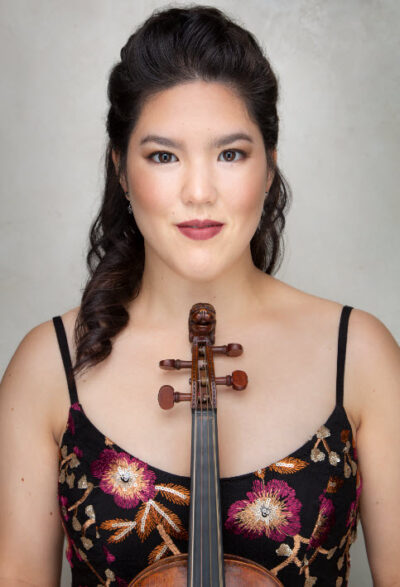 For Wong, playing Tartini's sonata without continuo helps to accentuate the theater of the piece. "If you've ever had a nightmare, it's never measured," she says. "Things just come at you, and you almost have no sense of time. I feel like you can really get that playing by yourself—you can make it very fantastical, very scary."
But beyond the self-accompaniment, Wong treats the Devil's Trill as a stomping ground for her unfettered imagination. In her fantasyland, the Devil makes his presence known. The namesake trills rumble eerily; the long notes sear with intensity; occasionally, the bow bobs suddenly towards the bridge, splintering her full-bodied tone into a brittle, overtone-rich snarl. Beholden to no strict beat, Wong's phrases fall where they feel most musical, expanding and contracting within the outer limits of metric time, slightly different on each playthrough. In fact, Wong improvises throughout the sonata, most notably when she jettisons the second movement entirely in favor of a short, fiery fantasia on Tartini's motives.
When Wong won her Avery Fisher Career Grant in March 2020, news outlets everywhere touted her as the first Baroque artist to receive the prestigious prize. Looking at her schedule for the 2022-'23 season, that label—"Baroque artist"—tracks. Four concerto appearances with the Seattle Baroque Orchestra. Solo recitals sponsored by Washington Bach Consort and Berkeley's Cal Performances. Several pan-European programs with Twelfth Night, the New York-based Baroque ensemble she co-directs. She'll even premiere works by Caroline Shaw and Damien Geter in Seattle—contemporary, yes, but written specifically for Baroque ensemble.
And yet, when Wong has a weekend off, she'll often retire her 1700 Hamburg-school Baroque violin in favor of her mid-20th-century modern instrument from Carlo de March, jetting off for a crowd-pleasing chestnut concerto—Mozart or Sibelius or even Shostakovich. This season includes Beethoven in Indiana, Mendelssohn in Washington, and Sarasate's Carmen Fantasy in New York City.
As we sipped coffee in an Upper Manhattan park, Wong told me that, despite her reputation in the early-music realm, she actually splits her playing time evenly between Baroque and modern violin. She doesn't resent the Baroque label, but she's not totally sure that it tells her whole story. "I don't just play Baroque—I play lots of different time periods, and I always try to do it in the most historically educated way," she says.
Baroque violin seemed different and fun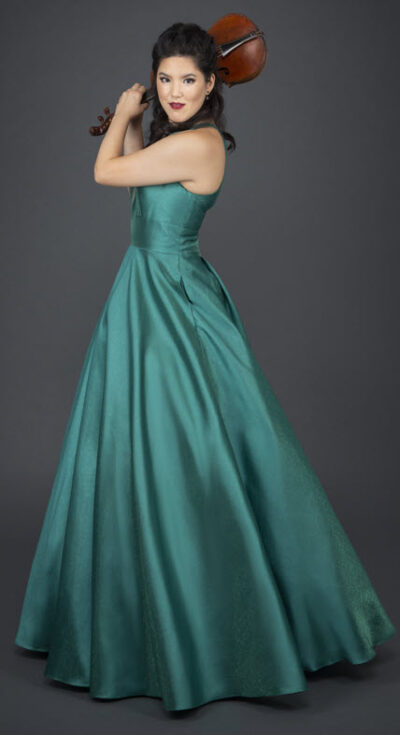 As a child in greater Seattle, she studied with Kent Coleman, considered the region's preeminent violin teacher. His alumni regularly play in (and in front of) the nation's top orchestras. Coleman passed away in 2007, when Wong was in high school. His wife, Jan, teaches the studio's younger students, and until she could name a successor the spot was filled by Brian Lewis, a violin professor at the University of Texas at Austin.
Wong followed Lewis to a funded undergraduate degree at UT. The early-music scene at UT is sparse, but Baroque seemed different and fun, so she dipped her toes where she could. It wasn't until her master's degree at Indiana University (also in modern violin) that Wong fell in love with Baroque playing.
In fact, it was an Indiana loophole that led Wong to the cult of the gut string. At IU, if you study an orchestral instrument, you have to play in orchestra—no exceptions. Wong was less than thrilled. "I love listening to orchestras, but I hate sitting down when I play," she says. "And I hate being told what to do."
But she had a lifeline: IU's Baroque orchestra could fulfill that requirement. Wong paid a visit to legendary Baroque violin professor Stanley Ritchie, practically begging him to let her join. He handed her a period violin and some Geminiani exercises: "Come back in a week and see how you do."
A week later, Ritchie was impressed with Wong's progress and gave her a spot in his Baroque ensemble. "Thank god," she says with a hearty laugh, "because I bombed my modern orchestra audition." (She had some choice words about the infamous violin excerpt from Strauss's Don Juan.)
Wong continued to study privately with Ritchie while finishing her master's. They both fondly recall the day she asked for his cadenzas to Beethoven's violin concerto—it was a mere 24 hours before the finals of the IU String Department's concerto competition, where Wong would compete for top prize. "I [gave her a copy], and in the final next evening, she played them—from memory!" Richie recalls. "Afterwards, some of the violin faculty asked if they could have a copy, too, because her performance had been so convincing."
To this day, Wong cites Richie as a formative influence. Just a few months ago, they reunited after a solo recital she gave in Nashville, Indiana. It was the first time they'd talked since she left IU in 2015.
"I was so nervous for that concert. What if he hated everything?" she worried. "It was really emotional. Seeing his face after, it made everything worth it. I really missed him—I wish I could play for him every week."
No surprise, Richie loved the performance. "I thoroughly enjoyed the freshness of her interpretations when I heard her in Nashville," he says. "I am very proud of being someone who set her feet on the path she'll follow for the rest of her life!"
Wong landed in New York City in 2016, after a year on trial with the New Zealand String Quartet—she loved the rolling green hills, but not the professional chamber ensemble life. Her then-boyfriend, a violist she'd met in 2015 at the Heifetz International Summer Institute, was already in New York. She was eyeing Juilliard's relatively new, fully funded Historical Performance program, but she arrived too late to take the class-of-2018 audition. Like many freelance musicians in New York, Wong spent a year paying top dollar to sleep in someone's living room, cobbling together gigs, and accepting violin students to make rent.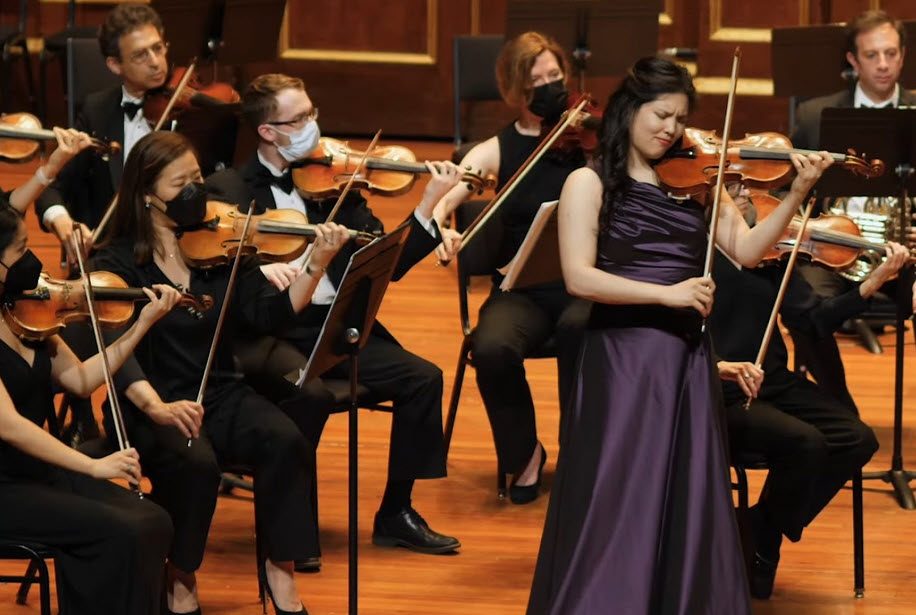 By fall 2017, Wong was finally able to focus on Baroque. She entered Juilliard with one of the school's Kovner Fellowships, which paid her rent on top of the free tuition. For the first time in her life, she was primarily playing Baroque violin—about 80 percent of the time, she estimates.
With the preponderance of Wong's projects since Juilliard leaning pre-1750, it's no wonder the coverage around her Avery Fisher Grant labeled her a Baroque performer. But Wong resists self-categorization. "I just consider myself a violinist," she says. "Why limit myself?" Indeed, a few months before the Fisher Grant was announced, Wong came away with first prize in the inaugural Lillian and Maurice Barbash J.S. Bach Competition, which is open to both historical and modern stringed instruments. Wong found success with a middle path, playing a modern violin with hybrid gut strings and a baroque bow.
'I just consider myself a violinist. Why limit myself?'
Technique, sure, but personality, too.
Even at Juilliard, Wong used her signature Devil's Trill as a prodigious first outing. In her very first week, she played the Tartini in a masterclass with artist-in-residence Rachel Podger, whose 1999 recording of Bach solo sonatas and partitas first piqued a young Wong's interest in early music. What did her longtime idol think? "She liked it," Wong says with a shrug.
Podger was just the first of several marquee names with whom Wong rubbed shoulders at Juilliard—William Christie, Alfredo Bernardini, Masaaki Suzuki, and more. The Historical Performance program attracts a constant flow of high-profile guest leaders and teachers, and conductors have been known to pluck the most promising grads for the ranks of their ensembles.
Wong recognizes the profound effect each of these celebrity encounters had on her career—and yet, the Juilliard conductor with whom she now plays most often is one who never led her in school. Richard Egarr took note of Wong's playing early in her Juilliard career, although the two only met in lessons and masterclasses.
When Wong graduated in 2019, Egarr engaged her for a series of trials with the Academy of Ancient Music (AAM), the omnipresent British ensemble which he led until 2021. The pandemic interrupted that audition process, but once live music started to return, the conductor contacted her again, this time to collaborate on one of Britain's highest-profile stages: the Edinburgh International Festival.
For those two August 2022 performances in Edinburgh, Egarr picked his ensembles with a careful hand. Most of the musicians came from the conductor's nearby UK circles, but Wong was among five outstanding Juilliard grads chosen to make the trek, her first across the Atlantic since before the pandemic.
"It has been my immense privilege and joy to have seen [Rachell] grow from her time at Juilliard into the consummate performer that she is today," Egarr wrote an email, calling Wong "not just an extraordinary violinist, but an incredible musician and person."
The Edinburgh reviews cemented Wong's reputation as an up-and-coming international star. In the first concert, a morning program of triple-violin sonatas alongside once-classmate Ruiqi Ren, AAM concertmaster Bojan Čičić, and an Egarr-led continuo team, she earned praise for the "theatrical style" (Edinburgh Music Review) that makes her energy so constantly infectious. Three days later, Wong played all six Brandenburg concerti—serving as concertmaster for the third and making a rare appearance on viola for the sixth—in what The Quinntessential Review called "one of the true highlights of [the 2022] Edinburgh International Festival."
Ironically, one of Wong's biggest "European" breakouts actually took place on American concert stages. In 2019, Wong spent a week in France, making music with a group of Juilliard students at famed conductor William Christie's lavishly restored estate, nestled in the tiny Loire-country town of Thiré. There she met Thomas Dunford, the It-Boy lutenist whose Paris-based Ensemble Jupiter had recorded an album of Vivaldi arias and concerti just a few months before. Dunford was familiar with Wong's playing—the power of YouTube!—and asked her to be the concertmaster to his soloist for a live performance of a Vivaldi lute concerto. "We instantly clicked," Dunford says. "Rachell has such amazing technique and listening capabilities. It was a real joy to play with her."
In March 2022, Dunford again tapped Wong as concertmaster, this time for Ensemble Jupiter's inaugural North American tour. "Rachell has tremendous focus; her technique enables her to lift the group through extreme reactions and dynamics," says Dunford. "She is such a strong player, but also such an empathetic musician and human being. That is one of the rarest, most precious combinations a musician can have."
The feeling is more than mutual. "I just love working with him," Wong says of Dunford. "I love hanging out with him. I love his ideas. I love his vibe."
From the audience, Wong's chemistry with Dunford and his ensemble is obvious. The ensemble, an array of hotshots from both sides of the Atlantic, was all smiles the night I saw them at Carnegie's Weill Recital Hall (Wong's debut at the bucket-list venue). They alternated surging agitati with syrupy, cool slow arias, occasionally pausing for an instrumental piece to grant mezzo-soprano Lea Desandre a moment's respite—a trio sonata, a cello concerto, even the fateful lute concerto that had brought Dunford and Wong together in the first place. When it was Wong's turn to solo over the breakdown of Dunford's indie song "We Are the Ocean" (co-written with Jupiter bassist and Juilliard grad-turned-professor Douglas Balliett), she glided effortlessly up her E string with a flourish and a contented smirk.
Rabid about making music
Wong considers herself a New Yorker now. But as Seattle's early-music community continues to grow, her hometown pulls her back more often than expected. She tore onto the city's concert scene early in the 2020-21 season of virtual concerts, in front of the Seattle Symphony, whose concerts she grew up attending. That October, mandolin player Avi Avital was slated to play Vivaldi's Four Seasons with the reduced, masked, and distanced string sections of the orchestra. Visa issues kept the Israeli virtuoso out of the U.S., so the Symphony asked Wong if she could stand in. It would be her first time playing all four Seasons in a row.
Wong was nervous about leading a modern orchestra in a Baroque classic, despite the Seattle Symphony's recent embrace of experimentation. Many orchestras, she says, have a set idea of what Baroque music can and can't be—and besides, why would a 40-year symphony veteran listen to a youngster like her?
Any fears Wong had were quelled at the first rehearsal. "The musicians were so welcoming, and they were up for anything. I really made that Vivaldi experimental—and they were game." She counts that experience among her most positive recent performances.
In May 2021, Wong was named concertmaster of Seattle Baroque Orchestra, yet another tether to home. She'll play concerti by Joseph Bologne, Johann Georg Pisendel, Maddalena Lombardini Sirmen, and J.S. Bach with the ensemble this season. She'll also make her debut in March 2023 on the acclaimed concert series of Seattle keyboardist Byron Schenkman, whom Wong considers among the most progressive early musicians on today's scene.
"Rachell is a fabulous performer and a delightful colleague," Schenkman says. The two have collaborated on more than three centuries of music over the last five years, and Schenkman knows they can call Wong on for most anything. "I appreciate her fluency in all styles of Baroque and modern violin playing, and the joy she exudes through music."
Wong doesn't love bicoastal life, but right now she's splitting her time between Seattle and New York. On the West Coast, her parents take care of Shoozie, Bobe, and Hazo, her three adorable rabbits. On the East, Wong shares her life with her fiancé, Jasper String Quartet violist and fellow Juilliard alum Andrew Gonzalez—remember the boyfriend from earlier? They perform together often; Gonzalez studied Baroque viola in addition to his modern degree. He's also recently taken up that monstrous mutant instrument, the violoncello da spalla—oversized but played from the shoulder, like a violin—with which he'll perform both chamber music and Bach suites this season. She mourns the necessity of her frequent travel, which keeps her from developing a routine, something she misses dearly from her school days. And with friends in both places, it's hard to identify with only one home base. "I wish I could just teleport," she says with a sigh.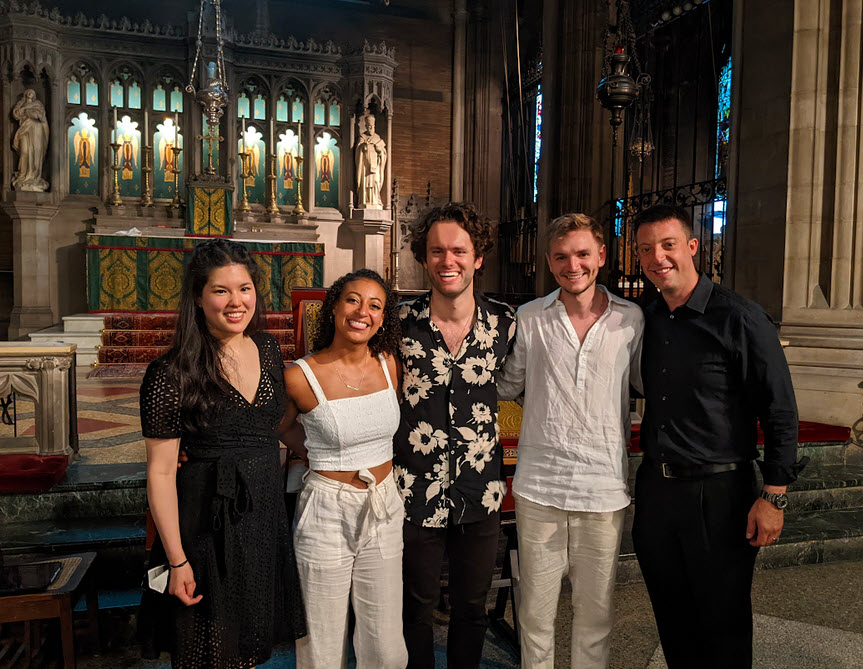 But New York City remains integral to Wong's career, and not only for its easy reach to Europe. Twelfth Night, the ensemble she runs with keyboardist and former Juilliard classmate David Belkovski, remains her primary standing commitment. Belkovski and Wong played together for the first time as part of the grand round-robin of Juilliard415 assignments. It was inevitable, Belkovski says: "The historical performance program is sort of a dorm room. For two years, you're living with 26 other people." When the two began to rehearse, Belkovski says they both felt a special, intangible energy: "We're two people who are just rabid about music-making." As encouragement poured in from Podger, Egarr, and other Juilliard names, both Belkovski and Wong felt compelled to see how the ensemble might flesh out.
Twelfth Night gave its first official concert in August 2021, after more than a year of pandemic cancellations. Wong and Belkovski took inspiration from the flexible-configuration ensembles of Europe—Arcangelo, Pygmalion, Correspondances, Les Arts Florissants. The duo forms the concertmaster-keyboardist nucleus of Twelfth Night, building ensembles of varying shapes and sizes tailored to each project. The goal "is that it can be a chamber concert or a Bach cantata or a Schubert symphony," Belkovski said, "but there's nothing less engaging or precise in the performance."
Sitting at the center of such a malleable ensemble comes with a massive onus of knowledge for both directors. They frequently meet for hours at a time, reading through new repertoire from all corners of the Baroque sphere. That one-on-one time, Belkovski asserts, is also essential to Twelfth Night's preparation: with limited rehearsal time, spending a few hours marking dynamics, breaths, and phrases can go a long way.
"When Wong is in front of an orchestra performing a concerto, she is no less than Heifetz," Belkovski says with a sense of wonder. "But when she's with peers, the process is as egalitarian and patient as you could ever hope. We know the rehearsal space is a laboratory—that's what makes her so easy to work with."
'We know the rehearsal space is a laboratory—that's what makes her so easy to work with.'
The group seems on the cusp of a breakthrough. This season, they play unique programs in Nevada, Arizona, Pennsylvania, and New York, and the co-directors have hinted at big things on the horizon. Twelfth Night's YouTube channel teems with high-quality live video footage, but Wong insists that there's no CD in the works. "I hate recording!" she says indignantly. "When you're cutting takes together, anybody can sound good!"
For now, Wong doesn't need to record; the live stage is her happy place. "I love the nervous, excited energy. I love the adrenaline. And when I'm on stage, I'm in control of how I feel. I can say anything, do anything I want. I sometimes have trouble saying how I feel, but when I perform, it's like the easiest thing in the world."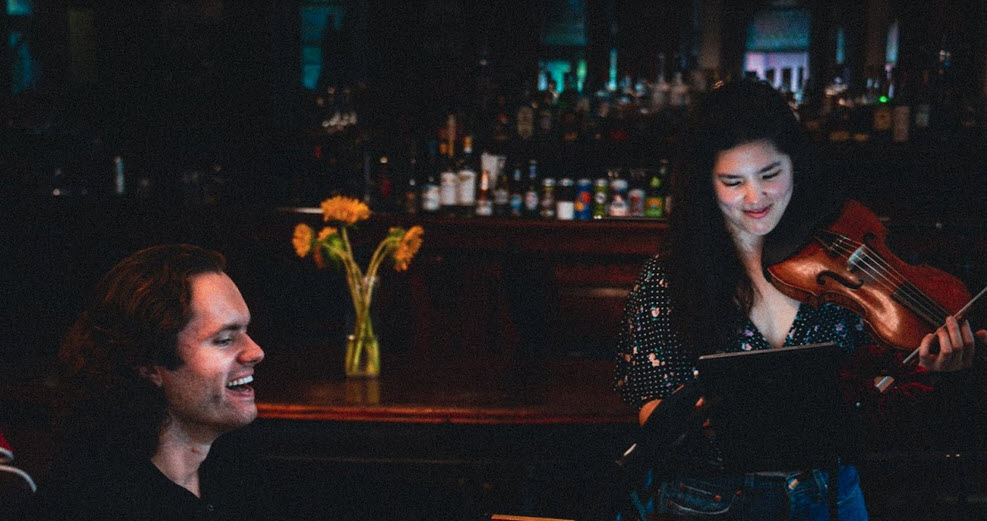 Emery Kerekes is a writer and arts administrator based in New York City. Winner of the 2022 Rubin Prize in Music Criticism, he is a founding editor and contributor for Which Sinfonia. He's also written for Musical America, Opera News, and his own site, Classical Music Geek. He works in The Metropolitan Museum of Art's Department of Live Arts.