Organization Member
Contact Information
(678) 234-7860
jeanne@jeannespheres.com
https://www.jeannespheres.com
Alpharetta, Georgia
Type of Organization
Performing Ensemble
About
Music of the Spheres, formed in 2000, has performed across the United States and abroad, including concerts at the 2002 Bloomington and Berkeley Early Music Festivals, the 2011 Indianapolis Early Music Series, and the 2005 and 2013 San Francisco Early Music Society Series. The group made its European debut at the 2006 Tage Alter Musik Festival in Regensburg, Germany, and was featured in the European chamber music magazine Ensemble. In 2007, they performed on The Frick Collection Series in New York, with a New York Times review and a WNYC interview and broadcast of their concert. Music of the Spheres has been broadcast on Harmonia, Sunday Baroque and Performance Today, and their recordings on the Magnatune label can be heard around the world, from Brazil to Indonesia, Sweden to Turkey.
Music of the Spheres believes that music exists to captivate the imagination, stir memories, and evoke intensely personal emotions in both listener and performer alike, and they desire to bring a wider audience to classical music through performances which focus on these aspects.
"Long before classical music was stodgy, it was sometimes dangerous, unpredictable and bizarre… Music of the Spheres conjured up a little of that old magic… delivered with gusto… and the fluency of true improvisers."
–Joshua Kosman, San Francisco Chronicle
"Both technically and musically admirable violin-playing… brilliant… a queen of coloratura!"
–Mittelbayerische Zeitung
"Jeanne Johnson played … with great ornamental flourishes"
–Bernard Holland, New York Times
"How like an intimate prayer Johnson let this bewitching work die away…"
–Online Musik Magazin
"a true delight… the musicians grace all the sonatas with sparkle and personality… Johnson, whose sound is both muscular and elegant, begins her Muffat with wonderfully tremulous breathing notes; in her Biber, she dashes off with astonishing ease ornaments that surprise the ear in the best way – technically daring and melodically inventive without breaking the stylistic surface. Blendulf's Gabrieli is gorgeously lush, with finely detailed gestures spun out into spacious, living phrases. Tanaka brings her Bach toccata across with a fine, sure touch."
— Review of Musical Evolution CD in Early Music America Magazine
"…the music of the universe is especially to be studied in the combining of the elements and the variety of the seasons which are observed in the heavens. Now unless a certain harmony united the differences and contrary powers of the four elements, how could they form a single mechanism? All this diversity produces the variety of seasons and fruits, and thereby makes the year a unity. If you could imagine any one of the factors removed, all would perish, nor, so to speak, would they retain a vestige of consonance… For what winter binds, spring releases, summer heats, autumn ripens; and the seasons in turn bring forth their own fruits or help the others to bring forth theirs."
– Roman statesman, philosopher, mathematician and music theorist Anicius Boethius (c. s480-524 AD)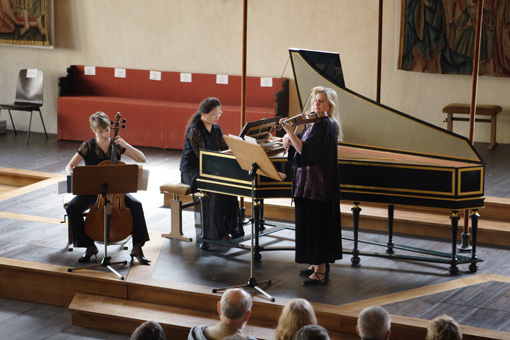 Events
No Events Found.